From Ruth Morris
By far the most difficult part of the whole thing has been finding enough young musicians to take part. We had the idea of a Balkan style street carnival band. To sound like that, one needs a few brass/ woodwind instruments, which turn out to be like hen's teeth in Dumfries and Galloway! However we have a few now, including a euphonium, a trombone, some clarinets and some saxophones. We also have fiddles, accordions, flute and percussion. So it should be very lively!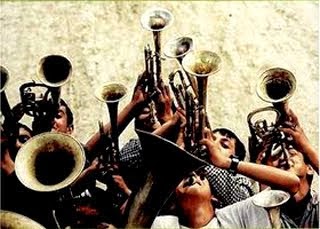 To hear it at it's best, join the parade through Dumfries from 1.30pm this Saturday, or see the band perform the full piece on our stage on the Whitesands later in the afternoon.
Writing music for transposing instruments, eg clarinets, saxophones, euphoniums is full of interesting challenges. For example, if I want everyone in the room to play the note 'C', I have to tell fiddles, flutes, accordions etc to play 'C'. But I have to tell clarinets and euphoniums to play 'D', and I have to tell alto saxophones to play an 'A'. This can lead to confusion, as I'm sure you can imagine.
But once everyone has worked out what the notes are, it's a truly wonderful sound, loud and powerful. For most of the people involved, this is a very different kind of music to what they normally play, so it's a great opportunity for everyone to try something a bit different.
Writing it was a lot of fun. We usually start with an idea for a melody line, then once that has become fixed, find some nice chords that work with it. We often then record that, which gives something to try different harmony parts against. We adapt the parts to suit the players that are involved. We're very pleased with how the Nithraid music has come out, it will work well for a parade.
Ruth Morris and Gavin Marwick are part of the Stove's Nithraid team, working to develop and grow the procession that will see the salty coo carried through the streets of Dumfries and down to the riverside where it will take pride of place over the River Nith to welcome in the arriving boats. This year's Nithraid takes place on Saturday, 13th of September. A dangerous dinghy race from Carsethorn upriver, the boats will arrive in the centre of Dumfries with the high tide at approximately 3.45pm. There is a lot going down on the Whitesands all afternoon, full details on our Nithraid page here.