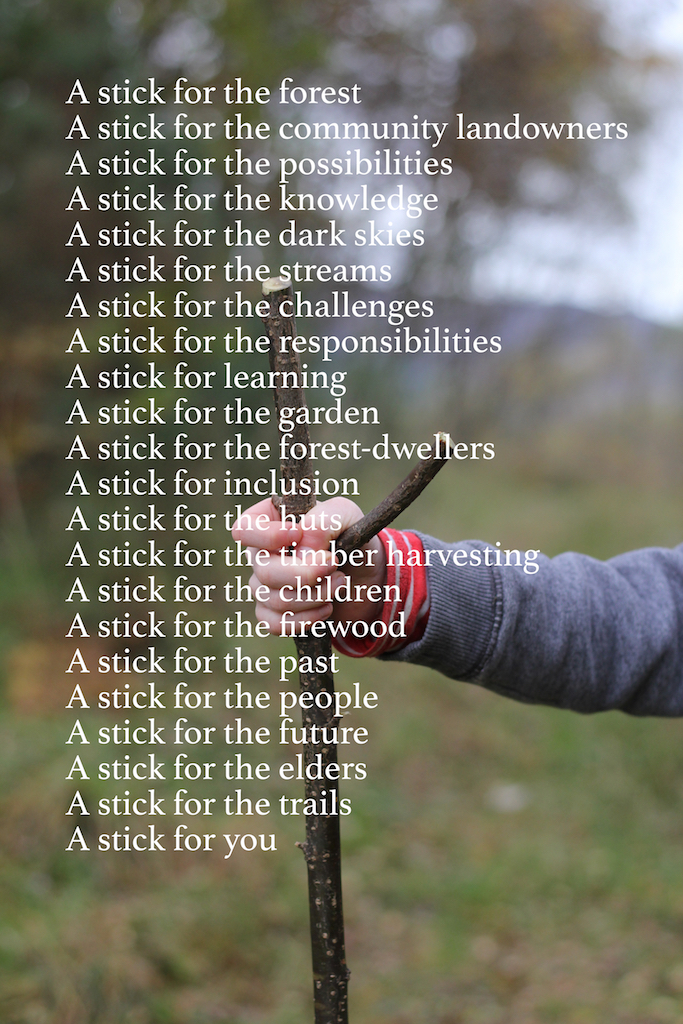 Artists and Community Landowners: Meet the Artists
Artists and Community Landowners; is a collaborative project digging down into the stories of community landownership across Scotland and the impact it has for communities. The Stove is working with Community Land Scotland and 6 collaborating Community Trusts to explore stories of "ownership" and the effect it has had for local people, their identity, decision-making and the economic and social benefits for their community.
Richard is currently working with Abriachan Forest Trust, an environmental artist and creative educator based in Drumnadrochit, with 10 years experience of engaging with communities and collaborating with multi-disciplinary teams in Scotland and abroad.
Can you briefly explain your practice?
My work is a response to an ongoing, personal exploration of the land. I'm influenced by specific places, individual experience and wider themes that relate to how we live with the land.
My attention is usually drawn towards ecology, folklore, natural processes, time and memory. I typically create sculpture using casting and mould-making processes. Drawing, photography and printmaking methods are also key aspects of my practice.
How are you approaching the commission?
I've been keen to understand the story of Abriachan Forest Trust by looking at the past, present and future of the community and it's relationship to the land. I'm looking at the story as an ongoing journey and to identify places that relate to key stages of this journey the community is taking together.
I'm aiming to create artwork that is accessible – eg objects that can be picked up, held and taken for a walk; I believe that walking around the land plays a key role in understanding the story of AFT, so I've felt drawn to creating something that is portable, rather than something that exists in a fixed location.
So far I've been:
Getting to know how the trust operates and how it has developed
Looking through archive material that relates to the development of AFT – photographs, newsletters, forest plans and other maps.
Getting to know the young people and volunteers that participate in AFT's activities – learning about the land from them by going on walks with them.
Talking to staff and community members about their relationships to AFT
Finding out which places resonate with the community by asking a series of questions.
Learning about materials I can feasibly source from AFT, plus facilities / expertise in the community that may come in useful for fabrication.
What excites you about the project?
The opportunity to contribute creatively to the conversation about land use in Scotland.
Getting to know a community and seeing how they have grasped opportunities to utilise their land in ways that benefit local people and the environment.
Exploring the parallels between young trees and young people – the growth and development of both are crucial to AFT and their long term vision.
On a personal note, having recently moved to within about 6 miles of Abriachan, the project has provided me with an invaluable opportunity to make new connections that I hope will last well beyond the lifespan of this project.
How has the process been so far? Anything unexpected?
Living so close has been a great advantage, giving me time to meet up with staff from AFT, slot into existing sessions and create new ones with relative ease. This has allowed me to start getting to know people and allowed me to communicate to others about the project. I feel that my thinking around the commission has benefited from this close contact, as I come to understand AFT better, letting that influence my work.
Being close-by has also meant that I can spend my own time exploring other parts of AFT.
Has covid-19 affected your work with the community?
AFT are not able to work with as many young people as they would normally, so I have had less opportunity to see this side in it's fullness.
Some uncertainty around changes in guidelines and restrictions has meant having to be flexible in planning, or waiting until the last minute, but generally this has not been a disruption on outdoor working.