From Tom Pow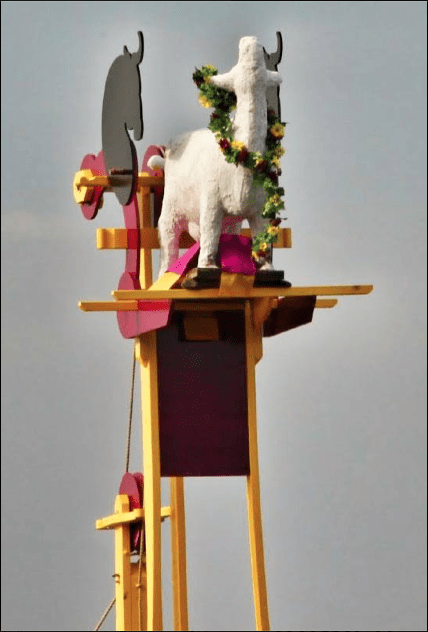 THE OLD MEN TAKE THE SALT COW DOWN TO THE RIVER TO DRINK.
THE OLD WOMEN REMEMBER WHEN THE FIELDS WERE FULL OF SALT COWS.
THE YOUNG GIRLS WATCH AS THE BOYS LEAP OVER THE BACK OF THE SALT COW.
THE YOUNG MEN SADDLE THEIR SALT COWS IN PREPARATION FOR WAR.
THESE THINGS BEING SO, CAESAR SET OUT FOR THE LAND OF THE SALT COW.
Senes vaccam salsam ad fluminem ut bibat ducent.
Aniculae quando vaccae salsae agros olim operibant recordorantur.
Puellae pueros qui super salsam vaccam salient vident.
Iuvenes parati bellum suscipere vaccas salsas sternent.
Caesar his rebus factis ad terram ubi vacca salsa habitat discessit.
_
Nithraid was concieved as a public artwork to activate the riverside in Dumfries in the summer of 2013, and bring new focus and people down to celebrate the Nith. Now in it's third year Dumfries is preparing to welcome sailors up river to the heart of the town when Nithraid 2015 will sail into town on Sunday, 2nd of August. Nithraid is free and open to all to attend, and last year saw crowds of 4,000 lining the banks to watch the winning boats cross the finish line. Find out more about this years Nithraid here
The discussion is open, and we invite contributions to our artistic conversations – whether you have been involved in Nithraid in previous years, are interested in the changing face of public art and when a sailing race is also an artwork, please get in touch via the comments box below or to send your contribution please email [email protected]