The Whale Bench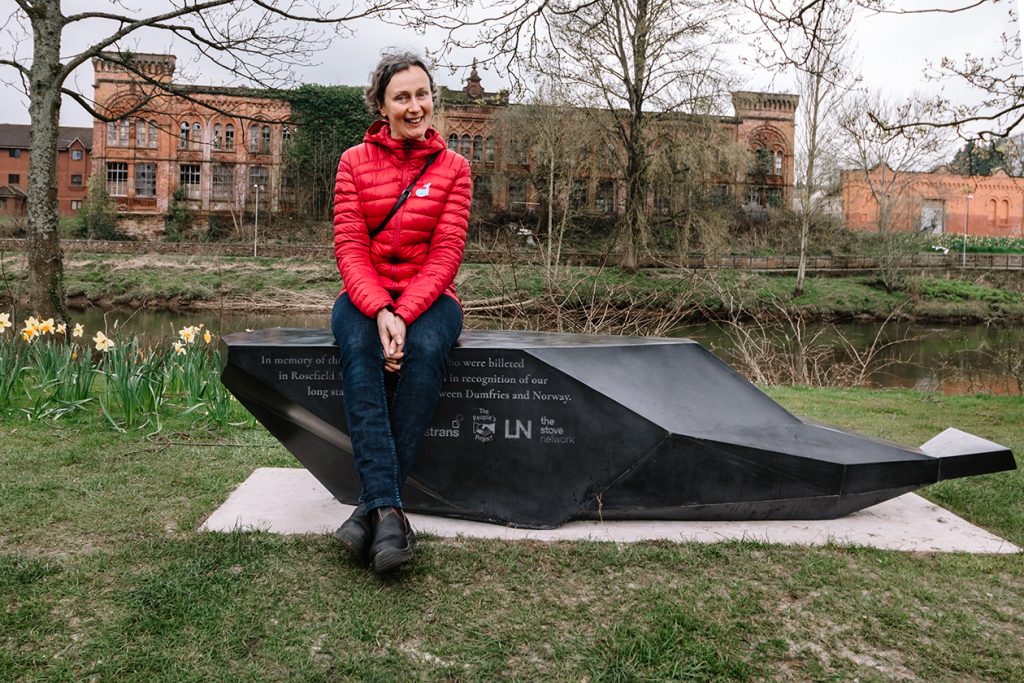 Whale Bench Unveiled to Celebrate Dumfries' Longstanding Relationship with Norway
The Stove Network have recently been having a whale of an adventure with Friends of Dock Park as they installed and unveiled a special bench which commemorates Dumfries' unique and long-standing relationship with Norway and connections with the Whalers who resided in the town briefly during WWII. The bench is located in the Dock Park directly opposite the iconic woollen mill, Rosefield Mills.
In 1940, during the Second World War, 300 Norwegians, including service people, civilians and whalers, arrived in Dumfries and moved into Rosefield Mills, initially as a place of residence and later, employment. Many of them remained in the town after the war and raised their families here.
Trevor Muir, Friends of Dock Park chairperson, commented: "This has been a collaborative effort between Friends of Dock Park, The Stove, The People's Project, Lateral North Design and Sustrans, who were principle funders. We are delighted to have had a fantadstic turnout on the day and are looking forward to continuing celebrating our connection with Norway through the installation of the Whale Bench."
The Whale bench was designed by Lateral North and made by artist Helen Kalmijn who said "It was very satisfying to see it finally come together and to meet with members of the local community and learn a
bit about the history of Dumfries. It was hard work but enjoyable and I am so glad that it has been well received."
The event took place on Saturday 30th March with pupils from Brownhall Primary School helping to unveil the Whale Bench, which was funded by Sustrans after a grant application by Friends of Dock Park. The Stove Network's involvement stemmed from their year-long project, Our Norwegian Story, which celebrated Dumfries' connection with Norway as a significant piece of the town's history. Over the course of a year, stories and memories were collected and several events took place which featured themes of Exile, Journey, Refuge, Friendship, Family and Celebration.
The Norwegian Story continues to grow in The Stove Network, with the 'Stitching Our Story' event continuing every month, which highlights important places in Dumfries that contribute to the town's relationship with Norway.