Meet the Team behind The Stove Network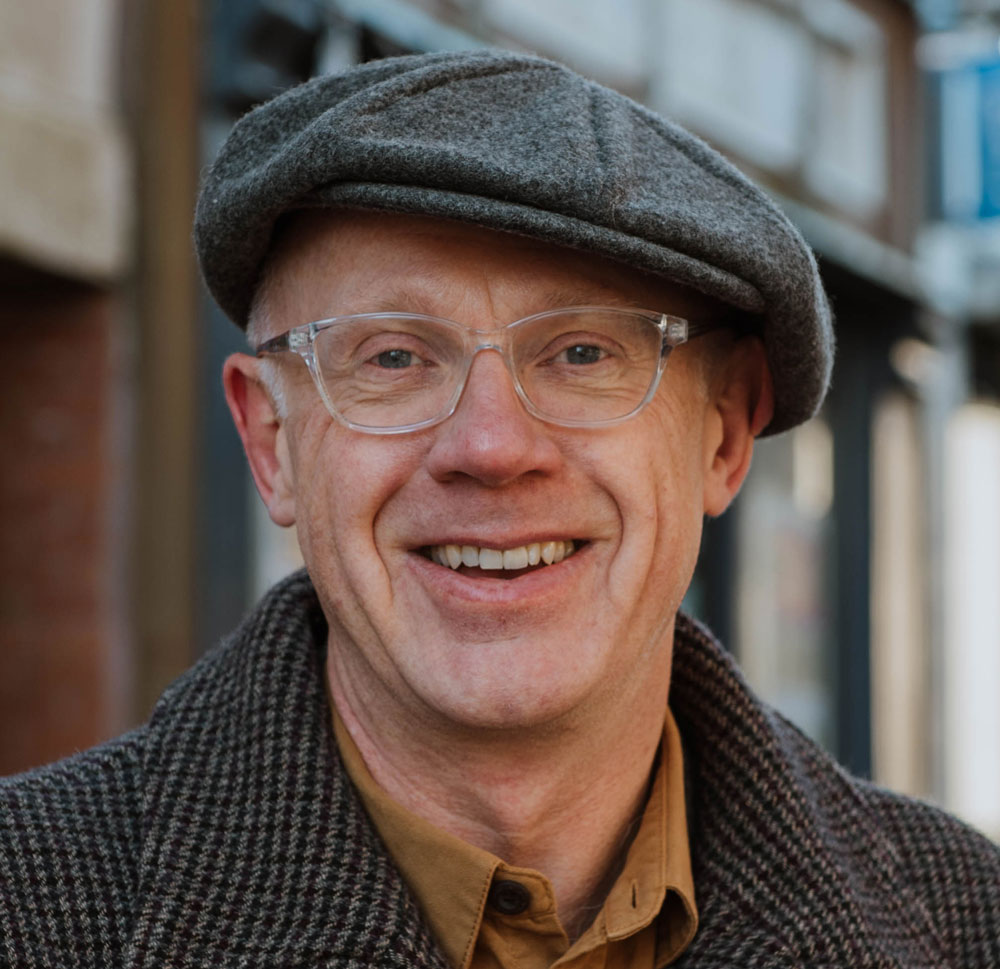 Matt Baker | Chief Executive Officer
Matt was one of the founders of The Stove in 2011. The Stove was a progression of his practice as a public artist. Through his career Matt became increasingly concerned with the potential for creative process to empower communities. He sees the Stove as a long-term experiment in embedding a creative resource within a community – the work is a co-directed journey with local people and Matt remains completely absorbed and fascinated by where that journey is leading.
His challenge as CEO is to remain attuned to the overall direction of The Stove, through remaining true to our values and leading a culture of learning, empowerment and excellence within our organisation. Matt is also the interim chair of the National Partnership for Culture, the independent group appointed by the Cabinet Secretary for Culture to support the delivery of the national culture strategy.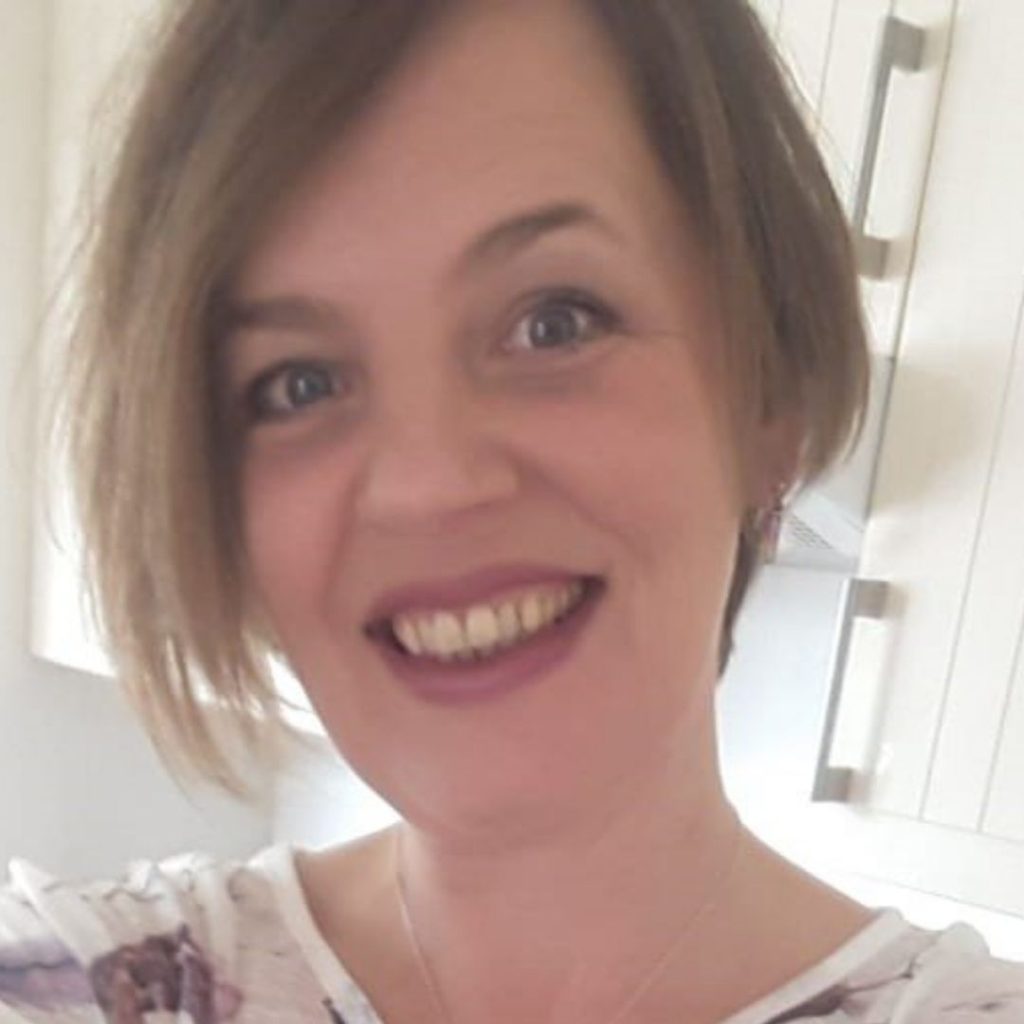 Lindsey Smith | Finance Director
Lindsey grew up in Dumfries and is delighted to be back working in the heart of the town. She studied Accountancy in Edinburgh after a career as a Trainer and Manager in the Catering Industry.
With nearly 20 years of experience of Financial Management across both Commercial and Charitable Industries, 11 of which were for third sector entities focused on the Arts & Creative practice, she brings a breadth of expertise and a love of spreadsheets.
Excited by the passion, dedication and enthusiasm of The Stove team she hopes to support the organisation's vision and aims within the town and the wider community.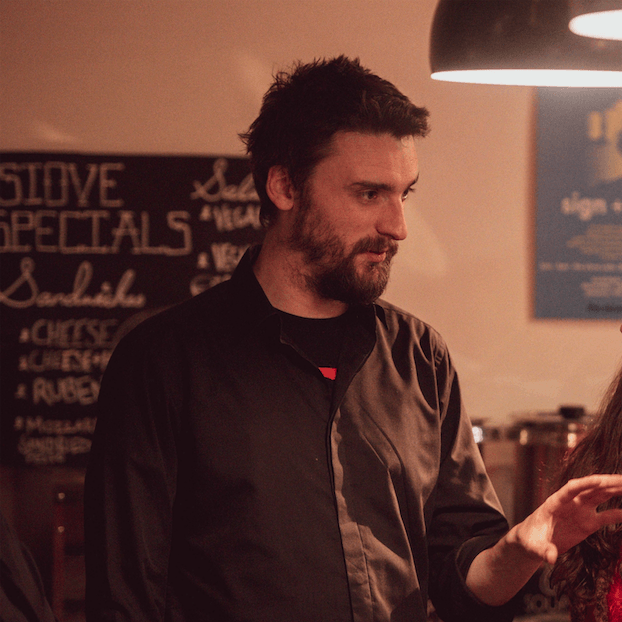 Martin O'Neill | Artistic Director
As artist and producer, Martin works with people to realise new projects, artworks and spaces employing an eclectic range of styles and disciplines from community events to theatre, music, poetry and installation. Martin describes his artistic practice as rooted in the values of inclusion and facilitation, collaboration and representation. As Artistic Director of the Stove, Martin works across all of the Stove's projects, connecting these values with everything that we do.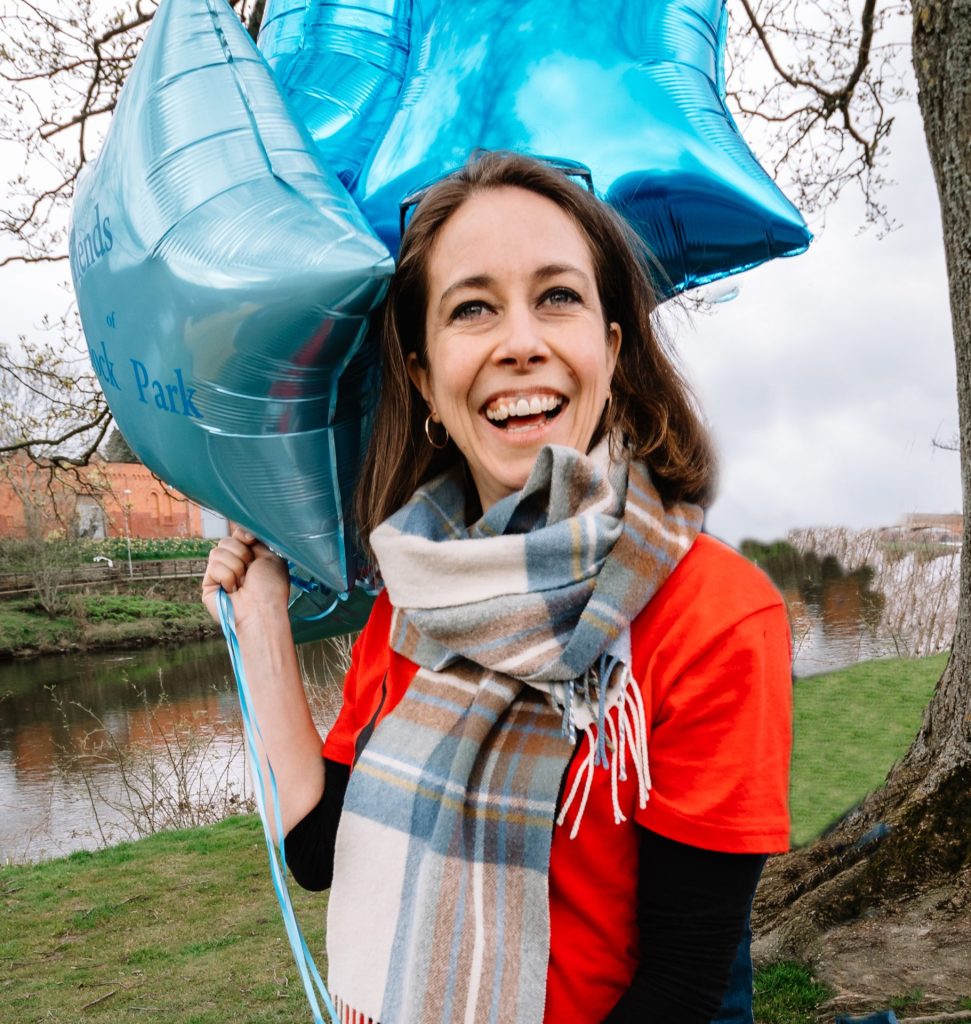 Katharine Wheeler | Partnerships & Project Development
Katherine has grown a strong multi-dimensional practice over the past 20 years building up a portfolio of work in drawing, painting youth work, activism, community arts and street performance. Originally studying at Duncan and Jordanstone College of Art and Design, she is now in her final year of an MA in Arts and Social Practice with the University of Highlands and Islands. She recently directed the kNOw One Place, Scotland's first Creative Placemaking forum, and authored the Embers Report which exposed the strength of grassroots activity in community and creative regeneration work across Dumfries and Galloway.
Kevin Stewart | Head of Communications & Engagement
After graduating with a degree in design from ECA, Kevin began his career as a fashion stylist developing work that stretches across film, television and editorial media, before embarking on a 15-year career in international brand marketing.
Spending over a decade holding senior leadership positions and working with some of the world's most famous luxury brands in fashion, beauty and hospitality, Kevin has also supported national charities and universities through the development of specialised projects, mentoring and partnership opportunities.
Looking for a change in direction, a new challenge and an opportunity to reconnect with Dumfries and it's community, Kevin returned to the region, and joined The Stove team in 2021, bringing with him a wealth of experience in marketing, client management, communication and engagement.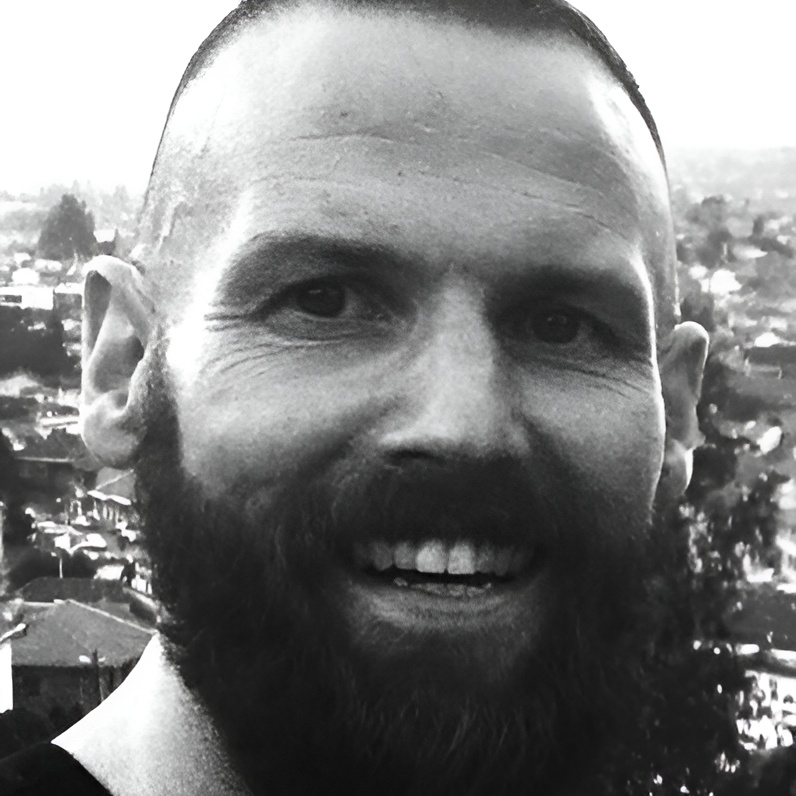 Graham Rooney | Operations Director
When he's not living his best life creating a project plan, running projects, leading on the Wild Goose Festival, motivating the team or telling anyone who will listen about the value of systems, Graham can be found managing contracts, arranging building maintenance and holding responsibilities for the governance of the organisation.
Graham comes originally from a sporting (football) background, and loves being part of a team and really believes in the magic that can come from working together towards common goals. Graham particularly enjoys the part of his role where he gets to merge his enterprise head with community led endeavours. Graham is the Lead Producer of the Wild Goose Festival, of which he is extremely passionate about. He once said he might change his middle name to Barnacle and we're not sure if this was entirely a joke.
Before joining the Stove in 2018, Graham trained as a professional thermographer and worked for 20 years 'within the construction industry. Graham is not an artist but does have a creative side. He has collaborated with visual artists to produce works that have been exhibited at art festivals in Croatia and Scotland, and has had solo work shown in exhibitions including the 2017 Royal Glasgow Institute Fine Arts Show.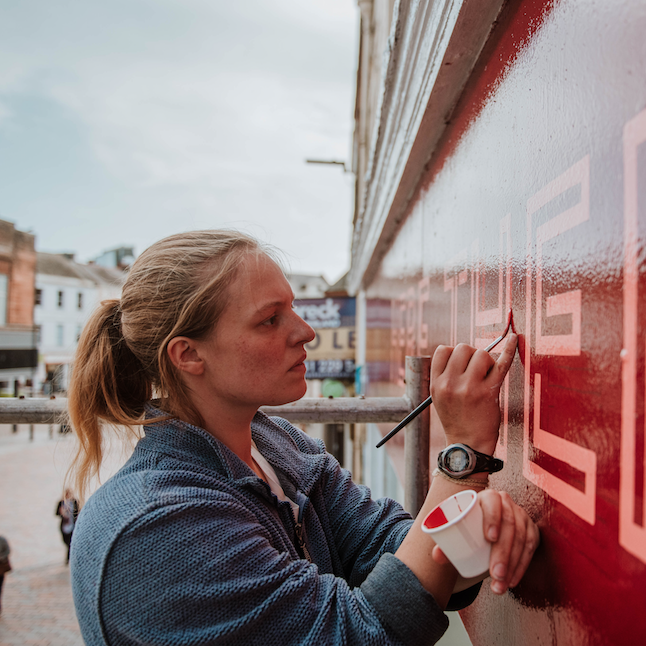 Katie Anderson | Public Art Lead
Katie describes her work as an embedded practice of settling, establishing creative projects alongside and as part of communities, creating work that has its foundations in a sense of place. From painting signboards to supporting exhibitions in the cafe, hosting film screenings, developing permanent public artworks and delivering outdoor installations alongside a variety of other side-projects, Katie's role at the Stove has continued to develop led by the aspirations of the Network, and inspired by the varied fabrics of the town itself.
The role of Public Art Lead supports core Stove programming with additional activities and events including Reel to Real Cinema and Conversing Building, offers specific support for projects that hold public art elements, and also develops it's own distinctive projects that explore public spaces in and around the town centre.
Katie has been a part of the Stove since 2013, and currently delivers the role on a freelance basis alongside her own personal creative work from her studio in Annandale.
Robbie Henderson | Information Technology Coordinator
Robbie has been working in the third sector since 2017, where he has been involved in various projects that aim to use creativity and technology to enhance social and cultural life of his hometown, Dumfries. Some of the varied projects he has helped develop include setting up an online music & book store, and helping to re-imagine a local festival as an online experience.
Robbie's role at The Stove Network is multifaceted. He is responsible for developing and maintaining IT systems that support day-to-day operations, planning and delivery of events & projects, and fundraising. He provides IT support, training and advice to his team mates, ensuring that they have the necessary tools and resources to carry out their work effectively.
Robbie is also in charge of developing and maintaining websites for The Stove Network and its various initiatives, using his skills in web design and front-end development. He helps to enhance and monitor The Stove Network's digital presence, using his knowledge of SEO strategy and web analytics. He identifies and addresses cyber security needs for The Stove Network's IT systems, websites and online platforms. He also acts as a Data Protection Officer, ensuring that The Stove Network complies with the relevant data protection laws and regulations.
Robbie has had the opportunity to learn and apply new skills in different disciplines such as livestreaming and audio engineering. These skills have allowed him to edit podcasts & videos for YouTube and livestream workshops, panels, and festivals.
Robbie finds his work at The Stove Network rewarding and enjoyable. He likes being part of an organisation that uses creativity as a catalyst for social change and community empowerment. He also appreciates the diversity and flexibility of his role, which allows him to explore different aspects of technology. He is proud of the projects he has contributed to and the skills he has gained at The Stove Network.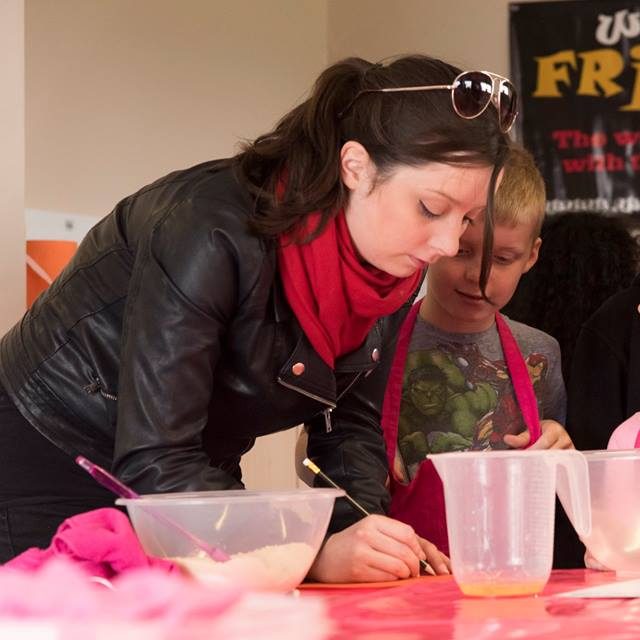 Sal Cuddihy | Production Lead
Sal began working at the Stove Network as part of the curatorial team in 2016 and is now Head of Production, managing all events that are delivered by the Stove. She has been the Lead producer of Nithraid Festival since she began and has recently taken on management of the Creative Caerlaverock Project.
Sal runs a team of talented event producers that assist in delivering all in house events at the Stove and has created a training program for young people entering the world of event production. Her key focuses and skill sets lie in transforming spaces and locations, into artistically curated venues (the bigger the challenge the better), Front of House training and management, Community Engagement, Health and Safety, logistics and venue management.
Sal works closely with the various departments in the The Stove Network & Cafe to deliver the visions that are presented by the communities and artists that engage with the Stove.
Malcolm Struthers | WWDN Content Coordinator
Malcolm has worked with a variety of public and private sector organisations in a range of communications, marketing, and management roles (including the Equal Opportunities Commission, National Housing Federation and Bank of New York).
In 2020 he decided to change the focus of his career and is now a freelance communications specialist, campaign manager and clinical hypnotherapist. He leads the Mind Your Head LGBTQ+ mental health project, runs his own hypnotherapy practice and is a trustee with Happy Valley Pride and Hebden Bridge Film Festival.
Originally from West Lothian, Malcolm has been living in England since 2000 but recently moved back north of the border with his husband and two greyhounds. He is keen to engage with the community and further develop his portfolio career.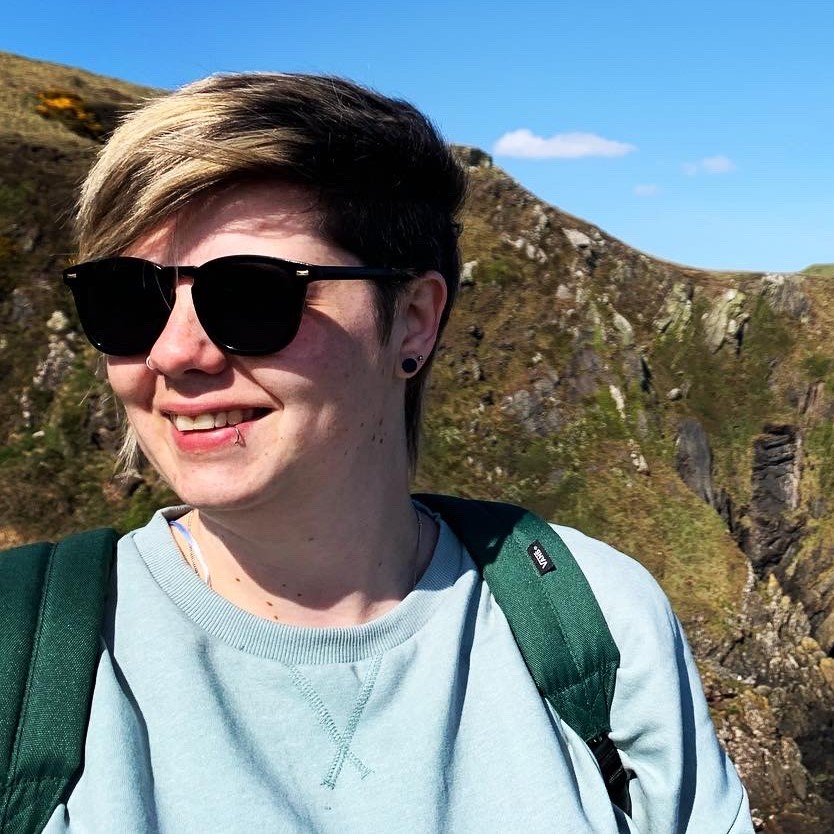 Pam Mackay | Cafe Co-Manager
Pam can be found busily running the Stove Cafe alongside our brilliant team. She is also involved in supporting events happening in and around the cafe, working with the wider Stove Network team. She strives to breathe life inti the place and make it somewhere for all to feel welcome.
Pam really enjoys connecting with her creative side too. She previously studied photography in Glasgow and has a huge passion for music and live performance. One of the things she loves about running a cafe within a creative organisation is that there is always something new and interesting happening somewhere – "It's a great community to be a part of."
Find out more about the Stove Cafe here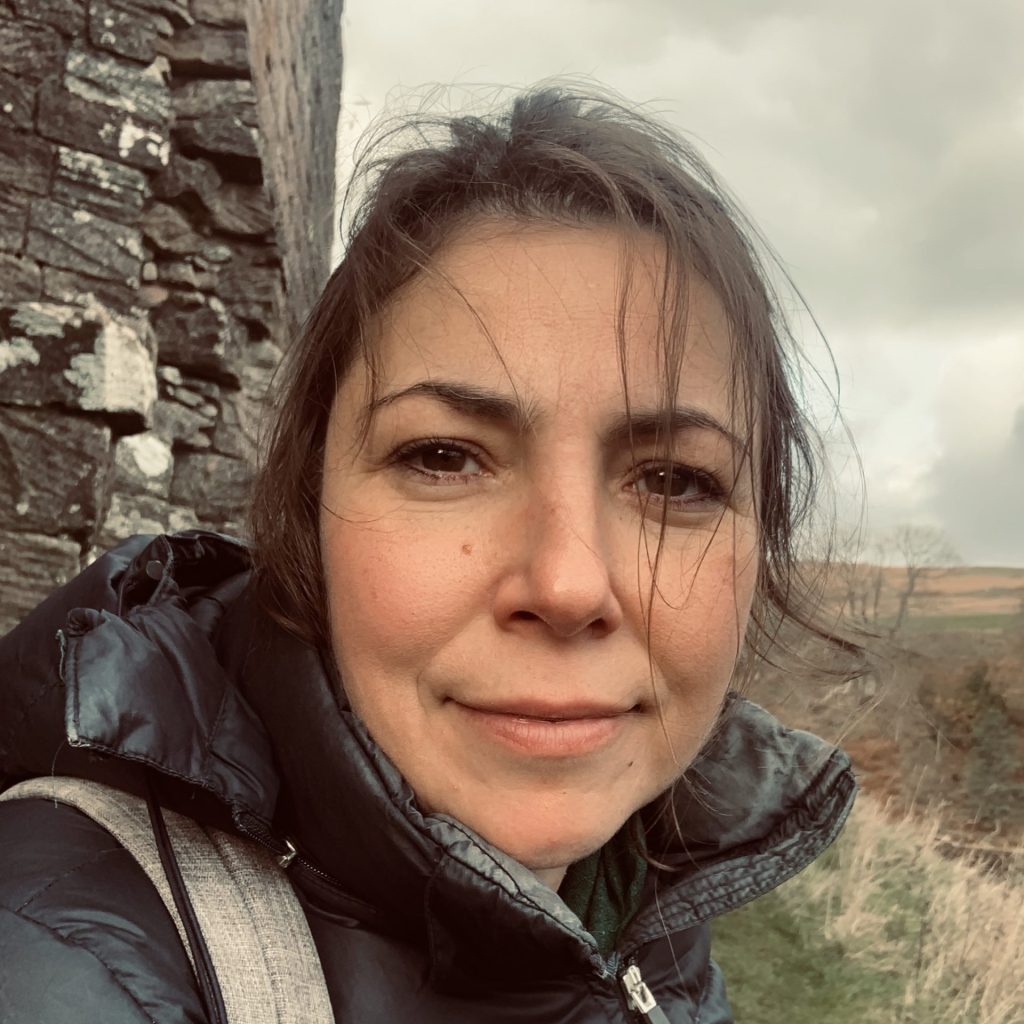 Deirdre Rooney | Cafe Co-Manager
Originally from Ireland, Dee spent time travelling the world, and lived in Australia before moving to Scotland, firstly to Glasgow before settling in Dumfries with her family. Dee co-managers The Stove Cafe bringing with her a decade of retail and hospitality management experience.
A big believer in the power of people, she is passionate about supporting the progression of development of the cafe team, working with the wider Stove team to deliver training and support opportunities. Dee's people-centric approach is evident to anyone entering the Stove Cafe and Venue, she's excited to meet new people and build connections with the local community, always offering the best levels of service and top-notch banter!
Erin Aitchison | Marketing Assistant
After graduating with an English and Film Studies degree from the University of Dundee, Erin returned to the region to begin a career in the marketing industry. Originally from Dalbeattie, Erin has been involved with and enjoyed the arts since she was young, and is delighted to help promote opportunities for the arts in Dumfries & Galloway through her role at the Stove.
Erin has previously completed an internship with local arts organisation Dumfries & Galloway Arts Festival, where she gained experience promoting events across the region and developing ties with the community. Her strengths lie in social media marketing, and she is responsible for the co-ordination and delivery of content across the Stove's social media channels.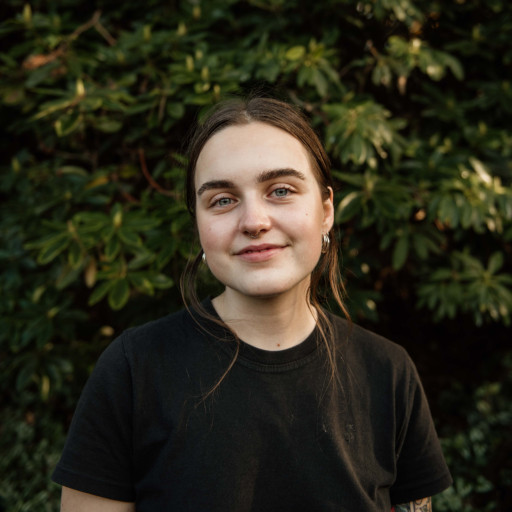 Mia Osborne | Producer | Creative Spaces
As someone who grew up in rural D&G, a lot of Mia's work is centred around how local people, in particular young folks, engage with creativity in a rural context. This is something she explores in her work as Producer for Creative Spaces. Mia supports our three Associate's in their journey through the Creative Spaces programme and collaborates with them to help build a sustainable community for young creatives in D&G. Mia's work with young people has been widely recognised in the region for its impact which is reflected by her win at the Dumfries and Galloway Youth Awards 2022 for Arts and Culture.
Mia approaches projects with creativity at the core whilst also championing the importance of non-traditional mediums of creativity and challenging stereotypes of the creative industry. This is communicated through meaningful, embedded and collaborative community work with organisations and projects that aim to enhance the local area and the lives of its people.
Aside from Creative Spaces, Mia works as part of the in-house production team, delivering a wide range of community events, and works freelance as a Creative Producer where she delivers a variety of projects from community consultations to large scale events.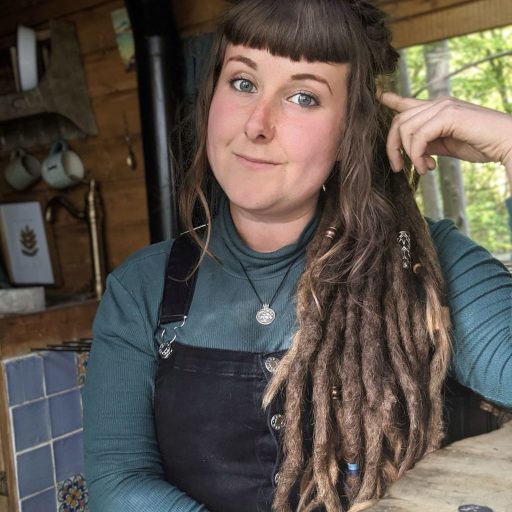 Leanne Bradwick | Community Events Producer
Leanne is one of our community event producers here at the Stove. She is quite often the person you will meet when you come to events and her role is to make sure everyone has the best time possible! Leanne also works in production for larger events such as Nithraid and Wild Goose Festival. She helps Sal plan and build these events to bring something different every year.
Meg Dickinson-Hood | Community Events Producer
Starting off as a freelance Sound Engineer, Meg was working with some events held at The Stove before joining the team as a Community Events Producer.
Meg started off her career in the music industry back in 2017 as a guitarist in a five-piece band, playing all across the country & in Europe. Just before lockdown, she decided to further her knowledge & study Sound Production in Cumbernauld which then led her to move offstage & behind the desk. Since finishing her studies & moving back to Dumfries, she has been working with the local creative community, running the sound desk at live events & recording artists in the studio.
Meg created her first project at the start of 2023 where she produced a series of live sessions with Circa 16 Sound Recording to showcase a wide variety of Scottish musicians.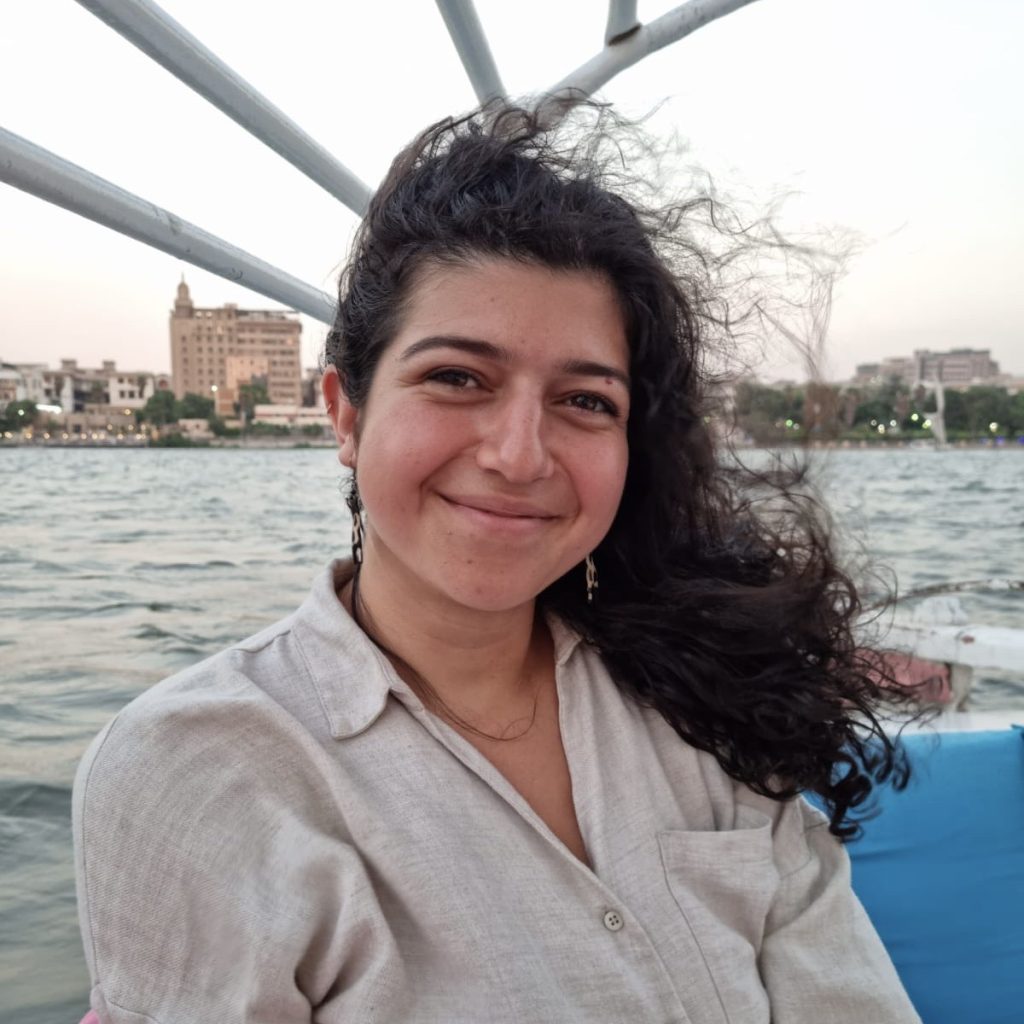 Sahar El Hady | Creative Spaces Associate
Sahar moved to Dumfries in 2021 to collaborate with young people in community projects and theatre workshops. Starting her creative journey as an actor in youth theatre, she went on to work in accessibility and production with both professional organisations and student theatre companies.
Alongside dabbling in various crafts and visual arts, she has continued to write poetry, short stories and plays for performance. Sahar recently completed a degree in earth sciences and is keen to integrate her scientific skillset with her emerging artistic practice. She is looking forward to connecting with diverse people and places in the region to explore multidisciplinary approaches to sustainability, accessibility and wellbeing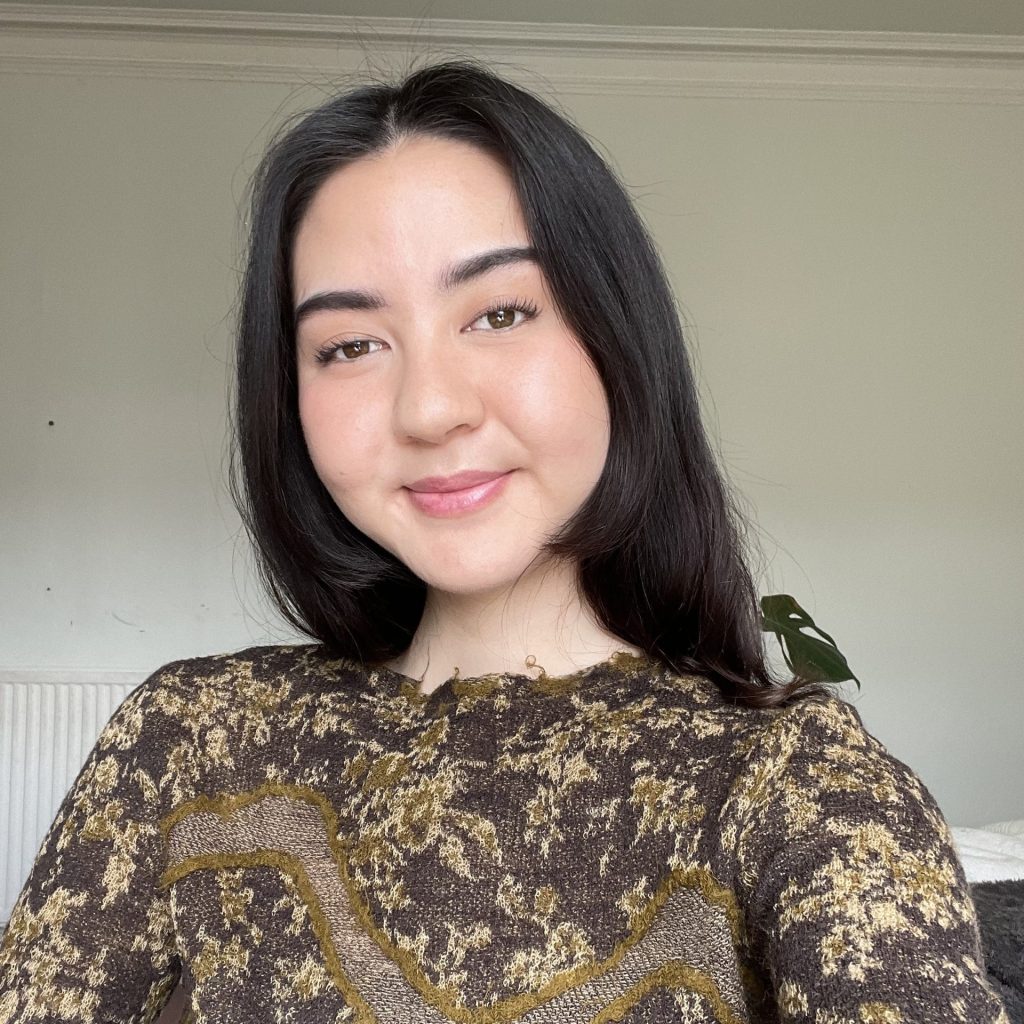 Martha Ferguson | Creative Spaces Associate
Originally studying Art History at university and starting her career in law, Martha has returned to Dumfries to pursue a new direction in production design.
She is excited to be involved in collaborative work and to bring a fresh perspective to projects that encourage young people to explore their creativity and to feel more connected to their community.
Through the Creative Spaces programme, Martha hopes to learn more about her own practice and to become a supportive catalyst for change in the region.
Korey Patterson | Creative Spaces Associate
Korey is a local from Dumfries. Born and bred here he believes the region has big potential for creative outlets and is keen to prove it. Korey is a guitarist in a local band- YABBA as well as a portrait/character artist. Finding inspiration from music and people, Korey likes to create art and stories through his chosen artistic formats. His ambition is to become a professional freelance creative and to find and create work in Dumfries and Galloway.
Before joining the team, Korey has played his hand in many creative Events and Projects in town, including working with DMC and D-Lux. He is eager to make a difference and have his influence in Dumfries in any way shape or form. "Being apart of any of the creative events in town is always fun and makes you realise the potential Dumfries and similar towns and counties have".
Stove Alumni: Past Members of The Stove Network Team
Learn More about Our Past Stove Team Members