The Tower of Light was a temporary light installation created as a midwinter celebration, a gentle and reflective moment created on one of the darkest days of the year for people in Dumfries to take stock of the year past and the one to come. The installation was a response to the pandemic and it's impact on gatherings and public events in the town's calendar, but carefully considered to feel like a safe and welcoming space for visitors. A unique soundscape was created that wrapped around the museum for the installation's duration.
Over 1000 individual candles were lit and hand placed on and around the museum and mausoleum to create the work, which was built and taken down again in a single day. Alongside the installation were included performances by the Cairn Chorus and Susi Sweetpea Fairy, an indoor felting workshop with artist Helen Walsh and a series of puppet shows hosted by Clydebuilt Puppets.
The event was live streamed by local company, Battlestations, and also recorded using drones by Odin Aerial Solutions, and photography by Ruari Barber Fleming. The Tower of Light was produced by The Stove Network and delivered in partnership with the Dumfries Museum team and with support from Dumfries and Galloway Council.
Images of the Tower of Light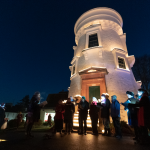 Image credits: Ruari Barber Fleming, Evie Copland and Katie Anderson.
Aerial Footage
The talented Stewart Gibson from Odin Aerial Solutions visited the Tower of Light to capture this amazing drone footage, view it below:
Supported by: