Guid Nychburris: Back 2 Back Dumfries
Back 2 Back – A DIY Street Art Project on Guid Nychburris Day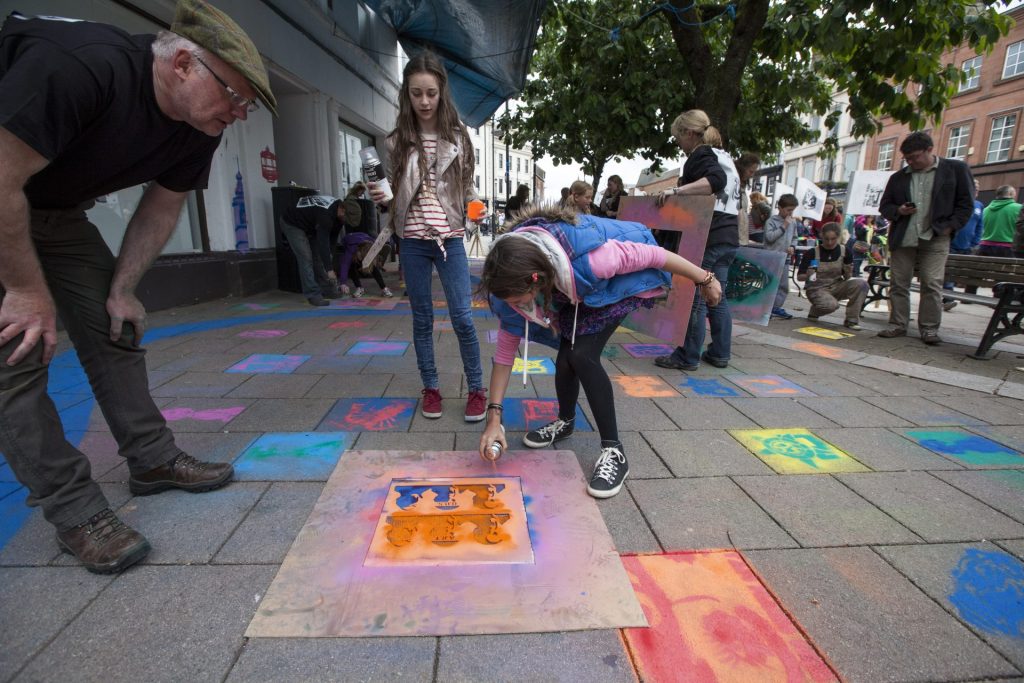 Part of Guid Nychburris, a large scale pavement drawing mapped out a contemporary identity for the town, with imagery and stencil designs developed in partnership with local youth group YES (the Youth Enquiry Service) who were celebrating its 20th year. With stencils and spray chalk on hand, The Stove invited aspiring artists of all ages to participate and contribute by making their mark on our map. The work was temporary, and made on site – building up over the course of the day.
Our second project with Guid Nychburris Festival was a DIY street art project. We worked with the town's Youth Enquiry Service to create a set of graffiti stencils – stating from images in newspapers and magazines professional artists helped the young people build designs that could be turned into stencils.
On Guid Nychburris Saturday a team of volunteers including young people from Youth Enquiry Service and young artists from Spring Fling offered the public the chance to contribute to a giant pavement drawing by choosing a stencil design and painting the design with spray chalk. More than 100 people painted a stencil and the total artwork covered an area of more than 120 square metres. Children played hopscotch on the pavement for weeks as the paint faded and you can still see people pointing out where 'their square' was on the pavement.
---
Back 2 Back Dumfries – The Stove at Guid Nychburris