Coming up this Friday, 28th February as part of National Theatre Scotland's Just Start Here festival in Dumfries will be the next development of Solway to Svalbard, an creative project led by composer and musician Stuart Macpherson, in collaboration with filmmaker Emma Dove and sound recordist Pete Smith.
Following a successful starter residency supported by NTS, and a recent trip to Svalbard on the trail of the barnacle geese – the project has continued to grow and develop, so we are so excited to find out more about how the work has been developing! Ahead of Friday, Stuart tells us more about the project:
How did it all begin?
Well… funnily enough it all started off with a commissioning opportunity through the Stove Network for one of their members to create a piece of work responding to the brief of Migrating Birds, to coincide with the opening of Kathy Hinde's Luminous Birds installation that was coming to Dumfries.
At the time there was another Stove project exploring Dumfries' ties to Norway and I thought I'd explore the avian link between Norway and Scotland. I knew the barnacle geese that came to the Solway each year had something to do with Norway but didn't realise that was just their spring staging point and they in fact came from Svalbard. Pretty impressive… there's also loads of really cool mythology surrounding the geese which is fascinating.
Anyway, the resulting piece that I created was "Flight" – a migratory soundscape incorporating field recordings and free triggered samples. Pretty early on in the process of making that piece I started to think about where they stop on their journey and the idea of exploring those environments. I really liked the idea of incorporating visuals and some proper field recordings. Also, I guess I had grown a bit of a fondness for the geese through working on "Flight" and felt that I wasn't quite finished with them yet!
Its important to me that I make work that has a relevance to where I am and with what is around me.
I also wanted to work on this project with other artists that have ties to the region, Emma and Pete were an obvious choice, I love both their work, they're really good at what they do and in fact both had been involved in some level with "Flight" too.
What about geese particularly sparked your inspiration?
Initially the folklore surrounding the barnacle geese was the bit that got me hooked, the idea that folk actually thought they hatched from barnacles on bits of driftwood… totally brilliant! But I guess very quickly there was an admiration that grew for them, it is amazing what they do – the distances they travel each year. They evoke a lot and represent all sorts of different things to different folk, all the while they're just being a cool wee goose flying between here and the high arctic trying to eat the best grass when it grows and raise a family… I like that.
I believe you've visited Svalbard twice now, along with your key collaborator Emma Dove to record the geese as well as the natural surroundings. How has this affected the work?
I've actually only visited Svalbard once… and that was with key collaborators Emma Dove and Pete Smith. We also have spent a fair amount of time at Caerlaverock filming and recording the geese and last April/May I spent a month on a wee island in Northern Norway (just in the arctic circle) where the geese spring stage on their way north.
So yeah, a lot of this project has been about filming and recording the environments that the geese pass but also about talking to people and what place means to them. It was particularly important for the three of us to make it to Svalbard as that has really put things into context, to be able to explore the furthest extents of the flyway and get a perspective from both ends.
Its been an interesting one as a project that started off with the geese has ended up with lots of chat about people, its been a very organic process. We've learnt a lot from each other.
How's it been working with the National Theatre of Scotland?
I've been really enjoying working with NTS on the project, they've been incredibly supportive, not just with the narrative development of the work but also with the technical/practical side of things and being able to help hold the production elements of the project… something that I personally find pretty overwhelming.
They've got a huge amount of experience and all this resource that we have been able to access, so its been a really great process for us.
We've been working closely with director/playwright Davie Anderson and he feels very much like part of the Solway to Svalbard team now, having that outside lens to look at a project has been a really helpful. He's been encouraging and supporting us to explore different ways of presenting the work… its definitely been a change from what we are used to within our own practices and at times a little daunting but actually it has been really refreshing and enjoyable and genuinely feel the work will be the better for it.
Its also been great to work up at Rockvilla, to have a bit of separation to properly focus on a project has been super helpful, not to mention that it's a really cool space to work in.
What should we expect?
That's a hard one as we're still working that one out ourselves… I guess showing the work through Just Start Here allows us to properly test for the first time all the different elements of the work, that up until now we have been unable to. As well as figuring out how to actually make this work we've been focusing a lot on the narrative of the project, and feel we've got to a really strong place with that. There's obviously elements that will be missing for this showing, but we're hoping that folk will be able to get a good idea of what the finished work might be like.
For lots of different reasons this is a pretty complicated show, we're combining multiple screens with surround sound design and live musicians as well as dialogue and other more theatrical elements. So on that side of things it looks and sounds pretty cool… not the kind of thing you see very often… especially in a social club.
What are the future plans for the work?
What is great about Just Start Here is that it is an opportunity to test ideas and to see how folk respond to those ideas. There will no doubt be things that need tweaked afterwards as well as other elements that we simply have not had time to get to yet. We have a rough diamond here.
As I've said previously I'm really enjoying working with NTS on the project, so would like to continue that journey and see where we end up. But the idea would be to create a touring work… it makes perfect sense to me that a work based on migration should travel itself.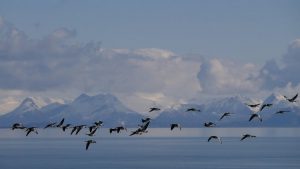 Solway to Svalbard will be a part of Friday evenings Just Start Here festival, in Dumfries on Friday 28th February. Limited tickets are still available for the evening are £5 per person, and available online here