Behavin?
In July of 2019, a micro-festival of performance art, live music and spontaneous creative action took place across the High Street of Dumfries. Set-up to agitate, disrupt, celebrate, poke fun and play, Behavin' invited performance artists, the local community, musicians and local artists to contribute to a new kind of scene for Dumfries. 2019 featured the world's smallest music venue, drag performance, Kung Fu master-classes, a band of seagulls, plays in our elevator theatre and a madcap day of extraordinary work from artists throughout Scotland.
And since then, it's all gone a little bit quiet. The streets have resumed their normal operation of passers-by, people watchers, the school run, lunch- time meetings, chai latte soirees and bank appointments, all this alongside the looming avian threat of a hungry, sausage-roll-loving-seagull. Colloquially known as 'Rats With Wings' (also a good name for a death metal band).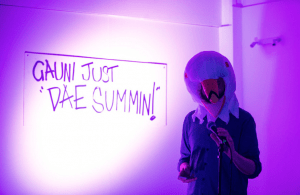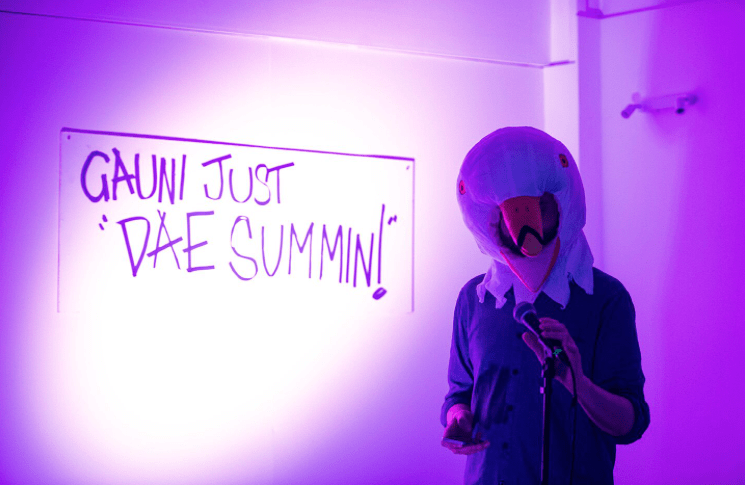 Until now.
Behavin' have been invited to take part in Just Start Here 2020 with the National Theatre of Scotland. And this year, we're doing just that, starting right at the beginning. Our troupe (if you can call it that) is banding together once again to play, chat, explore ideas and perform, in the very heart of the High Street.
Welcome to Elsewhere, bring a chair.
We don't know what it will be. We're sure we'll be sitting on a chair. We're sure it might rain. We're certain it's in Fountain Square. Something is starting.
With Just Start Here, we're in the most unique position as local artists to explore, create, start, challenge and expand our creative horizons. And we invite you, our community, our network to start something too. Join us on the 28th and 29th of February and explore how we can start a new kind of creative ambition for Dumfries.
___
Just Start Here is a two day festival of bold new work, taking over shop-fronts, working men's clubs and the streets of Dumfries this February. Organised by National Theatre of Scotland, Just Start Here will take place on 28th and 29th of February 2020. Tickets are available now, for details on how to get yours along with the full line please visit the NTS website: