In 2013 The Stove Network joined with Wide-Open and Spring Fling to co-produce the first Environmental Art Festival Scotland (EAFS) in Dumfries and Galloway……now we are delighted to announce that we are part of bringing you the second outing of the festival – EAFS 2015'Off-Grid' has been announced this week:
The ruins of Morton Castle, and its fabulous surrounding countryside, will provide the spectacular backdrop for the 2015 Environmental Art Festival Scotland over the weekend of 29/30th August.
The festival, in Dumfries and Galloway, will be an intriguing and playful opportunity for artists to help change ideas and influence thinking about how we need to adapt and change in an era of climate change.
There will be a strong emphasis on youth with five interns playing a central role in organising and delivering the project, helping build a wider, younger audience to engage with environmental issues.
At the heart of the event will be a variety of specially commissioned artworks plus walks, fireside conversations, food art plus other activities to inspire the imagination.
Ruaridh Thin-Smith, one of the interns, said: "The festival will be really enjoyable and fun while addressing some of the most pressing issues of our age.
"EAFS is about getting young people to understand a simple truth – that whatever it might seem, we are in control of our own spaces, our places, our environment.
"If we can understand that we have the power to affect positive changes and make our planet a better place to live, then we can accomplish anything.
The other interns, all from Dumfries and Galloway which is home to EAFS, are Meredith Langley Vine, Katie Anderson, Daniel Leigh and Kerry Annison. The EAFS youth project, which involves a wider group of young people as well as the interns, is funded by the Holywood Trust.
Over the last year the EAFS team has been developing the ethos for a thoughtful and playful festival for 2015. This is reflected in the central themes of "inventiveness, foolishness and generosity as a way of understanding the world".
It aims to attract visitors from all over Scotland, and beyond, and will bring together people who work with the land, scientists, artists, environmentalists, cultural thinkers, poets and performers to participate in the festival.
Jan Hogarth, a co-curator of EAFS, said: "The castle and its amazing landscape are a brilliant place for an environmental art event which is all about our changing relationship with the environment.
"We are expecting lots of interest from all over the region and the country as a whole in the event, and we are delighted to be working with our team of five interns. They are bringing a huge vitality and a fresh perspective to EAFS.
"We are very grateful for the support of the Holywood Trust and their recognition of the need to engage young people in the arts and landscape."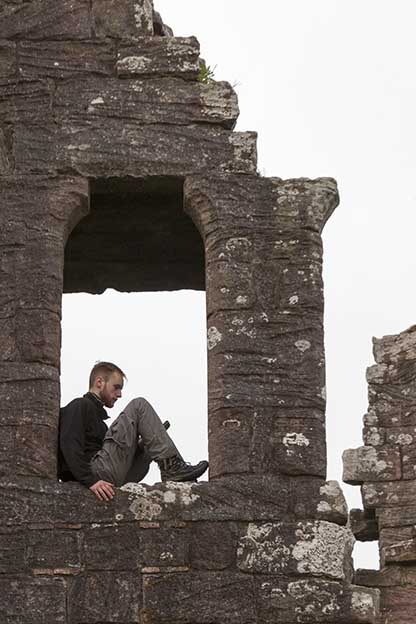 Photos by Colin Tennant