From Sal Cuddihy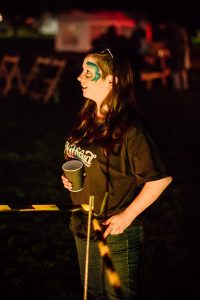 Since starting with the Curatorial Team almost 3 years ago, the amount I have learned and the people I have had the opportunity to work with has been invaluable to how my life has unfolded. The Stove creates a space for growing and nurturing whether it be people or ideas, and it's safe to say I have came a long way since the nervous person sitting on the interview chair babbling about fairy lights.
I had a little experience working with the Stove before joining the Curatorial Team; the first interaction I had was with the Environmental Arts Festival. I have a background in being involved in local events and was pointed in their direction as a volunteer by Sleeping Giants, a partner of the Stove. Not quite sure what I had got myself into, I ended up meeting a group of extraordinary people who had created a community and used their creativity to produce an event that had reached me like no other had in my previous experience. I actually cried after the end of that project, the thought of going back to my usual day-to-day pub work filled me with dread and not knowing when the next opportunity would be.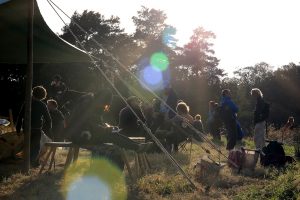 The advert came up for the CT position and I thought there wouldn't be a chance in hell that I would get the job but it would be good to throw my name in the ring for experience. I got an Interview… (How I have no idea but I did!) In the Interview, Fairy Lights were mentioned A LOT. I had resigned myself to "well you gave it a shot at least". Now I'm not entirely sure if the existing team were within their right minds or, like myself, had no idea what they had gotten themselves into, but that day changed my life.
From there I went on to focus on the events and expand my practice with community work. Nithraid Festival has been the biggest part of my role here and has taught me so much that I had previously taken for granted as until then I was always brought in later to an events delivery. Being the project manager and planning from the very ground up has given me priceless knowledge, sometimes through trial and error, of working with the local community and authorities to deliver a festival that has grown along with myself into something I am proud of.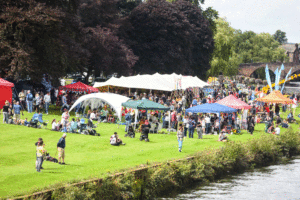 Another part of the job that I loved working with was health as a subject be it physical or mental health. I created a project called the Light Room in October 2016 that entailed tackling prejudice, working with a diverse range of groups and a lot of (you guessed it) FAIRY LIGHTS. After that and the curse of the fairy lights you will be glad to know I learned my lesson – and the event opened my eyes to how we can use art to get conversations happening. That was what being part of the team did, you have a group of people with all different ranges of expertise and they will help you work through a project or idea. Even when you have been up a ladder for 5 hours and are tangled in a mass of cables they will be up those ladders with you. It's not just for those that join the CT, every person that comes into the Stove with an idea are guided on how to do it them selves, and not "we will do it for you".
Every experience has been a huge learning curve and not one day is the same – that is what I will forever treasure working as part of the CT and any time I think, " What have I got myself into now?" I welcome it.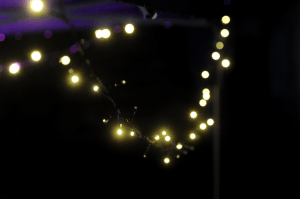 ___
A huge and special thank you to Sal for her sterling work the past two and a half years on our Curatorial team, but don't worry – Sal isn't going anywhere just yet, you can still find her in the Stove managing room bookings and events production, and as Project Manager on Nithraid – coming up this year on the 31st of August!