September 2
@
12:30 pm
–
3:30 pm
Nithraid is back! Join us at Mill Green as we watch the river race and celebrate 10 years of Nithraid!
The Nith is a tidal river that runs through the historic market town of Dumfries, connecting the town to the sea, which in the 18th century saw the town and its neighbouring villages of Glencaple and Kingholm Quay become Scotland's largest and busiest trading ports.
To celebrate this rich history, we hold an annual River Race, which sees teams of coastal rowers, sailing boats and various person-powered vessels race the river, battling for the best time with each boat carrying a cargo that was traded in those times.
The river's importance to Dumfries as the region's largest market town is immortalised in the Nithraid logo. Our festival mascot, 'Salty Coo' symbolises the historic journey made by herds of cattle, led by their farmers, across the river at low tide, from Maxwelltown on the west bank to the cattle market at Whitesands on the east side of the river. This historic crossing site now marks the half-way point of the Nithraid River Race.
Visit the Nithraid webpage here!
Activity on Mill Green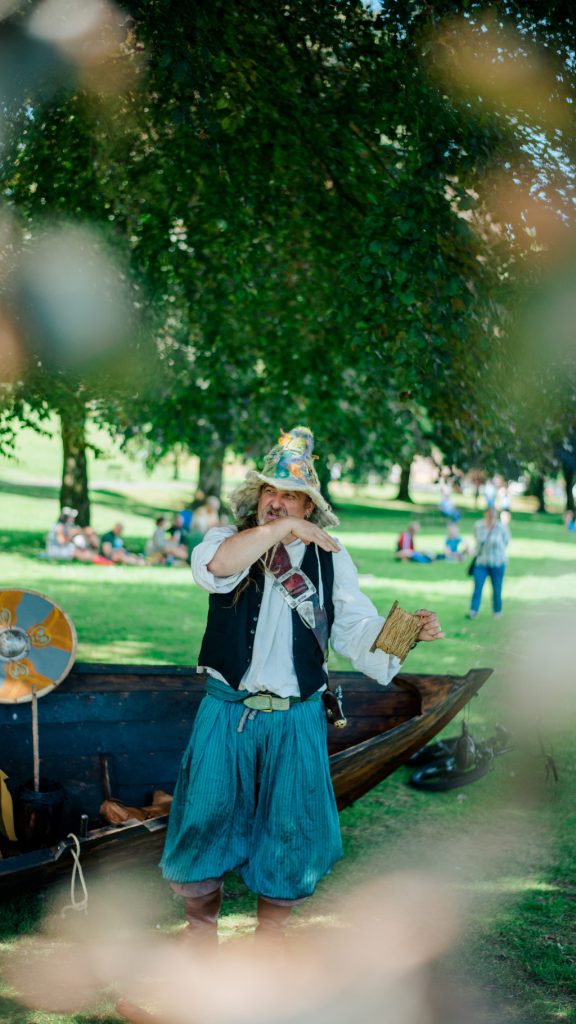 Explore the heritage of the clinker boat building tradition with Cluaran.
"With a boat, a river becomes a road".
Imagine the many ways in which the river Nith has shaped the lives of those living on her.
Chat with the crew of characters on a voyage through time, from source to sea and beyond.
On the Day of Nithraid we will have a crew collected from throughout time.
You might meet a Novantae princess, or a viking fresh of the boat and looking for adventure. Some of the crew are even from possible futures. They are all connected by a love of the river Nith. Ask them what the river means to them, or use our online character generator to reflect on what the river means to you!
Cluaran is living, breathing heritage. We run hands on heritage craft workshops, mythological storytelling sessions, and of course work with boats and the water. Our programme of activities can be found on our website, here.
Cluaran is a Wordsmith Crafts CIC project. Wordsmith Crafts exists to give people access to the resources of their heritage. The profit from activities we charge for is fed back into creating volunteer opportunities and giving people unexpected opportunities.

If Fishes were Wishes for the Nith
Fishy fun with Elizabeth Tindal, Freelance Ranger.
Join Elizabeth, and try to catch a fish in a paddling pool using a fishing rod and magnetic bait!
Each fish you catch will get you a natural treasure from the beach or river a chance to add a wish to our great big fish.
What will you wish for 'Less Litter', 'More fish', 'Clean Beaches' or another Nithraid?
the Missing Museum
Welcome to The Missing Museum: Uncovering the Untold Stories of Dumfries & Embracing the Power of Imagination!
Join us as we embark on a fresh perspective journey, exploring the histories of Dumfries that have been lost and the countless possibilities that lie within our collective past, present, and future.
We invite you to take a closer look at how we perceive the past and the impact it has on shaping our future. Let's delve into new perspectives, questioning the politics surrounding historical recovery, and examining our role and responsibilities in preserving and sharing our present for generations to come.
As valued members of our community, we invite you to ponder upon thought-provoking questions:
Whose stories truly matter?
Which stories have been underrepresented?
What stories do we cherish and wish to preserve for the future?
What stories are missing, and why?
What artefacts make these stories come alive?
Which objects or artefacts would you like to collect or hold onto?
The Missing Museum provides us with an opportunity to acknowledge what is absent, rectify the gaps in our shared local histories, and give voice to those who have been overlooked.
Together, we can bridge the divides, promote honest representations, and create space for the stories that have been omitted.
History is often written with an agenda, serving specific narratives and maintaining power. This results in misrepresentation and exclusion.
Help us restore balance, reclaim neglected narratives, unearth new stories and unsung heroes, while understanding the vital role history plays in our lives.
Who has the authority to decide whose names and stories grace the pages of our collective histories, and who gets left out? What truly constitutes history, and who has the power to shape it? How is it documented, lost, or distorted?
Let us bring back the stories that have been overlooked and under-heard, honouring them fairly and acknowledging the achievements of everyday people and unsung heroes throughout the ages. We stand together for all those voices that have been lost, silenced, or still remain unheard.
Eco Art – Environmental Flag Design Drop-in
Join in and become part of a region wide art project, 'LAND' and design a flag that signals your climate message.
Some of the designs are made into large flags that are carried up the river Nith by the boats and then flown from the suspension bridge in a colourful display.

Family friendly and free event.
Refreshments & Facilities available at the Robert Burns Centre.
Activity at The Coach & Horses and The Dougie Arms…
The Coach & Horses
Exhibition at the Coach and Horses.
Visit the Coach and Horses from 2:00pm – 7:00pm, to view an exhibition by Fraser Irvin, Neil Patterson, Leanne Bradwick and more!
'Nithraid' by Davey Payne
Live performance of 'Nithraid' by Davey Payne – a poem written for this years river race! Keep an eye on the Coach & Horses Facebook for updates.
Live music from 3:00 pm
Michael Grant from 3:00pm
The Dougie Arms
The In Sound: Nithraid Edition – 8:00pm till late
All aboard The Dougie as Captain Russell Stephen steers us through a night of the best sounds around! The In Sound: Nithraid Edition – Saturday 2nd September from 8 til late.