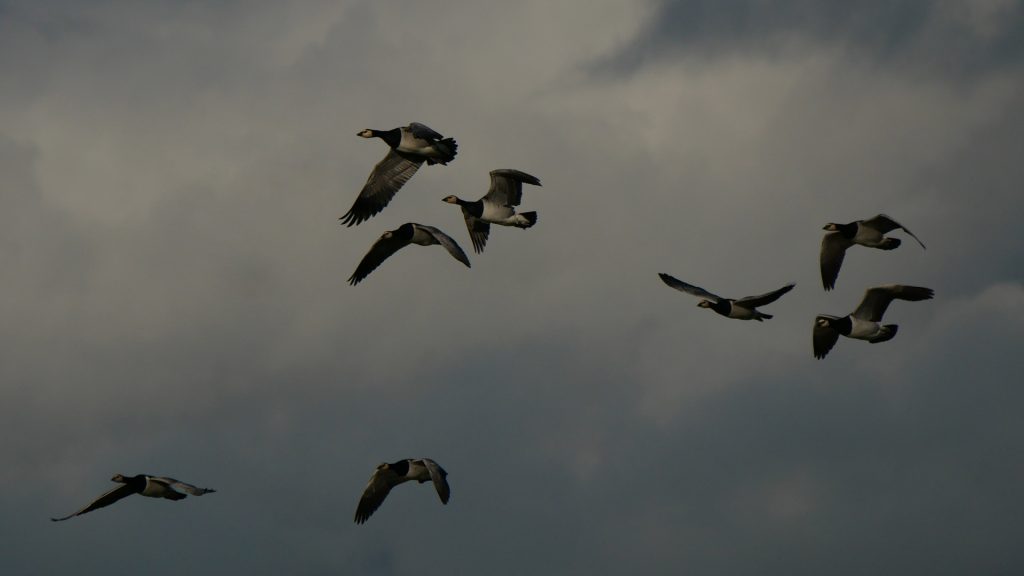 Solway to Svalbard is an immersive, multi-artform response to the spring migration of barnacle geese.
This unique piece of theatre brings together original music with cinematic visuals, evocative soundscapes, and live storytelling. Created by composer Stuart Macpherson, filmmaker Emma Dove and sound recordist Pete Smith the project was developed over the course of five years, enabled by support from Creative Scotland, PRS Foundation, Help Musicians UK, Tenk Traena AiR, Galleri Svalbard, DG Arts Live, The Stove Network, DGU and the National Theatre of Scotland's Engine Room programme.
Forming part of Dumfries & Galloway's Wild Goose Festival, which is produced by The Stove Network and held in Dumfries and surrounding areas, the festival unites key partners from the region in an exploration of nature, creativity, and place, Solway to Svalbard follows the migratory rough of Svalbard's Barnacle geese from Southwest Scotland to the High Arctic and back. The final artwork is highlighted as this year's finale event with the world premier will take place at the Loreburn Hall in Dumfries on Saturday 29th October.
"We have all put so much work into this project and I think we have really created something that not only gives audiences and insight into the geese's journey but also the journey we have gone on as the friends in creating the work."
Pete Smith – Sound Recordist
More About the Project
From their wintering site on the wetlands of the Solway Firth, through staging sites in Norway, to their breeding grounds in the High Arctic, the barnacle geese journey across shifting environments in search of food and safety. Following the geese on their journey were a team of three clunky humans who charted the flight path of these birds, encountering different communities along the way, seeking answers to their own questions of home and resources.
Solway to Svalbard is the culmination of the research, inspiration, documentation, ideas, thoughts, and feelings for these three collaborators and through their in-depth development, a richness of material has been generated that captures very special and intimate moments of the barnacle geese's migration.
But where did is all begin?
"Fancy spending a couple of days filming and recording geese at the wetlands?" I don't think any of us had any idea of the journey that we had just started when we got together for that initial reccie!"
Stuart MacPherson – Composer
The Solway Firth' mudflats and coastal grasslands make up one of the largest intertidal habitats in the UK attracting tens of thousands of geese and other wildfowl and waders each autumn, the story of Solway to Svalbard stars here…
"Caerlaverock WWT was the first wildlife reserve I went to as a child. I remember 'hiding in a hide' and peeking out the small windows, looking at the vast numbers of grazing barnacle geese and listening to their noisy squabbling. It made a real impression on me, so, when Stuart first got in touch and asked me to come along on a recce for the project I jumped at the opportunity."
Pete Smith – Sound Recordist
The development process of this project has encompassed research trips to the High Arctic, writing and filming sessions in the wetlands of the Solway Firth, writing residencies in Scotland and Norway, pop-up musical performances in Caerlaverock Castle and a work in progress performance in a working man's club in Dumfries for the National Theatre of Scotland's 'Just Start Here' festival.
Wide-shot panoramic footage of their journey evokes the scope and scale of the landscapes they travel through with close up environmental detailed shots. An immersive textured sound design weaves field recordings of the geese. Recorded interviews and stories recounted by local people in the Arctic and the Solway comment upon our integral but often forgotten interconnectedness with the natural world and the reality of environmental change on us all. An original score written as a response to the different environments and habitats weaves through the show. At the heart of the work – Stuart, Pete and Emma's personal story – their account of navigating these people, places and landscapes and how their time with the geese changed and shifted their perspectives.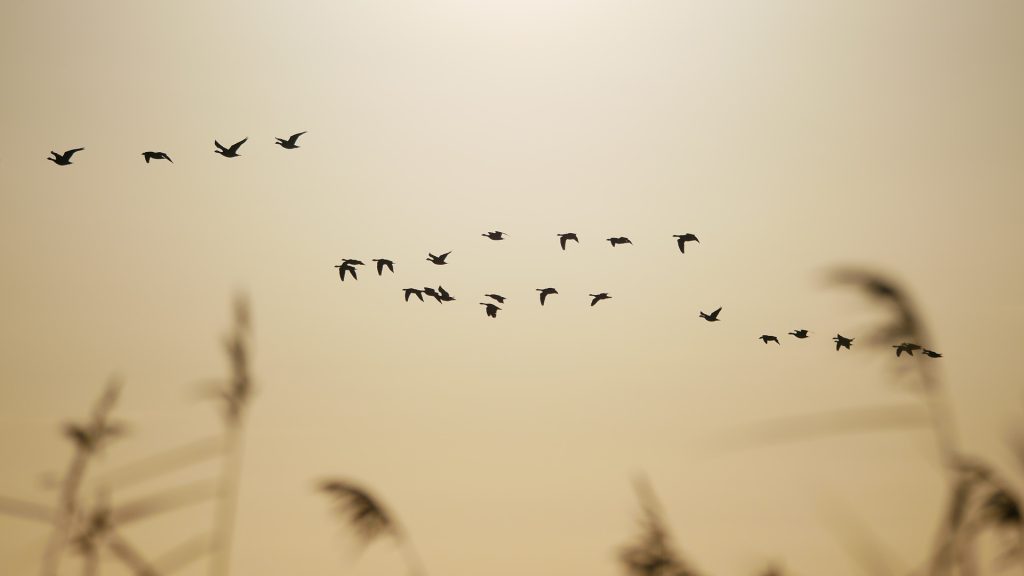 "When Stuart approached me to work on Solway to Svalbard, I felt an immediate connection to the piece. I naively imagined setting up my camera down on the Solway Firth and patiently waiting for skeins of geese to fly in perfect formations overhead. The reality really was much more of a wild goose chase – a lesson in our limits as clunky humans stuck to the ground, as well as an incredible journey of discovery of the places, habitats and people that are connected by the barnacle geese and their round trip to the high arctic."
Emma Dove – Filmmaker
Solway to Svalbard is a work about the natural world, our relationships with it. We're currently living in a moment where a radical reconsideration of our relationship to our planet is required, and as gentle, tender, and intimate as the work is – it has never felt more urgent or necessary.
Audiences will learn about the geese, their habitat – what is changing and why that's important. The barnacle geese are a conservation success story to celebrate but they are also an indicator species – their shifting behaviours and journeys pointing to rising temperatures and climate change. Above all, Solway to Svalbard is a work about feeling and connection. Immersed in the sights and sounds and movement of the geese and orchestrated by live music – audiences will be invited to feel their own interconnectedness with the natural world.
Solway to Svalbard is a live performance incorporating original orchestral music, film screening, and unique audio design. BSL interpreted, tickets for the premier of Solway to Svalbard are on sale now.