Guest blog post from Emma Dove.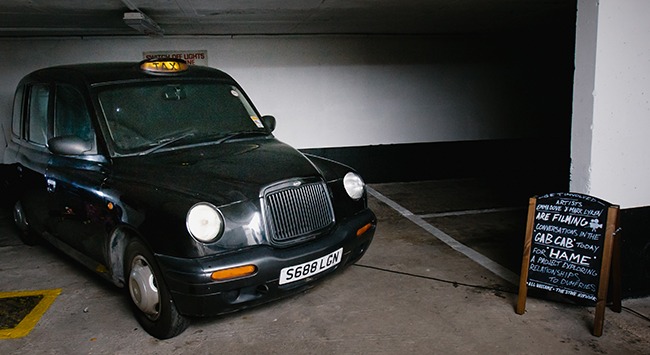 Mark and I are about five weeks in to our residency with The Stove. One London taxicab and twenty-four conversations in said taxicab later, and we're starting to get a feel for the place…
A little bit of background on that. We had heard that The Stove was planning to hold their AGM in an underground car park… Ok then. But not just an AGM, in fact this usually empty car park will be filled with games, projections, skateboarders, a cinema… Ok then…
These are the sort of wild off-hand statements that we have become accustomed to expect at Stove meetings, in amongst chat of salty coos and wooden-spoon themed offerings to gypsy kings. Hang on a minute; what's a salty coo? Well, after a little more explanation, we are beginning to grasp the nuances of the rich, diverse and genius ways that The Stove Network is engaging with a town in flux and a wide geographical area with a rich and beguiling history.
We came away thinking, firstly, "These guys are bloody brilliant" and, secondly, "What can we do in an underground car park in 2 weeks time?". As mentioned in the last blog, we wanted to find a way to start exploring the theme of human migrations and find a way to get people chatting about home – the good bits and the not so good bits.
What sort of warm, friendly and familiar space could we create within an underground car park? The sort of space where people feel happy to open up and chat? The sort of space where we can set up all of our kit and record these conversations in an unobtrusive way? The sort of space that somehow keys in with the themes of "home" and of "travel"…?
A mad week of logistical grafting later and the taxicab arrived, driven all the way up from Chingford in Essex by a lovely chap called Wullie J, and was given a whirlwind makeover in time for its Parking Space debut.
We weren't sure what to expect, both of the wider Parking Space event and our small part within it. We agreed we would be happy if 5 or 6 people came in for a chat and so were absolutely delighted to have a total of 24 folks through the shiny black doors within 2 days, each with their own different story to tell. Each visitor marked the places that they spoke about on a map of D&G and we plan to follow up some of these places to film during our residency.
In terms of the wider event, the space was bubbling with activity as curious visitors slowly made their way down through each level of the car park, lured by the unusual sounds that ricocheted and tumbled together through the space, invitations to street games, dancing lights and projections upon pillars and walls, not to mention the people hurling themselves in to the air mounted upon small wooden chariots [skateboards]. A feast for the senses.
To be privy to the AGM side of things was also fantastic for us. The personal value upon which everyone present felt for the organisation (and for each other's work) was palpable, much of which was expressed through talks and images and emerged further through the Public Art discussion facilitated by Dot to Dot Active Arts and The Open Jar Collective, fittingly chatted over a plate of hot stovies and a glass of wine. A really valuable evening to be a part of.
We've lots of ideas and inspiration to explore over the next few months and we are planning an Artist Talk in December to share some of these. We will also be talking about some our work to date, sharing some of our "Hame" work in progress (including some Parking Space rushes…) and screening our previous film, Mirror Lands.
Details to follow shortly.
Gab Cab photo © Galina Walls