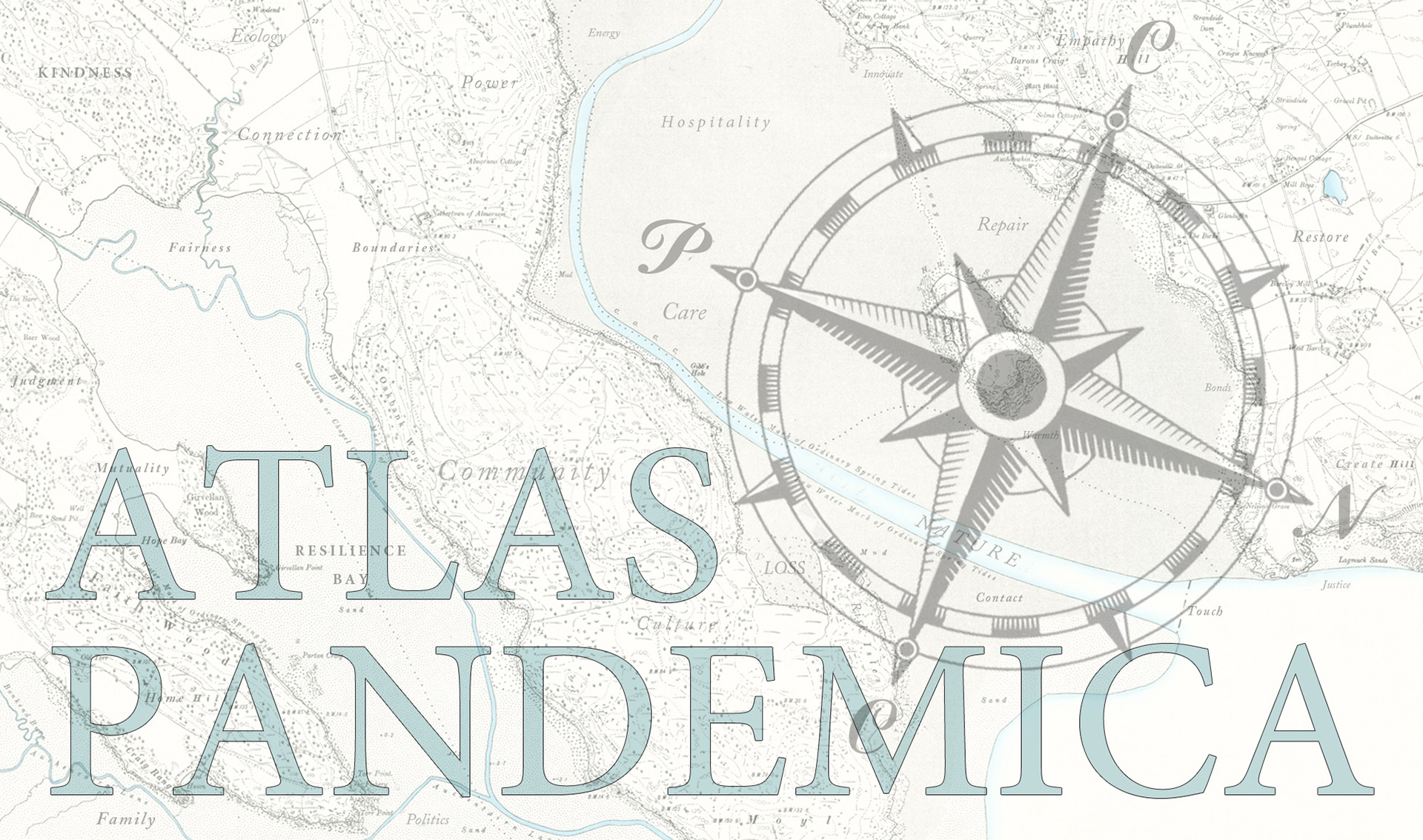 About
Atlas Pandemica: Maps to a Kinder World is a group of 10 creatively led investigations, each exploring a theme highlighted by life during the COVID pandemic in Dumfries and Galloway. The project is designed to encourage innovative approaches in charting the impacts and learning from the pandemic and to try and navigate the way forward into a more hopeful and shared future.
How have our relationships with each other, the natural environment, food, travel and care changed, now that we have new insight that these can both support our lives and threaten them?
The project is running from July 2020 until the end of the year, when Atlas Pandemica will be presented as a record of individual journeys of exploration and potential projections into the future for our region.
Atlas Pandemica is conceived, managed and delivered by The Stove Network. The project is Co-Curated by Robbie Coleman and Matt Baker – both public artists based long-term in Dumfries and Galloway. Robbie has an international public art practice often in collaboration with Jo Hodges, both are active members of The Stove Network. Matt was one of the founders of The Stove Network and is currently the Orchestrator of the collective.
Robbie and Matt will coordinate the team of creative practitioners working on the project (including a project Bibliographer) and lead on the production of the final publication of the Atlas Pandemica.
'We believe that a creative voice is vital in the conversation about the futures being planned for our communities. To that end, we are gathering together creative practitioners, from all walks of life, to work collectively on a project that will examine the way our society is reacting to the COVID pandemic and make creative responses to what is happening and what could happen in the future".
The pandemic is both local and global as it is lived by individuals and communities. Above all, it is a collective experience, and one that must be looked at through different scales of magnification to acquire new insights about relations between individuals, communities and the larger influences in our lives; revealing the inequalities embedded within these, as well as the positive possibilities.
Over the last few months we have all seen and sometimes participated in many, many examples of cooperation, generosity and care. Maps to a Kinder World is a means of creatively learning and building on these informal networks and gestures of human solidarity. Can an Atlas Pandemica help reveal the real power of the local for the way we live together with each other and the environment into the future?'
---