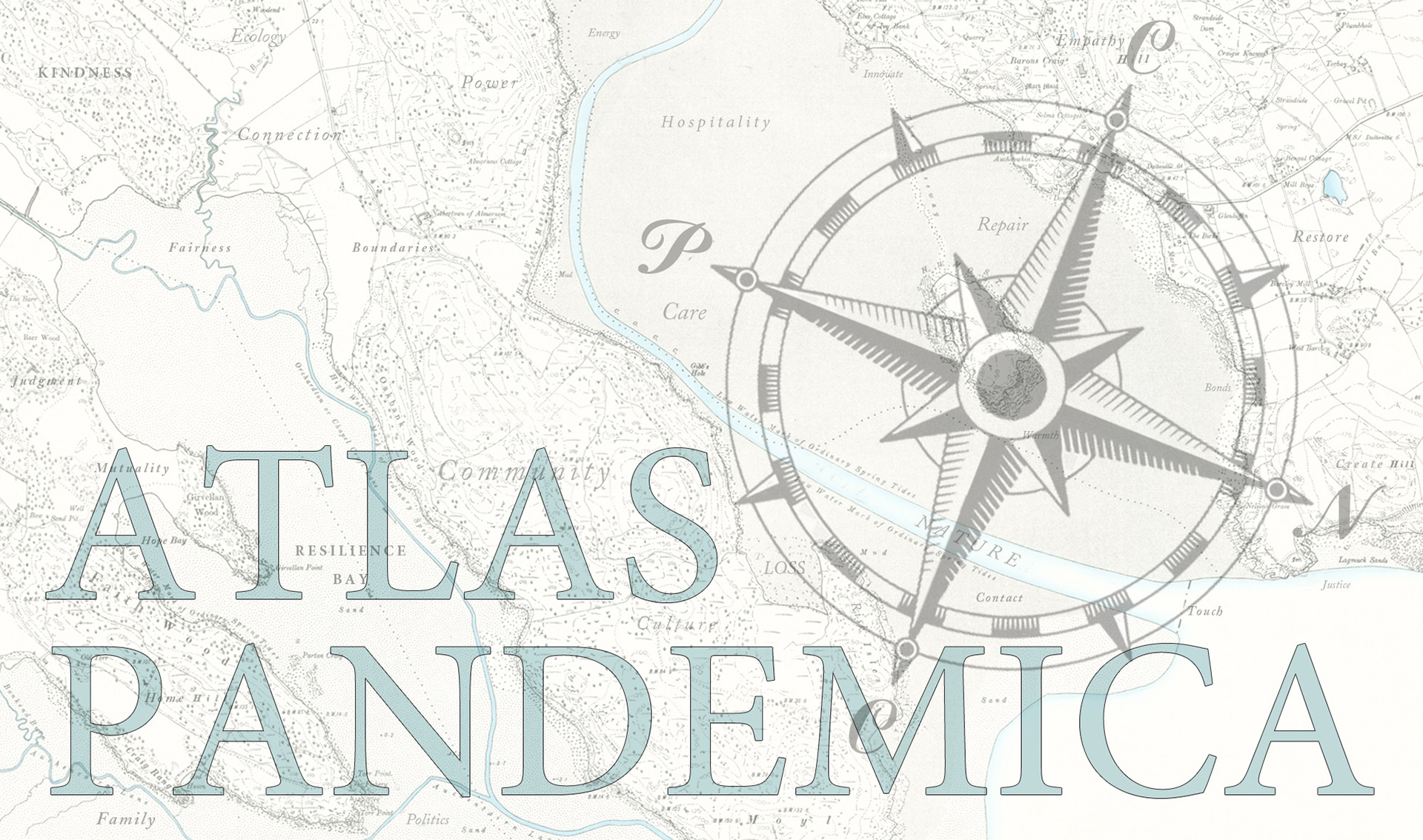 Project News
The Final Gathering?
By Philip Palios
What changes in Dumfries? The people more than anything else. Even the ones who call Dumfries home from cradle to grave are far more temporary than the non-humans in town. Not just the buildings – slowly dying away, disused, changing from vehicles of capitalism to hollow facades – but the oak trees, they seem to be doing pretty well overall. They saw the rise and fall of people, plagues and post codes. Curious? I know I am. JoAnne's project makes me want to strike up a conversation with some of the trees that occupy this town. I reckon they have more wisdom than we give them credit for.
2nd December was a cold winter Wednesday, it was probably raining but I can't remember because I was inside all day staring at my computer screen for the most part. Rainy here in Seattle, rainy there in Dumfries. Some things aren't that different. But most things are. What was special about 2nd December? It marked the fifth and perhaps final official gathering of Atlas Pandemica. Our likenesses were coordinated through a Zoom data centre in Germany (will Brexit change where Zoom meetings are hosted?) and we shuffled around in small groups to discuss the same question, again, and again – "What are you finding most exciting about your project?" The more people answered this question, the less exciting their responses became. Ultimately, we were wandering into random conversations. I think that was the point, but only the orchestrators can say for certain.
Why is the hope and humanity sometimes hidden in public work? Perhaps issues of privacy come into play and of course people's privacy should be protected, but we also shouldn't be left with dull marketing campaigns devoid of authenticity. D&G council is keen for help naming their new gritters, and that's great, but the really touching things that are happening every day must be kept secret. Here comes fiction to save the day! I really can't wait to read Karen's stories, fiction inspired by true stories from D&G council. This paragraph sounds like inauthentic marketing crap, but seriously I can't wait to read the stories, I would really like to see the human side of the council. To date, my most recent interaction with the council involved details of changes to Non-Domestic Rates. The council doesn't have a hotline for folks interested in hearing a good story. But we do have Karen, so that's cool. A sample of her stories was recently published as part of together, we help, give it a read.
Also featured on together, we help is Jenna's project, LGBTQ Voices. But you can learn more by checking out her project directly. No need to wait until launch day. Launch day? Now there's a day we haven't talked about at all. I'm not sure if it exists, or when it will be. That's not to say that we won't finish, but we haven't finished yet, so it's hard to say when, where, who, what or why. Hopefully, a box of maps will be arriving to a place near you in the new year. This isn't a teaser, this is a confused contributor. Have some faith, it's gonna be spectacular.
What we do know is that this is not the end. Many artists will be continuing their work through March or so and a better idea of when their amazing work will be ready to present to the world will be clear closer to that date. For now, you have to deal with my ramblings. Or check out our social media. Whether another gathering takes place is up in the air, if it does happen you might be reading another post by yours truly, or maybe I will write something without the inspiration of a gathering, who knows?
What did I learn on Wednesday? An old footpath might be re-opened thanks in large part to Mark's work. Now that's what I call an atlas! I've discovered too many former footpaths on survey maps that end in eight foot wildness and muddy waters. Here's to more beautiful walks in Dumfries and Galloway!
You may not want to smoke Vintage Grass, but some Atlas Pandemica artists suggest reading it. The Tin Drum by Gunter Grass (published in the UK by Vintage) tells the story of Oskar, who among other things opens a café for people to express their collective grief. Clearly, this did not happen in the midst of a pandemic. But one way or another, we need to deal with grief. Whether that's Zoom fatigue or a loved one we couldn't see before they died, we are all experiencing grief in different ways. Some of us are braving this storm aboard yachts and others are drowning in it (not my metaphor). How are we coping? Are we coping? How could we do better? I can only speak for myself when I say that I have no clue. Thankfully Jo and Robbie are a bit further along and working on something to share with us, perhaps something to help us deal with our collective grief.
These Atlas Pandemica gatherings certainly provide an opportunity for grief relief and some of the gatherings that artists are organising for their projects do the same for others. The process of each artist's work itself is providing a service to the community, often unintentionally. Annie thought circumstances would allow her to conduct interviews in-person, so when things had to go virtual her plan to do something for the people she was speaking with became compromised. But perhaps the interviews themselves, taking place in the middle of such a difficult time, are themselves an act of care and kindness. For some artists, the community impact might be happening right now The smoke that we put in a box come March might be beautiful, but less impactful than whatever created it.
This project is mysterious and magnificent. It's difficult to grasp and fully understand, no matter how involved or distant one is from its myriad working parts. We see inspiring bits and pieces that often leave us craving a more full understanding and appreciation for what's going on. In an attempt to do that, I think I've mostly just created one more piece of the puzzle. I just hope it's one of those corner pieces that helps you figure out where the other ones go.
In my last post, you saw a snapshot of our smiling faces. I love snapshots and want to offer a different one this time around. Below is a very unhelpful angle of the books on my wee writing desk. Perhaps more interesting, I have also included a snapshot of what the Atlas Pandemica artists are reading right now:
The Dominant Animal by Kathryn Scanlan
The Power Broker by Robert A. Caro
Mayflies by Andrew O'Hagan
Pleasure Activism by Adrienne Maree Brown
Social Works by Shannon Jackson
The Care Manifesto by The Care Collective
The Classwork Project
Palimpsest by Gore Vidal*
Myra Breckenridge by Gore Vidal
Hitch-22 by Christopher Hitchens
Fungi, Entangled Life by Merlin Sheldrake**
* There's interesting stuff about the Kennedy family, he was Jackie's half brother or something, about —Tennessee Williams, Truman Capote et al, but otherwise it's a lot of bitchy score settling.
** Totally fantastic, makes you re-examine what you understand as life and where the edge of things are… are there any edges or is everything a series of entanglements at different scales?
---
The Fourth Gathering
By Philip Palios
5th November 2020
[Our fourth gathering was held on 5 November via Zoom. Participants were split into breakout rooms and asked to respond to a prompt, then shuffled and asked a second question, then shuffled a final time for one last question. The Bibliographer took part and produced the following creative response to the gathering.]
Bits were cast around in delicate order shining through
Pixels dispersed across Dumfries and Galloway with me,
In America, wondering who, what, where, when and WHY.
Quality, quality, quality time
We finally got some quality time.
Everyone gathered round and we
Cut to the chase.
Discuss these
Three questions and maybe
We will leave today
Better than we found it.
-Question One: Do you end before I begin?
Delighted in our shared dismay
What do we all have in common?
Who knows, if you don't know
What sort of shoes the other
Is wearing today.
More time with the community than with
Each other, digging in and exploring, asking
A lot of questions but trying not to impose.
Learning, sharing, but not
Understood.
Who's land, your land
Who's streets, their streets
Who's Zoom fatigue, mine.
We're all. We're all. We're all.
Community. It's for the community.
Passing us by, confused by our postcards…
Do they know they are the community
Of our Affection? Adoration? Dedication?
Let's not scare them away, but invite them in.
With hope to eliminate our mutual them-ness.
But its lockdown, so go away what are you thinking
Barging in like this?
Trying to heal, trying to mend, trying to tend, not waiting
Until the bleeding stops.
-Question Two: Is it different here?
What do you call the suspension bridge if not the
Suspension Bridge?
For the mill people, for the show people, or?
Who paid for this, who built this, who is walking
On joy, tears, fears, years and years of money?
Back when people here were not loving
Cholera
The mortality rate in Dumfries was off the charts
It was not Phase 2 here while Glasgow was in
Phase Shut Your Door.
Who cares? Dumfries cares.
For carers by carers
The D&G Carers Centre has been
Taking care of essential workers
since the days of dial-up.
When nearly everything we see, hear and eat
Is the same here as there and even in America
They have English Muffins and Egg McMuffins.
It's easy to assume that now here is now there
And now we're all in it together to lose it together
Don't let anyone know it costs more to know
What's really going on here that isn't going on
Over there, because we can cut the budget in half
If we just make it all the same. Then a bunch of artists
From Dumfries and Galloway said
Fuck that.
-Question Three: What sort of mirror art thou?
Most mirrors are positioned by someone deciding
Who they think needs to see themselves better.
But the ones in the bathroom were positioned for
Aesthetics.
Did that mirror installer not know that she
Knew what she was doing? Even a mirror
Shines the light. Or hides the light. It is nothing
Without light but a piece of glass.
Some might choose to stand behind their
Self-diagnosed innocence and aim it at Will
While others wield their tools with precision.
A lot of voices are being recorded digitally and
With a pencil. Well, isn't that nice, some might
Think, admiring the artists' ambition to offset
The dominant narrative, while doubting any
Possibility of success. But that wild belief stays
Strong in the artists of Atlas Pandemica. Optimistic
That they can make a difference, and maybe it's not so
Crazy after all, if we look into the past.
Turn this off, go outside, smell the fresh air and feel
The rain on your head. Know that no one else
Got those drops but you.
This is not just information. Nor is it propaganda.
This is words on a screen that were put there by a
Man in a bedroom across the sea who is rather
Discontent and abundantly hopeful.
---
The Third Gathering
By Philip Palios
30th October 2020
Less formal, more social would be the easiest way to summarize our third gathering. As with the previous gathering, this one was held online from the comfort of everyone's own homes. In a minor act of protest I joined from the first floor of The Stove, where I had spent the morning working downstairs and already bumped into a few other Atlas Pandemica folks. Prior to lockdown I regularly worked from cafes and I'm glad that we have the virus under enough control that it is once again possible. I love the casual interaction that comes along with social workspaces, but I digress…
The gathering started with a few announcements, including that we would soon be launching Atlas Pandemica on social media. Twitter, Facebook and Instagram accounts were being setup so that artists could share their work and their journey, providing the community (and the world) with a more direct way to connect with the project than previously possible. This bit ended up dominating the remainder of the gathering, including when we transitioned into breakout rooms to talk in small groups. Artists were excited but had a lot of questions. How did it work? What was being asked of them? How would we address posts with differing opinions?
Tension, disagreement, difference… Is this something to avoid and hide, or to embrace? Or none of the above? Well, in my opinion it shouldn't be avoided or hidden, that's just denial. It's hard to imagine a project that doesn't have a bit of tension, it's one of the things that comes along with all sorts of teamwork. I remember the massive groan that resounded in my university classrooms when the lecturer announced a group project. I remember panicking while waiting until the literal last minute before a project was due to receive one group member's contribution. More recently, I remember worrying about losing friendships while trying to publish a community writing anthology. As a writer, a lot of my work can be done in solitude, where the only person I can disagree with is myself, but I find that the work that comes out of collaboration is often far more powerful and beautiful than anything I could produce on my own, so I tend to accept the tension and chaos as the cost of making something great.
Wait, do we even disagree on anything? Well, the first disagreement that I know of was whether to meet in-person or online. But I suspect there are far more (and more important) disagreements that arise between the various projects themselves. For example, power and decision making is being explored from two very different perspectives: Emma Jayne Park is seeking insight on this topic from everyday people while Karen Campbell is focused on people working for the council on those people's behalf. As bibliographer, I have seen my role as searching for the similarities of projects and opportunities for collaboration, so until now I have been rather tuned out to the differences, but in the end they might be just as important to the success of Atlas Pandemica.
Technology, disagreement, oh but what is really at the heart is the pandemic itself. How strange and wonderful to be studying and creating about the pandemic in the middle of the pandemic. Surely this only adds to the tension and chaos, but the opportunity to create during such a significant moment in time is worth it (to me, and I assume to everyone else involved). It's not surprising that this came up in the gathering's small group discussions. People, including myself, are sometimes feeling as though we are expected to behave and work as if the world was not falling apart, a task that is more and more impossible as we have watched the world's problems get worse over the past nine months. Of course that expectation doesn't exist in Atlas Pandemica, Robbie and Matt have created a very safe, welcoming and inclusive environment where people's wellbeing is paramount. Nevertheless, sometimes our minds get the better of us and this stress came through in small ways throughout the group chats. The best we can do is ease each other's worries by sharing that we are all feeling the same way and no one is in this alone.
On a brighter note, it is wonderful to hear about the different ways that artists are adapting their practice to work within COVID-19 restrictions. For example, Katie Anderson is leading the Elsewhere project which is exploring the ways that the high street has changed and what it could be in the future. With Midsteeple Quarter's newly acquired storefronts as the focal point of the project, Katie is working with artists from The Stove's Homegrown project earlier during lockdown to take their work that was designed for a digital audience and bringing it into the physical world. The idea of participatory public art is new to many passers by in Dumfries and It is exciting to see how residents are engaging with these artists work, some already familiar with the digital versions and others not. Similarly, The Stove's recent Brave New Words open mic was livestreamed on the high street without announcement. No Facebook invite, no leaflets, no staff with explanations, just art on the street.
How do we live within the digital and physical worlds to best and safely go about our lives? I've personally gone from embracing the technology and being grateful for its existence during the first few weeks of lockdown, to rejecting it entirely by September and now find myself attempting to locate a middle ground. We can't deny the limitations of digitally-mediated communication any more than we can deny the newfound limitations on our ability to safely interact in the physical world. The universe has presented us with more tension and discomfort, but also more opportunities to be creative. And so it goes.
---
The Second Gathering
By Philip Palios
30th September 2020
Last month's fears that we were coming out of this pandemic and the engines of capitalism were launching us back into a pre-pandemic way of life have been abated, for better or worse. Not because the new dawn of a kinder world has emerged, but because the second wave has begun and not yet reached a peak. Lockdown is tightening rather than easing and our lives are now governed by a strange combination of the Rule of Six and an attempt to keep the economy afloat. Nicola Sturgeon, who has worked ceaselessly for the wellbeing of Scotland now acknowledges that the economic levers which allowed policy solely focused on public health without economic devastation are no longer available and the government is forced to strike a balance between the two, often competing, interests. Amidst all of this chaos and uncertainty, the Atlas Pandemica artists continue their research and creative work, building maps with the ambition of guiding us into a better way of life.
When originally planned, our monthly gatherings were intended to be held in-person and the trajectory of lockdown easing made this a reasonable plan. Our first gathering in August proved that we could make it work given the restrictions at the time. While the newly introduced tightening of rules prevent a group of our size from gathering for social purposes, they do make a provision for work and charitable activity that left us wondering what the safe thing was to do. Ultimately, the group decided to transition to our first online gathering. Not an easy decision, but one that attempted to balance health and the project.
I'm sure that I was not the only participant disappointed by this decision. Personally, I would have been willing to take the health risk because I think much more can be accomplished and stronger bonds are formed in-person than online, but the risk I face is lower than most. The decision to go online came at the last minute and Emma Jayne, who has taken up choreographing our gatherings in addition to her project for Atlas Pandemica, quickly adapted her plans to work by digital means. It was the best online event I've taken part in since lockdown began. Her ability to use, rather than embrace, technology made for a gathering that brought us together in the best way possible without meeting in-person.
While artists took time to share small bits from their research, the majority of the gathering was devoted to making maps for our map-making. It wasn't as meta as it sounds. A gift had arrived for us in the post preceding the gathering, I left mine unopened until things got started and was surprised to find a bag of sweets inside. However, this wasn't just for our enjoyment during the gathering, but part of the offline activity that comprised the middle third of our time together. We were to go for a walk that lasted the duration of one sweet dissolving in our mouths, as we walked it was our task to contemplate the journey of our project from wherever it currently was to its completion in December(ish). In addition, we were to take a square photograph of something with the colour yellow.
As I walked, I started noticing yellow everywhere – I was surprised how much the small task shifted my perspective on the world. First it was license plates and warning signs, I became worried that there was nothing yellow and beautiful near my house. However, it didn't take long before I found some flowering plants in one of the nearby Incredible Edibles gardens. I made my way toward Matt's house, since he lived nearby and I was itching for some actual in-person interaction during this online event – how silly to be talking via Zoom when we lived such a short distance away, I thought. Unfortunately, our paths did not cross, but as my mind contemplated the abundance of yellow and surprising duration the sweet took to dissolve I ran into a good friend and was relieved for some human interaction, even if it wasn't with a fellow Atlas Pandemica-er. But I knew my time was limited and I still had work to do, so I shared one of the candies with my friend (I had brought the whole bag along with me, thinking surely one wouldn't last all that long).
My discontentment shifted from the many ways in which the pandemic has limited our ability to be with each other. It wasn't just not being with others at the gathering that bothered me, but also not seeing my family since December last year, our April and June plans had been cancelled because of the pandemic. Not only does my role as bibliographer, working to catalogue, connect and share the ideas and research of the artists, benefit from human interaction, but practically everything I do does. I feed off the energy of being around others, one of many reasons why sitting in an office at a computer all day never worked well as a career for me. And yet what was I doing as bibliographer but mainly sitting at a computer, alone at my desk, filling out spreadsheets, doing online research and responding to e-mails? While many artists were out in the field doing research and working with their hands to craft art, the gatherings and individual meetings with others involved were the only time my involvement brought me away from the screen, and now those were going online too. Woe is me! It could be worse.
So I wanted to make a map that brought me out of this mess, and this is what I came up with:
Clearly, I wanted to stay out of the woods and get out my paintbrushes. But how could I
paint the bibliography? No idea, but I was determined to find a way.
The gathering concluded with a rather corporate, spreadsheet appropriate, task of posting virtual sticky notes on a virtual whiteboard that consisted of the most important six steps on our journey toward December. Mine were basically: ditch the spreadsheets, find a new way forward, make sure Matt and Robbie are cool with it, do that. When I shared this plan with the group, they did a good job hiding their shock that their bibliographer appeared to be losing it. Most others had a pretty clear, albeit not necessarily linear, plan for the completion of their projects that did not require a massive re-think or new direction.
When the meeting ended, I was motivated to find my new way forward and now that over a week has passed I still have that motivation but offline options that will still allow me to get my work done are not abundant. I am still determined to do some handwriting and find other ways to make my work involve more time outdoors, hopefully with others, but that will be difficult to do as we enter the second wave of Covid. I've also made the difficult decision to fly into the flaming pile of shit that is present-day America, because I miss my family there and no longer see things getting better anytime soon – so best to go when I still can. Dumfries is my home and leaving for an extended period is not easy, but I have done it before and am confident I will be back soon.
For now, I am slowly coming to grips with Mick Jagger and Keith Richards' words of truth
that we can't always get what we want. Instead, I am going to try and work within the
constraints of the pandemic and hope that if I put my all into Atlas Pandemica, the most
meaningful project I've ever worked on, I will get what I need.
Oh and that bit of yellow? It was right outside my doorstep, but I didn't see it until I came
home:
---
The First Gathering
By Philip Palios
31st August 2020
Before things get started, "how do all of these projects tie together?" I question whether my questioner actually expects me to have an answer before responding with wit.
Let's get to know each other. Look around, settle your eyes on someone you aren't familiar with. Listen to their story and don't interrupt. We walk, she talks, I listen, then we trade. At the end, I think the silence hurt more than it helped. Some of these people already knew each other, some don't, but we all share a passion to make maps (in the widest sense of the word) leading to a kinder world. What do you do to connect artists who have been brought together by this unique opportunity and should obviously (or so it would seem) connect, without forcing it?
A gathering along the left bank of the River Nith, looking up at the Old Bridge and trying to ignore the new one. A dozen or so of the best imaginations in Dumfries and Galloway sit around a burning cauldron trying to spark a relationship.
You see, Atlas Pandemica is a bit strange. These artists, with their separate paths of inquiry and modes of creating might be perfectly happy left undisturbed to go off and do their thing. But, does simply putting these 'maps' in the same 'book' make that book greater than the sum of its parts? Probably not. So where does the magic happen? Around this fire?
Trust games are shit. We didn't play any, but the same desire to accelerate organic human processes was manifested in our activities, a desire held not solely by the curators but by most in attendance (I would reckon). We live in the age of yesterday was too late.
And yesterday everything changed. When specifically? It's not like 9/11 (2001) or 9/15 (2008), everyone gets to pick their own date for this disaster, as long as it's between January and March 2020. It was during this time that we descended (ascended? progressed? were thrust?) into the great pause and saw just how quickly the giant machine could go quiet. In this silence, an opportunity to imagine a new, slightly more human way of being as we emerged from the pandemic presented itself. But the window was tight; we had to move quick – or so we thought. Tinker with the machine before it powers back up, or end up with the same old, broken, heartless…
So our curators acted fast, assembled a proposal, secured funding, put out a call for artists, selected from an overwhelming pool of talent, and Atlas Pandemica was underway around 15 July. But were those whose wealth and power was secured by the dormant machine faster? From total lockdown to open pubs, it may have seemed forever when we were in it, but the capitalists worked to get their machine up and running before anyone could tinker with it. "Are we too late?" was not an unasked question, but further discussion was mutually understood to be pointless.
Some of the questions artists have begun asking: What's the story of our waterways? Who has the power and how are they making decisions? What do people think of that? What is the difference between tending and mending? How do we talk to and about each other? How did we handle this last time? Does anyone care? And what about the people no one really noticed behind the shiny lights? There's more.
As governments and corporations around the world begin trying to sputter their capitalist behemoth back into action, communities are just starting to feel the pain of the pandemic. No one was all that content when things were 'normal' and our opportunity for a new way forward is here, but now a vast system seeks to hide the truth from us once again. We must not lose touch with the clarity we had when this project was conceived. It's through the shared vision and bonds between artists that we can more easily move forward. The gatherings are essential in keeping everyone's vision clear. We remind each other that we're in this together and if it's a wild idea (it's a wild idea), it's one we all believe in.
As quickly as we gathered, we scattered. Back to our individual pursuits with the gift of a jar full of questions, comments and miscellaneous words from our collaborators. I scattered a bit further than most, immediately setting off for Iceland. I took my jar with me, it's here on my desk as I write this. I read the purple, yellow, blue and pink ribbons of words inside and then returned them because the pieces of paper remind me of the people who wrote on them, and that's more important than what they wrote.
---