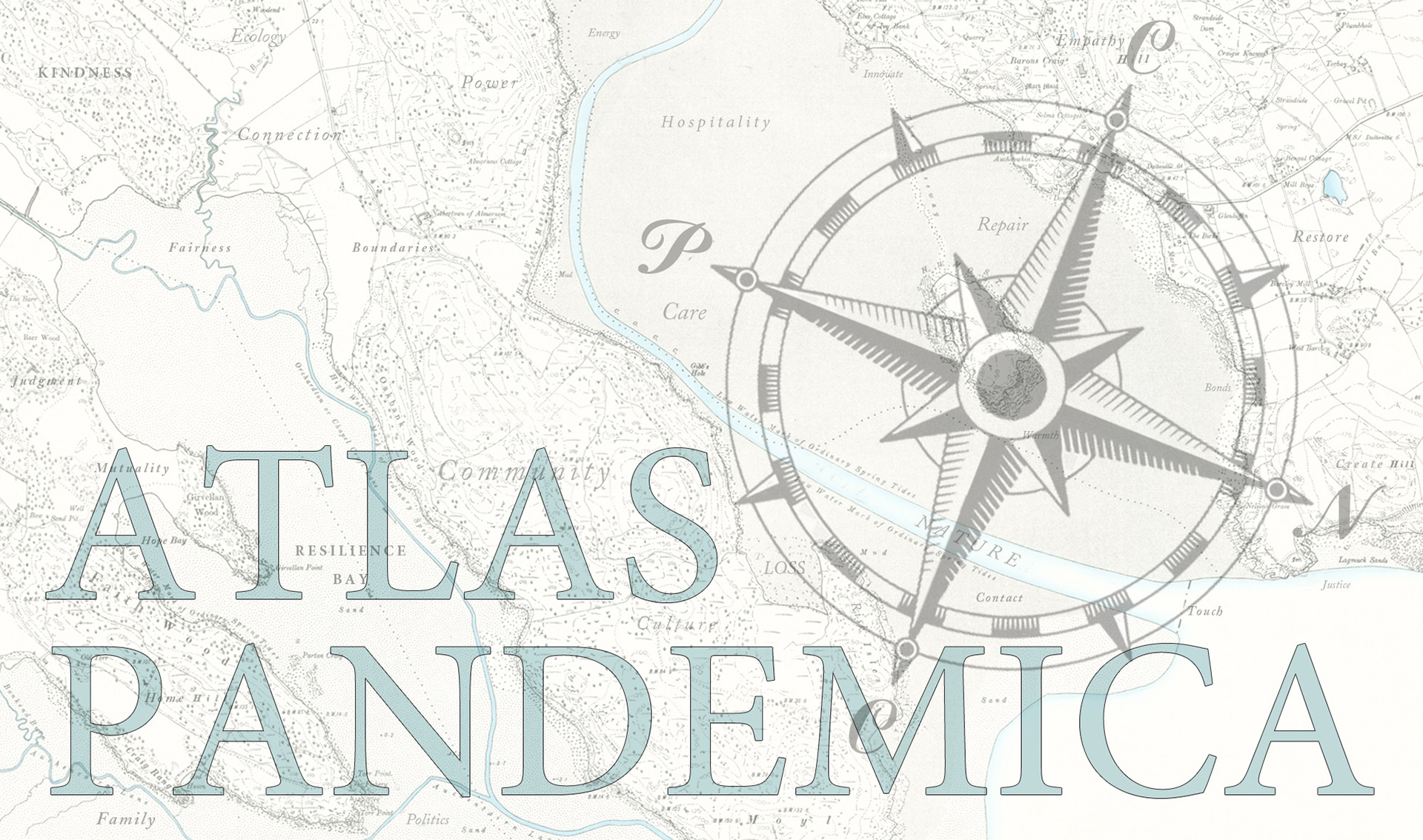 Atlas Pandemica Podcast Series
Atlas Pandemica: Maps to a Kinder World' is a compendium of 10 projects led by creative people, each investigating a different theme highlighted by life during the COVID pandemic. Projects worked directly with people in Dumfries and Galloway, focusing on the impacts and the learning from the community's experience of the evolving pandemic. Atlas Pandemica was conceived and is managed by community-led arts organisation The Stove Network, it explores local responses to the pandemic and how these might shape new approaches to our shared future. The project is supported by Scottish Government's 'Supporting Communities Fund'
In this podcast series, one of the curators of Atlas Pandemica, Matt Baker, will be talking to each of the artists leading one of the Atlas explorations.
Episode 1: Annie Wild
The first in series is Annie Wild – Annie is a freelance Social Researcher. In the past she's worked in academia and in a large research agency but these days works on research projects with community and arts organisations from across Dumfries and Galloway. She's also involved in local environmental activism.
Annie's Project for Atlas Pandemica is called 'For Love, Not Money?' The project explores the concept of care and the experiences of giving care during COVID-19. Annie worked with a group of unpaid carers interviewing them over a period of time through the pandemic she is interested in the ways in which all people practice some form unpaid care: being parents or grandparents; looking out for neighbours or older relatives; or offering emotional support to friends and co-workers. At an absolute minimum we all keep ourselves fed, dressed and clean. I will be working with participants to visually map out networks of care and the ways these have been affected by COVID-19.
Episode 2: Jenna Macrory
A discussion with artist and researcher Jenna Macrory on her Atlas Pandemica project 'LGBTQ Voices'.

"My project is called LGBTQ Voices. It aims to engage the queer community by presenting the idea that hate speech can be viewed as the start of a dysfunctional conversation.
Members of the LGBTQ community are often engaged in unsolicited conversation in the form of abuse on the street, however, as part of this community you quickly learn to silence yourself for your own safety, but this doesn't mean you have nothing to say.
LGBTQ Voices is a chance for the community to speak back and bring a wider public into a conversation about the experience of people who identify as LGBTQ in Dumfries and Galloway, particularly within the context of Lockdown and the Black Lives matter protests."
Episode 3: Mark Zygadlo
In this episode, project curator Matt Baker speaks with artist Mark Zygadlo about his project 'Landwatership'.

"Landwatership proposes that the vital and fundamental elements of our environment, land and water, are active members of our localised communities. It presupposes that no part of our environment is unaffected by human presence and no part of us is unaffected by our environment. These factors have been foregrounded during the Covid-19 pandemic.
By focusing on the Glenmidge Burn, and the community of its catchment, walking the waterways and the catchment boundary guided by members of the community and representatives of riverine interest, Mark will interrogate the theory of Landwatership.
Information gathered will underpin a conceptual re-mapping of where we live and ask: is Landwatership a meaningful way for communities to co-identify themselves with place? Is it a matrix of change, can it help us address the tensions between global economics and local viability? Does it provide a way of addressing the approaching threat of climate change foreshadowed by the Coronavirus Pandemic?"

Mark Zygadlo is an artist based in Dumfries & Galloway. Cabinetmaking, carving, boatbuilding, timber framing and writing supported a growing family and, since 2009, he has channelled these disciplines into the making of public artworks.
Episode 4: Emma Jayne Park
In this episode, Atlas Pandemica Curator Matt Baker speaks with artist and movement practitioner Emma Jayne Park about her project 'The Geography of Power'.

"How do we organise information? Who gets to organise information? How does this impact decision-making? Who holds the knowledge? Do they hold the power? How do they share it? How do they relinquish it? Do they want to? Is reactive action leadership or recklessness? Do the values we aspire to align with our perception of leadership? Can leaders be vulnerable? Could you be trusted to lead someone who is vulnerable? Would you want to? Where would you lead them? Why should they trust you?"
"Atlas Pandemica: The Geography of Power invites locals to explain how Dumfries and Galloway works at this time of pandemic through a series of invitations and provocations: including postcards, letters, text messages, phone calls and the offer to walk with Emma as she tries to cross the region on foot – looking for locals to guide her. There is no agenda other than to learn from those who call the region home. Conversations will be collected, collated and reframed to form a series of sketches, maps and instructions that reflect the information that has been shared. These will be offered back to the residents of the region so that they can then decide if there is anything they would like to celebrate or question."
Episode 5: Robbie Coleman and Jo Hodges
In this episode, Atlas Pandemica Curator Matt Baker speaks with artist duo Robbie Coleman and Jo Hodges about their project 'Distance: Proximity: Loss'.
"The coronavirus pandemic is changing relationships and practices at the end of our lives affecting every aspect of the process of dying; how we support some ones passing, how we mark someone's life, how we bury them and how we grieve. Distance: Proximity: Loss aims to explore how creative processes can be used in rethinking responses to the challenges presented by the Covid pandemic. Families who have lost a loved one as well as the institutions that support the processes of end of life; undertakers, healthcare workers and spiritual leaders, have all been forced to adapt to new safety rules and regulations. These new rules make an already difficult process even more intense and challenging. Our project will research what impact these new rules are having and creatively explore new practices and adaptations for marking someone's passing and support the grieving process."
Episode 6: Karen Campbell
Project Curator, Matt Baker sits down with writer Karen Campbell to discuss her Atlas Pandemica project 'Here Is Our Story'.

'Karen is the Writer in Residence within D & G Council, using a mix of workshops and one-to-one discussions to write 'Here Is Our Story' – a collection of short stories and monologues, which will all be fictional, but founded on the real-life experiences of Council staff during the initial COVID response. In particular, she'll be exploring the many small, often personal and spontaneous decisions that staff might have been making throughout the pandemic, and the 'ripples' those decisions have made, both for them, the way they work, and the communities they serve.
As a former Council officer herself, she's hoping that, as well as documenting this moment in time, her residency will give Council staff the space and time to reflect creatively themselves on what they've been through, to acknowledge the different ways they've been working, and what that has meant. Are they proud? What might have helped them better – more support? Less barriers? What guided them – gut instinct? Kindness and care? Were they liberated or scared? Were the decisions they made more immediate and less bureaucratic – and if so, do we want to sustain that new, more autonomous, people-centred way of working into the future?'
Episode 7: JoAnne McKay
Project Curator Matt Baker speaks with writer JoAnne McKay about her project 'What Remains?'
'Dumfries has experienced pandemics before. The most notable are those from modern history: cholera in 1832 and 1848, and influenza in 1918 and 1919. Why? Because of what remains – written words and built environment; newspaper records and memorials. Yet even these pandemics are all but gone from mind and public discourse. My intention is to research the extent and nature of what remains from these earlier pandemics in our public archives and museums and in our civic and sacred spaces, and to look at accessioning practice in relation to the current pandemic.'
Episode 8: Peter Smith
Atlas Pandemica project curator Matt Baker sits down with Peter Smith to discuss his project 'Beauty in the Broken'.

'We are taking a journey into how philosophies of repair, tending and rebuilding can be a mindhas-medium-font-sizeful practice that helps both individuals and a community heal.
As covid-19 has broken us, we repair in a new, beautiful way. We don't try to hide these breaks and damage, but we repair our town and community – creating something unique and powerfully beautiful.
The starting ground lies in Japanese philosophies of Wabi Sabi & Kintsui and worked out through the practice of Rock Gardens. Wabi-sabi is succinctly described as 'the beauty in imperfections'.
Kintsugi is the repairing of broken things, making them something beautiful in a new way. This is best seen in pottery, where broken shards are reconnected with gold seams making beautiful pieces.'
Episode 9: Katie Anderson
In this episode, Atlas Pandemica project curator Matt Baker speaks with artist and curator Katie Anderson, about Elsewhere, a project she led in collaboration with a collection of artists who originally took part in The Stove's homegrown project in Spring and Summer of 2020.
They discuss the origins and inspirations behind the project, and how Elsewhere grew into an exploration of public space recovering from the impacts of covid-19, as led by the local creative community.
The project investigated the unfamiliar in the local, and in everyday spaces, the potential created in coming together (whilst socially distanced), and creating a space to share, reflect and create new ideas for public space going forward.
Episode 10: TS Beall
Project Curator Matt Baker sits down with TS Beall to discuss their project 'Fair/No Fair'.

Fair/No Fair is a collaboration with Travelling Showpeople, in the context of the pandemic, who have both active and historic relationships to Dumfries' traditional Fairs on the banks of the River Nith. The collaboration pivots around a series of discussions, forming a loose advisory group that has gathered information (in the form of stories/direct quotes/images) to become the foundation for creative outcomes.
Episode 11: Bibliographer Philip Palios
Project curator Matt Baker sits down with Atlas Pandemica's bibliographer, Philip Palios.
Philip is a writer, researcher and educator and his role as part of Atlas Pandemica has been to work alongside the project's artists to record and document the inspirations and identities behind each of the Atlas Pandemica explorations. 
---