Hear about the Dystoveia Escape Room from the Creative Spaces Team. This project transformed Room 2 in the Stove into a dystopian escape room in August 2023.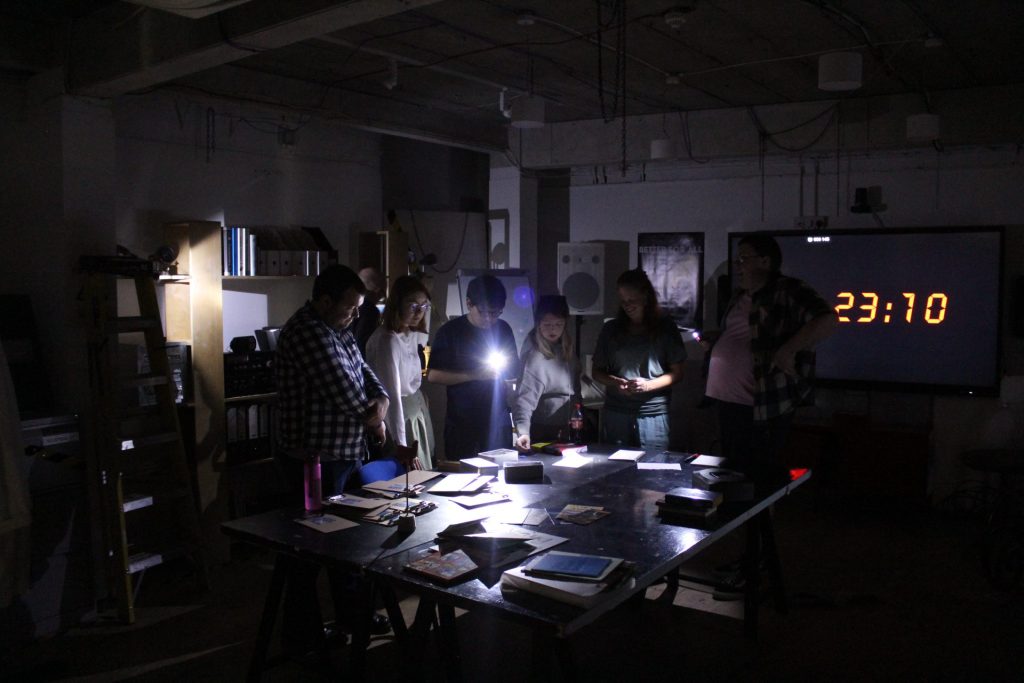 Why an Escape Room?
On one of the blessed sunny days in June, our creative producer Mia asked us two million-dollar questions: what kind of things do we like to do for fun? And how could we bring that to D&G? After a great creative session where each of the CS team individually mind-mapped our answers, we discovered a common thread between us: an escape room! Why did such a thing not exist here?
We initially thought this might be too ambitious an idea for a bunch of amateurs. However, a good friend of mine (shoutout to Seb Summers) kindly booked us a slot at his escape room in Glasgow. Our visit to Riddle Rooms, led to us learning a lot about what makes an escape room good and the mechanics behind it. The possibilities of what we could create ourselves seemed endless, so deciding our theme early was key for honing our ideas. This made us consider the room as an unravelling story as opposed to a random mixture of puzzles.
OUR CONCEPT:
Dumfries has fallen under the control of an oppressive regime. Your team of rebels have managed to infiltrate the high-security government control room and the town is locked down on red alert as they try to hunt you down. It is up to you to save the town in time and to escape before state officials discover you.
Following an in-depth storyline that unveils the secrets of Dumfries and the authoritarian regime, you and your team must work together to uncover hidden clues and solve a variety of puzzles to progress and beat the clock.
We wanted our participants to feel like they had stepped into a parallel universe, completely different to the town they knew. So, we blacked out the windows, turned on the AC, and set the scene with a distorted video of our mole (played by the talented Sahar) leaving instructions for the rebels (the participants). Without a huge budget to work with, we circulated our props list far and wide and managed to collect a lot of cool stuff that helped transform the room. Finishing touches like a doomsday timer, fake cobwebs, chains and hazard tape really pulled the room together.
What we hadn't anticipated was how much of our planning time was taken up by logistics. Without any access to fancy tech, we had to come up with solutions (painful zoom trialling and walkie-talkies) to make the scenario feel as realistic as possible with close to zero in-person contact with the room. The timings of the room also required a lot of planning. Every participant in an escape room approaches the experience differently with unique problem-solving skills. In the end, Room 2 had transformed into a complex labyrinth of puzzles, where we made sure the room wasn't too easy or too difficult to complete in the hour – something we discovered when trialling the room with different groups of people.
It's time to escape…
Once the escape room was set up and ready to trial, we had two teams come and test the room for any bugs or potential problems that would cause any mishaps. The trials were successful for two reasons; it Identified what worked and what didn't, and it revealed itself to be a fully-fledged legitimately enticing escape room.
The night we opened, all our participants were keen to get started and they all had brilliant positive feedback once they had escaped the room. Each team that participated were all enthusiastic and up for an evening of puzzles and hilarity which made each game as lively as the last. Whilst being informed of the room rules and the mission brief, it was clear that participants were becoming increasingly intrigued and excited to get started. Perhaps this was because the room's particular story was unique to Dumfries/The Stove. With the aid of a lot of in-house equipment, we were able to create a convincing atmosphere which was as functional as it was aesthetically immersive. As the creators and facilitators of the evening, we had an enjoyable night. This felt fantastic, as we had come so far since our ambitious idea a couple of months previous. Since we had no major technical issues or mishaps, it was safe to agree it was a successful night. We felt like we had accomplished something great when there was a demand to potentially do it all again!
WHAT WE LEARNED…
Dystoveia was a very popular and successful event. With only eighteen spaces available (three groups of six) we didn't have to do much advertising before it sold out, and we found that there were many friends and family who expressed interest after all the spaces had already been taken.
Once the groups had booked, in hindsight we could have gotten in touch earlier to tell them the time slot we wanted them to come in for. If we were to run this event again, we would also request contact numbers from those who signed up so we could communicate with them more easily.
We learnt that arranging the room and the puzzles took a lot more time than expected when we began constructing the space. We only gave ourselves a week which felt quite rushed, but thanks to the Stove team's flexibility we were able to have two trial runs to iron out any mistakes or sticking points before the day of the event.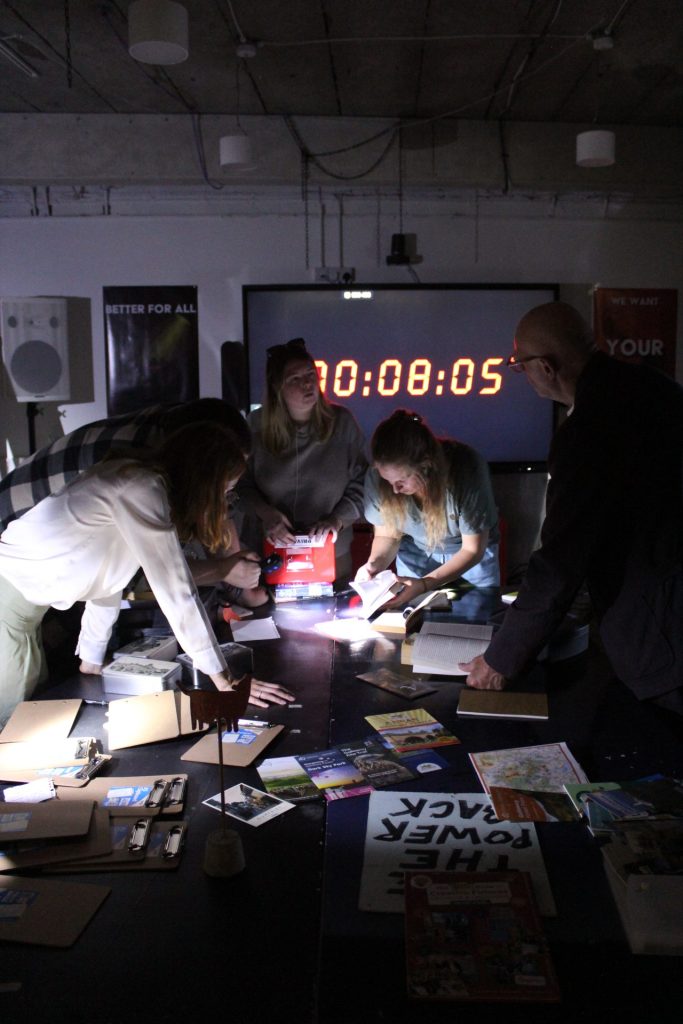 TOP TIPS
A free escape room in a town without any escape rooms was a brilliant idea, and it sold out very quickly! If you are looking to create an escape room from scratch, here are our learnings.
1.      Make use of resources online for puzzle ideas – there are lots of ideas out there, and many are cheap, low-tech and relatively easy to put together.
2.      Develop a strong back story, narrative and characters for the escape room – the fun in the experience is largely due to how immersive it is, try to completely transform the space.
3.      Do your research – visit at least one escape room with a group of friends/teammates and record what you learnt.
4.      Find people to help you with trial runs – you will learn a lot!
5.      Don't put too many distracting decorations in the room – everything will be seen as a potential clue so make sure you do a deep clean and make sure nothing is in the space that you don't want to be there.
Thank you to everyone who got involved with Dystoveia; from testing puzzles, lending décor to the space, to coming along to the event! It was a team effort, and we definitely couldn't have done it without you!
By our 2023 Creative Spaces Team – Martha, Sahar & Korey.