By Alice Griffin
Last month, the Creative Spaces Team headed out on a 'go see' trip to Out of the Blue in Edinburgh. Situated in the heart of Leith, the old Drill Hall is home to a collection of artist studios, a café, exhibition & event space, and Out of the Blueprint.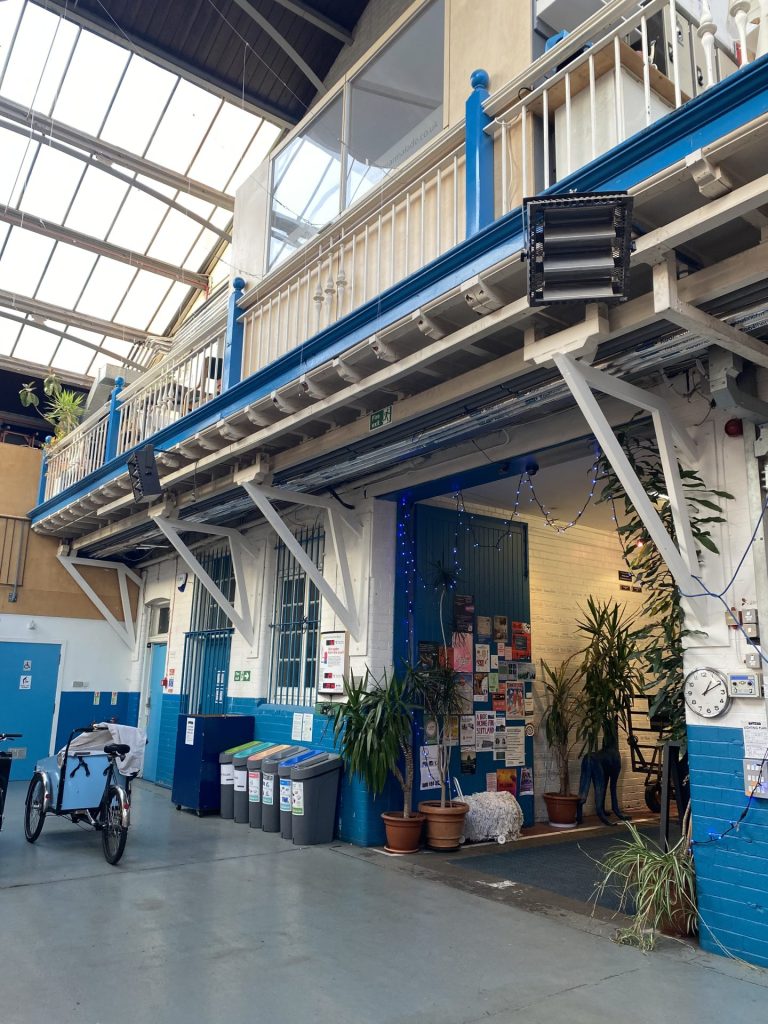 Out of the Blueprint is a social enterprise print studio that uses Risograph and Gocco printing. As someone with experience using both processes before, I value the benefits of the low-cost, quick printing method, as well as the eco-friendly inks that are used. Overall, I was keen to learn more about how a print studio like this was created and continues to run.
Upon arrival, we sat down for a coffee and Johnny Gailey, the co-ordinator of the organisation. He detailed the journey that the social enterprise has been on in the last 28 years – starting as a modest gallery space on Blackfriars Street right up to its current home in Leith. OOTB also operate the Bongo Club, which acts as a revenue stream alongside it for the majority of its existence. In 2015, Out of the Blueprint expanded to the drill hall, and has now grown into a social enterprise, with any money that is made throughout the organisation going straight back into the project.
After chatting over a coffee in their warm, eclectic café, we headed to the exhibition space where Johnny showed us the selection of work that was for sale. He also explained some more about the binding facilities they use and how their current artist residencies worked. We all loved a zine called 'Sun' created by a young creative called Coocoora who completed a residency at the studio.
Next, we headed through to the print studio where Johnny introduced us to Beth Thompson, the print studio manager and editor of Counterpoint magazine (an independent Risograph-printed magazine). Beth explained how the Riso machines work and showed us some of the work that has been created at Out of the Blueprint.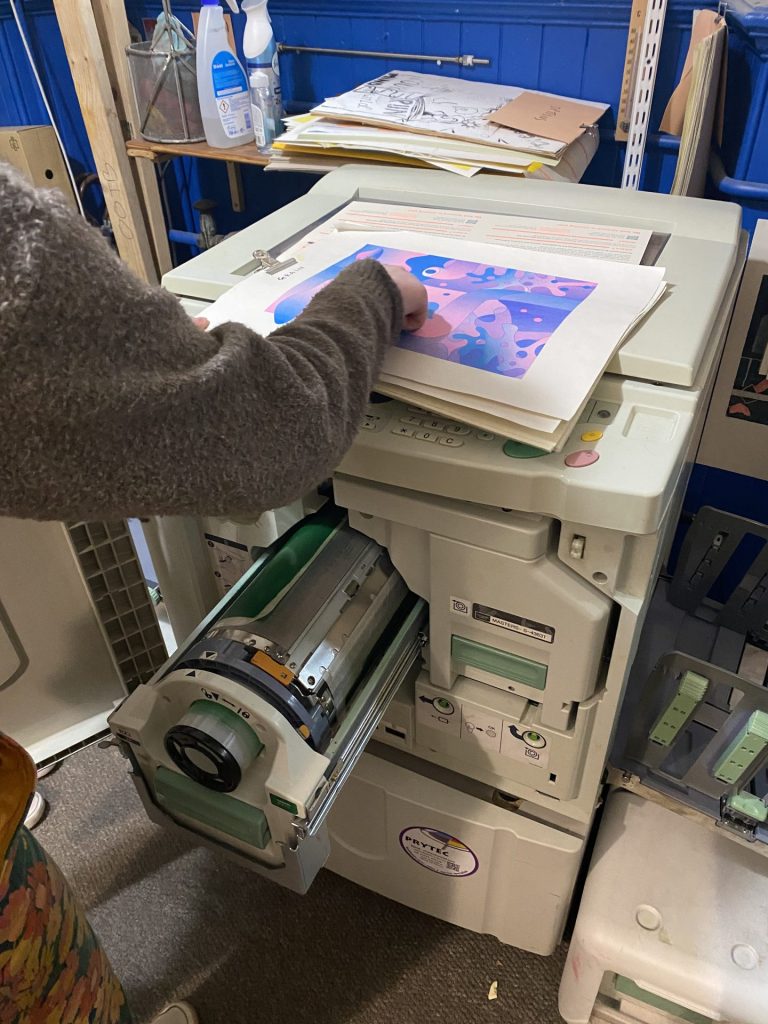 Speaking with Beth was inspiring as her passion for Risograph was infectious and it was fascinating to see how artists from different disciplines understand and implement the process. A great example of this was a zine that we all loved titled 'Drums and Silence' created by Cal Mac, an artist working between sculpture, sound, print and video.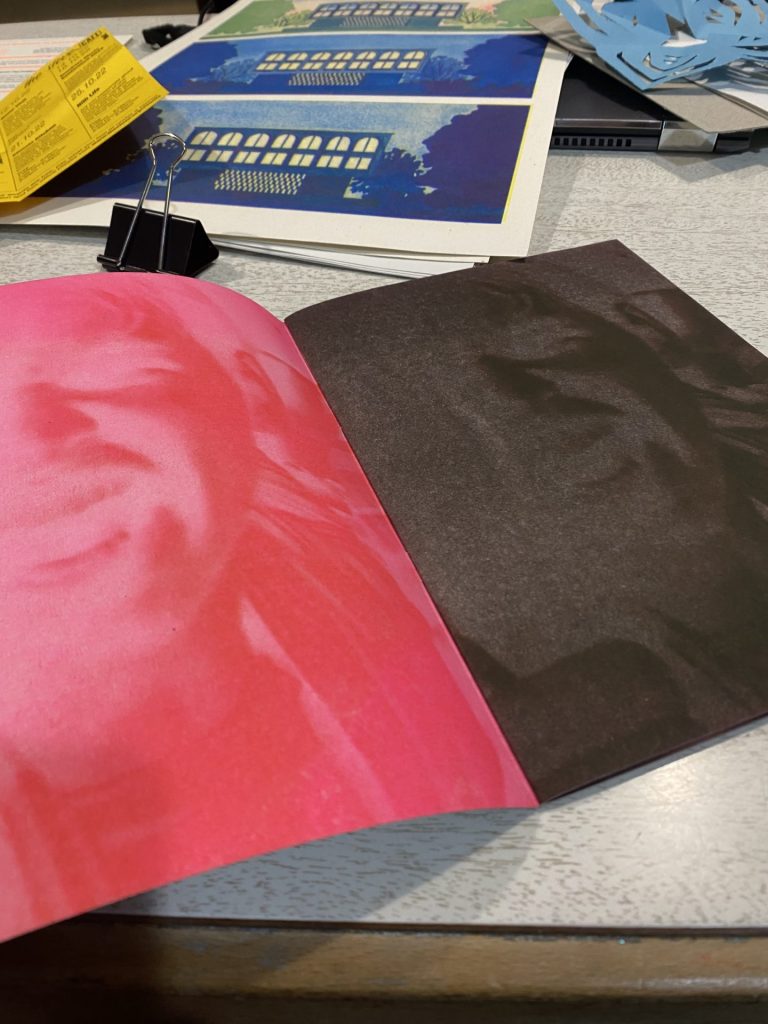 Before we headed home, we were lucky to be able to see Maria Stoian's exhibition of work in progress titled, 'Forgeries' that she created during her recent residency with Out of the Blueprint and pick up a couple of pieces from the gift shop.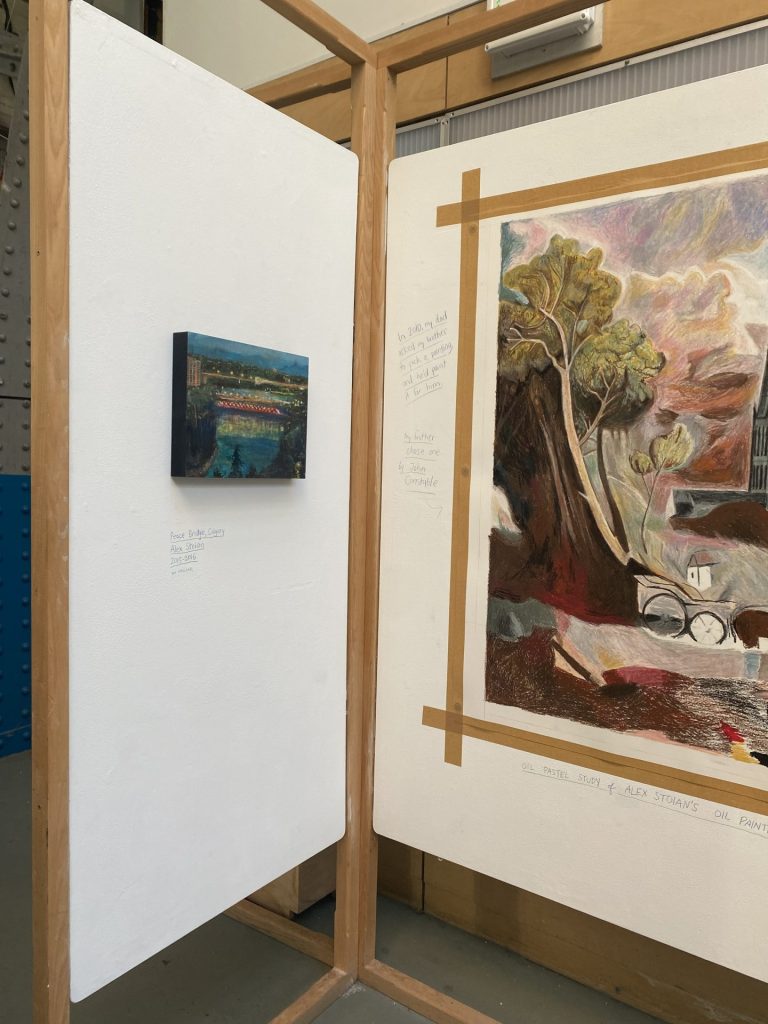 This visit to Out of the Blueprint was so helpful for me to understand what possibilities there are for printmaking in Dumfries & Galloway. It's exciting to see a sustainable, eco-friendly, and affordable print studio thriving and giving young people in the area the opportunity and resources to produce creative projects.