Blog Post from Community Artist and Stovie Kirsty Turpie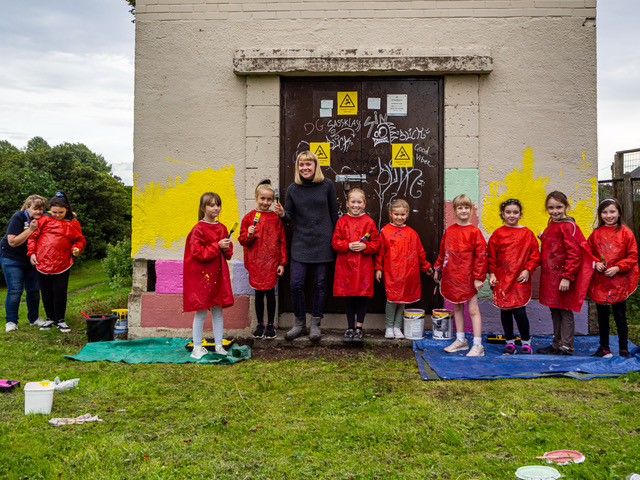 Growing up in the small town of Lockerbie, I was surrounded by a great sense of community. Some of my favourite memories include going along to coffee mornings in the town hall with friendly faces serving tea and cakes, doing arts and crafs at Brownies and playing board games at the youth club. All of these experiences gave me a sense of belonging and connectedness. When I began volunteering and working with Creative Futures in Lochside in Lincluden I quickly began to feel this sense of community once again and it is this feeling that made the experience of working for the project so exciting and unforgettable. Over the two and half years that I worked there, the project became increasingly integral to providing opportunities and events to allow the coming together of the communities in North West Dumfries. I was proud to be a part of it and to be the one that was now helping to provide the type of events and activities that I once loved as a kid.
One of my highlights event wise was the two day Hell's Kitchen Masterchef challenge in 2018 as it got young and old involved and allowed the public to come and share in the experience at the fnale meal on the Saturday night. The challenge was launched at Summerhill Community Centre in June by Scotland's national chef and TV personality Gary MacLean. Teams of six were urged to sign up for cooking challenges over the summer with the fnal two day challenge including a master class by Gary MacLean. It took some time to motivate the community to sign up to a team but the perseverance was worth it as so much fun was had at the challenge.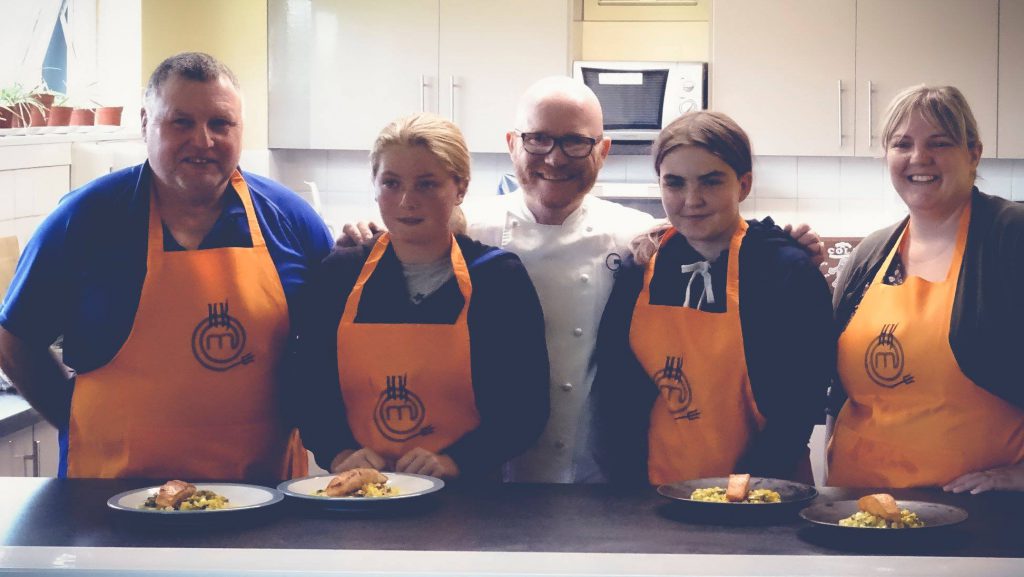 On the Friday night teams were invited to Lochside Community Centre for the canapé challenge. There was a table of ingredients and a list of canapés they could make. Local MP Emma Harper joined the line up of judges and all of the teams got in the spirit and tried their hardest to impress with creative and tasty canapés.
First was the marketing challenge where they had to come up with a community event that they would hold with an imaginary £300, second was the cooking challenge with chef Gary MacLean and third was the hospitality challenge where they had to dress and set a table. Whilst the teams were doing their challenges I held activities to keep the children busy which included making chocolate crispy cakes, designing fruit faces and colouring in. There was a real buzz around the community centre all day and into the night with the community meal and challenge awards ceremony.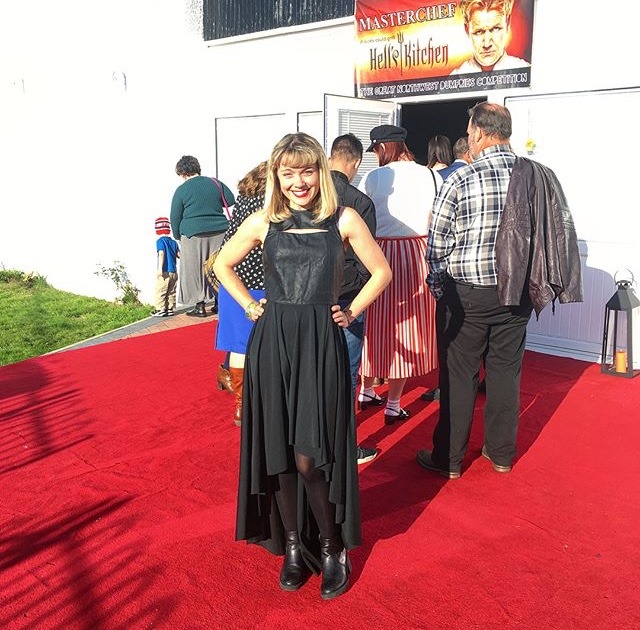 I was asked to co-host the awards ceremony with Gary and we even had a red carpet! The competitors of the day and the winning team The Rhino Chef's were very chuffed with their achievements. The Rhino Chef's won £300 to fund their community idea from the marketing challenge. Fast forward a year later and this idea became a reality with North West's Got Talent going ahead at Lincluden Community Centre… another fantastic night!
The Hell's Kitchen Masterchef challenge is an example of many of the things that I enjoyed about working for Creative Futures… providing events across many diferent venues to get as many groups involved as possible, seeing community members find new skills and be proud of their efforts, having to take on more roles than just artist, running workshops in a large variety of themes, learning a lot about event organising and running and seeing community groups receive funding to do their thing. All of this and I've not even touched on the creative side of things…and there was defnitely a lot of that over the two and a half years.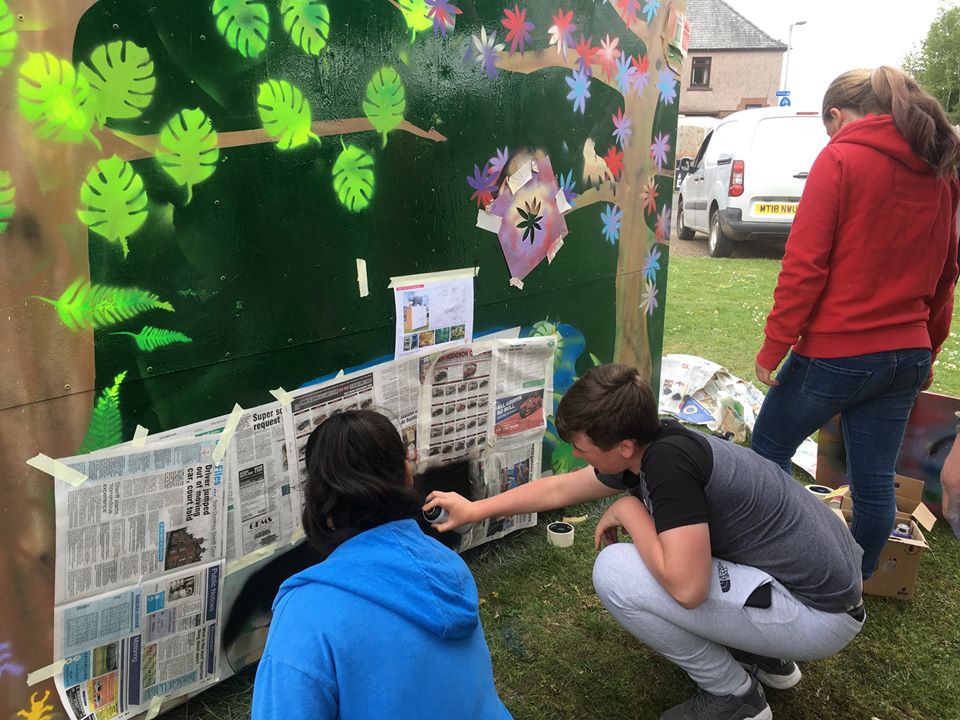 My frst two creative remits were to work with the community to create new artworks for the Lincluden rhino statue, and to collaboratively design and build a commemorative statue for Lochside Primary School…not the smallest of tasks! It took over a year to see both of them to fruition and the journeys for both of consultation, research, development, collaborative work and creation were immensely enjoyable. And what was the material / technique that I fell in love with over this period…if you've seen or heard about the projects then you'll know that it's MOSAIC! Yes, all of those tiny pieces of shiny colour perfect for surviving outdoors and an activity that all ages can get involved in.
For the Lincluden Rhino statue artwork creation I held mosaic workshops at Lochside Gala, Nithraid, Lincluden Community Centre and worked with the Primary 3 class at Lincluden Primary school. To compliment the rainforest themed mosaics created I invited pupils at Lincluden Primary School to come up with rainforest designs for the metal work. This led to the fnal stage of the upgrade…the two day spray paint workshop at the rhino statue. We had the Creative Futures sound system along with us and had 30 children join in over the two days which created lots of hype about seeing the completed renovation. Local roofer Gary Barsch helped to install the mosaics and in May last year we held the launch party. Likewise with the installation of the Lochside Primary Commemoration statue local builder Malcom Campbell helped by laying the concrete base for the structure. It was great to work with local people on all levels to make the art projects happen.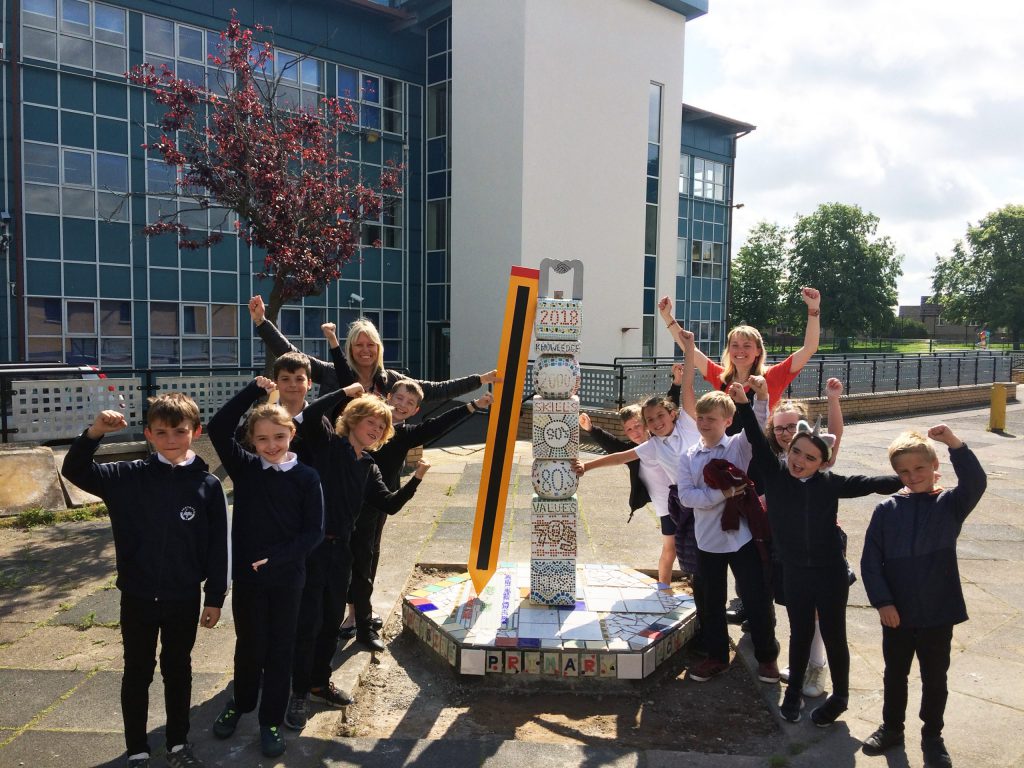 After the completion of the rhino statue artwork and the primary school statue I wondered what would be next, but there wasn't much time to think because there are so many active organisations in Lochside and Lincluden with plenty of ideas and it was coming in to summer… a busy time for providing events for young people and families. First stop was the YMCA who had just moved in to the former Lochside Primary School and had a newly found huge space to decorate. The building was our oyster! I took on the role of helping the young people decorate their reception area with a day to night themed mural.
In the summer holidays mosaics returned as I ran a workshop for the young people to create an under the sea mosaic for their art room. Through providing these workshops I built up a good relationship with the young people and felt proud to see them trying new creative skills and take ownership of their spaces. The summer continued with the creation of a bottle cap mural for LIFT's NANA's Park community garden space, and the Creative Futures summer theme Fashion & Festival leading up to the Day of the Region Fashion festival.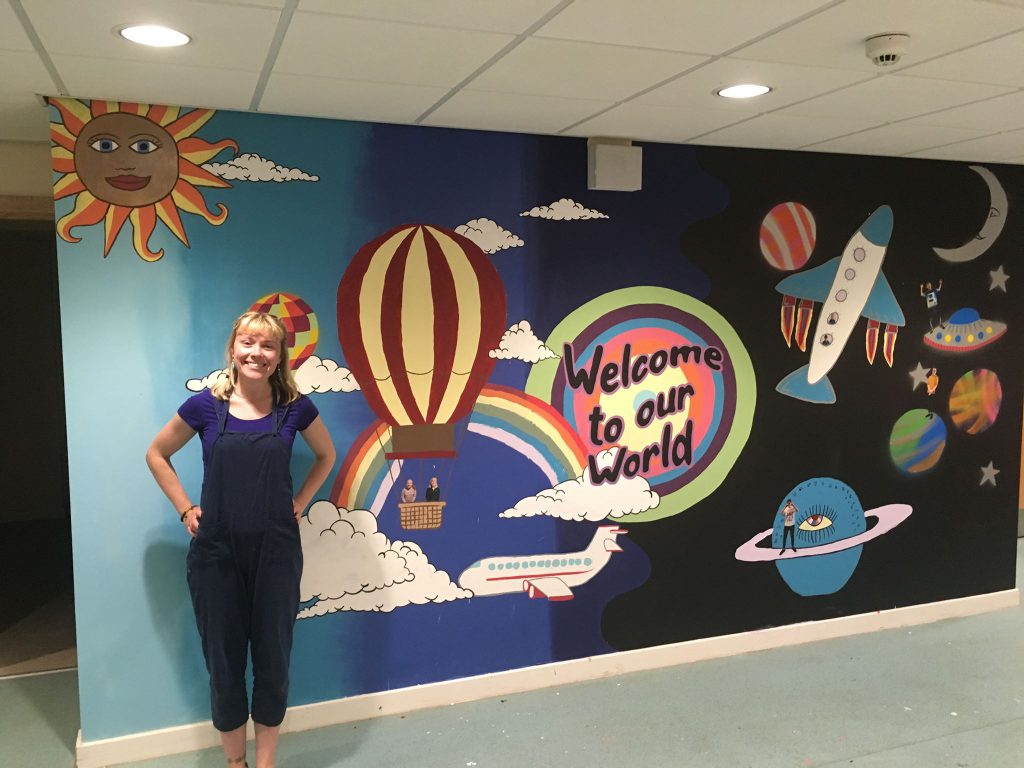 The creativity continued in to Autumn with October Holidays Art in the Park and painting a mural on the Pop Eyes Park electrical sub station with designs and help from the Lincluden Rainbows and Brownies. It was fantastic to be able to work on such a variety of projects and not only allow community members to join in on art projects but actually get them involved in brightening up the spaces in their area to make them more exciting and enjoyable places to be!
My fnal task at Creative Futures whilst packing up my stuff was packing up the Creative Futures room to be moved over to the projects new room at the YMCA centre in Lochside. It felt like an appropriate end to be seeing them off on to their new chapter as I was going off on mine. It was an amazing few years of creativity, community and fun… and I'm excited to see what all of the projects, local people and young people that I worked alongside get up to next.
Kirsty Turpie March 2020