Dumfries and Galloway Housing Partnership and The Stove Network have unveiled the last in a series of four public artworks in a new housing development in Dumfries. The Lochside Public Art Project was commissioned by DGHP and created in partnership with McGowan Miller, who employed The Stove to co-ordinate and commission the works. Friday (May 10) saw the unveiling of the last of the works created by artists Kat Loudon, and Michelle Johnston working with with Chris Taylor and Tam Potts.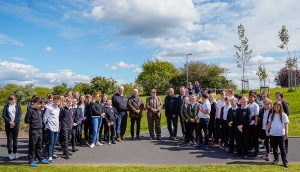 Based in and around the area of DGHP's new properties at The Meadows, Lochside, the works have brought together the community, neighbourhoods, school children, the artists and DGHP.
DGHP's Chairman, Bill Robertson, said at the final event: "This is an excellent series of artworks that really are a symbol of communities working together to achieve more.
"Having been here at the launch of the first works, Tattiefields, and now be here again at the completion has been excellent – the transformation in the area is just unbelievable and I'm sure the families living here will enjoy the art works for many years to come. Well done to all of the children, artists and contractors working on the project."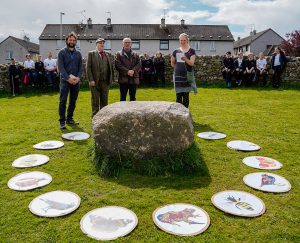 Lead artist on the project for the Stove, Katie Anderson, said: "We've had a series of 24 community events connected with the project in Lochside, including workshops in local schools, events and activities in local community centres and as part of other community events like the Lochside Gala and on-site art workshops – these have been attended by more than 300 people over the 18 months."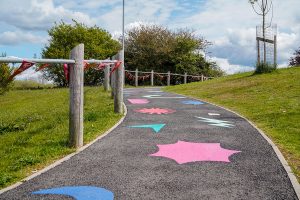 The artworks were split into four projects to showcase artworks created by the local communities and schools in the area. The last two pieces of artwork unveiled on Friday were 'Signs and Symbols' and 'Wildlife'. For 'Signs and Symbols', a colourful pathway was designed and created through workshops with local children led by Glasgow-based artist Kat Loudon, of Design by Zag, and officially opened during the launch. This came together following a children's collage workshop.
The pathway leads to a seating area on the edge of Glentrool Park, creating a wildlife space for spending time exploring the natural environment The 'Wildlife' project was led by local resident, Michelle Johnston, with the stonework completed by local dyker Tam Potts and his team. The ceramics were created by Chris Taylor of Clayworks Studio based at the Crichton. The original concept was developed through workshops with local schoolchildren led by Michelle Johnston.