November: New Beginnings & Fond Memories at 100 High Street
November's here! For all its drizzly driecht, soggy leaves and howling breeze, it's all go for a month of dance and exhibition, climate chats and birthday celebrations!
But first…you might have heard about COP26.
Yes, the glitterati of global politics will be arriving in Glasgow, in all their blue blazered, shooder-pads and pouting. Not to mention the news crews and protestors, police vans and placards, it all feels a little bit nerve-wracking. (Yes, just what we need from this year, another thing to worry about!).
So while the whole wide world tumbles on to George Square and Kelvingrove, we want to ask; what does all this mean for us down here?
A Doonhamer's Guide to the End of the World
Creative Spaces are hosting a series of conversations, workshops and creative activities for people under 30 to share, collaborate and make their ideas heard in the big climate conversation. Working with Historic Environment Scotland the programme explores climate through story and myth, unearthing our local history to see what lessons can be learned from our past to guide the future we've yet to take.
Alongside this, Reel To Real, the Stove Cafe's monthly film night, will be screening two films exploring climate, loss, distance and relocation, from Africa to Ireland. Our Reel To Real film nights include some scrumptious pre-movie scran courtesy of stew-maestro Marcus, from 5PM through till 6:30!
But that's not all…
Atlas Pandemica: Maps to A Kinder World
First beginning in June of 2019, Atlas Pandemica: Maps to a Kinder World is a compendium of 10 projects led by Dumfries & Galloway based creative people exploring different themes highlighted by life during the COVID pandemic, working directly with people in the region, it focussed on the impacts and learning from the community's experience of the evolving pandemic.
The project is now drawing to a conclusion, aside from the many outputs each of the commissioned artists have shared, a collection of 10 maps, based on each of the project's findings will be unveiled as part of 'After the Pandemic', Glasgow's creative and cultural fringe at COP26. For more information on the project please visit www.atlaspandemica.org
Are ye dancin? We're askin!
Join us on Saturday 6th November for an intimate evening of dance performance and conversation as DG Dance celebrate the end of their first season touring pop up dance across Dumfries and Galloway.
The evening will include a performance of Matthew Hawkin's Triple Echo, sharing excerpts from new screendance research with Emma Dove inspired by Emma Jayne Park's touring performance And Now We Unravel, Again, and a performance of Louise Ahl's newly premiered work heartbeats, fresh air, gestures, time.
This will be followed by an open conversation with lead artist Emma Jayne Park, and company dancers Claire Pencak, Jorja Follina and Malcolm Sutherland.
The following week, we'll be showcasing the final UK screening of Penny Chivas's 'Burnt Out' this year, followed by an opportunity to discuss the work with the artist.
With original music by Paul Michael Henry, interwoven with the delicately detailed lighting design of David Bowes, this is an autobiographical dance-theatre work from the daughter of an environmental geochemist, bringing together fact and personal account. 'Burnt Out' is at once an intimate personal story and a universal meditation on our changing climate.
Water you up to?
The Dumfries Fountain Project: Research & Studio Work
A pop-up exhibition at The Smithy, 113-115 High Street, hosted by artist Alex Allan. Allan has been working with the Dumfries Fountain Project coordinated by the Stove Network, exploring, and designing a proposal for a permanent piece of public art to be situated by the Dumfries Fountain to complement the historic landmark.
You are invited to consider the research gathered during their time in Dumfries, experiment and play with ideas and materials from the studio and contribute your own thoughts to the work. What would you like from a new piece of public art in the centre of the town? This is a unique chance to hear from the artist themselves and learn more about this timely and fascinating project. Come on in!
Dumfries Fountain Project: Film and Soundtrack Premiere
The Smithy, 113-115 High Street
Saturday, 13 th November 5-7pm
Join us for a celebratory evening marking the conclusion of our two Holywood Trust commissioned artist projects, with a sharing of the short documentary film created by filmmaker Patrick Rooney, and film soundtrack by musician and composer Jenna Macrory.

After the screening we'll be hearing from our two commissioned artists about their experiences with the project. Light refreshments provided. There is limited capacity available for the event so please sign up via Eventbrite to let us know if you would like to attend.
It's our birthday and we'll print if we want to…
Can you believe we're 10 years old? Seems like just yesterday, the Stove were chalk painting flagstones and launching a coo into the Nith (not an actual coo, don't fret).
10 Year Celebrations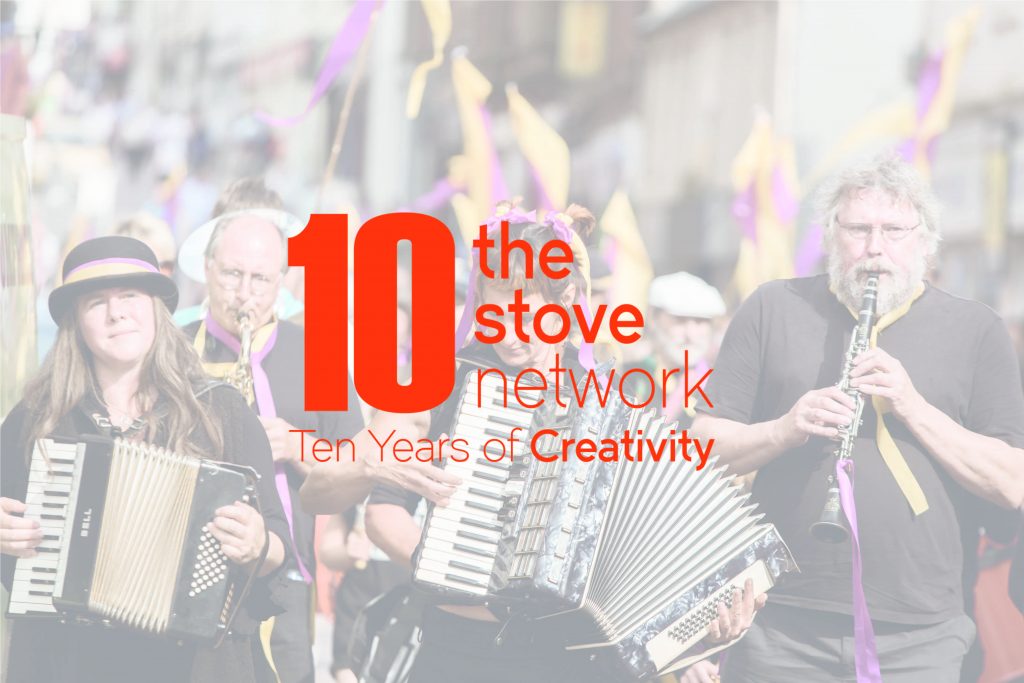 Join the Stove as we celebrate our 10th Birthday! We'll be turning the Stove Cafe into a t-shirt printing factory where you can print your own 10th Anniversary t-shirt, and the cafe will be open with a special menu (yes, there will be cake!).
Hang on, theres maire!
B-B-B-Brave New Words
Our monthly open mic night for fresh words spoken, sung, shot, signed or silenced returns. This month's theme is: ENCOUNTERS
U18 Acoustic Cafe returns
Our pals Dave Bass and the magnificent Dumfries Music Collective, fresh off the heels from their stellar 2021 conference are finally back to takeover the Stove Cafe with the U18 Acoustic Cafe. Featuring a line-up of fresh voices from the region, the afternoon is open to all to enjoy. More info coming soon!
Doughlicious
D'ough! Doughlicious are back in the building! Share ideas and recipes whilst breaking bread with like-minded folks. Featuring practical workshops exploring techniques and style, for those that kneed that extra bit of help and radical recipes for aficionados, from chapati to brioche!
Women Signwriters Assemble!
Dumfries Women's Signwriting Squad are back again with the wee monthly meet-up. This session, open to beginners of all levels, will teach you the basics of signwriting. A popular event so sign up to guarantee your spot!
In Other News…
Dark Time!
It's not as gloom as it sounds, we promise. Dark Time is our yearly switch off, where we re-group as a team, drink too much coffee and chat all things Stove. From planning 2022, pouring over our members feedback (thanks by the way) and reflecting on a year unlike any other.
As we draw some breath from the run of festivals and projects, from wild geese to multiverses, we're making time to ask some important questions. From who uses the Stove, to what we can offer our community and what themes might take us forward into the new year. We divide our conversations into three areas, which include:
Are you interested in Dark Time? Let us know by emailing [email protected].
…Phew! And breathe…