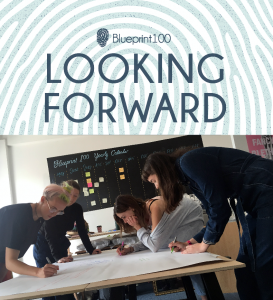 Over the next few months, we're taking some time to reflect on blueprint100. How can we grow and evolve the learning opportunities The Stove Network offers for young creative people, and by doing so, empower those and other young people to start professional careers within the arts?
It's been 5 years since blueprint100 initiated itself as a coveted opportunity for young creative people through a self-led approach to professional development and active working experience within The Stove Network.
This is an approach to learning and professional development aimed at supporting young people across varied stages in their work and helping to build bridges both in and out of more formal structures and other types of work and experience.
As The Stove and blueprint100 have grown and changed rapidly over the past few years we feel it is a good time to take a deeper look at blueprint100 and the learning opportunities it provides as part of The Stove team.
Through a period of consultation and reflection we will evaluate and reshape our blueprint100 framework to ensure it meets the needs of our region's young creatives giving them the right balance of support and freedom to develop.
For this reason we want to let you know that we will not be recruiting for another blueprint100 team this April 2020 but instead taking the space for this deeper consultation and evaluation. We will do this through a series of targeted workshops and one to one interviews with past blueprint100 curatorial team members, active participants and young creatives, creative groups and organisations and relative learning bodies and service providers.
The consultation will be lead by blueprint100 mentor Katharine Wheeler who will be supported by a young person within the blueprint age range (18-30).
Please stay tuned for more updates in the near future.