The Nith Wildlife
This Year's Nithraid is heavily influenced by our River's Wildlife. Tourists and photographer's flock to the banks of the river to witness, enjoy and capture the diversity and beauty of the Nith's nature. We have been working closely with the NatureScot and WWT Wetlands Trust to promote knowledge and understanding of river based ecosystems and how we can protect it.
Here are links to some activities to learn more about wildlife:
NatureScot
NatureScot's Education page provides background on our support for educators and projects including class activities  for pre-school, primary and secondary.
WWT Caerlaverock Wetland Centre
A day full of fun and discovery awaits. We welcome groups of all sizes, all year round, offering a unique combination of guided sessions and self-guided learning resources to meet your needs.
With a range of pre-visit resources and post-visit resources to enhance and build upon the learning that takes place, as well as a host of added extras available to book at each centre, you are guaranteed a fun yet educational experience, creating memories that can last a lifetime.
Visit the Wildfowl & Wetlands Trust Learning Zone for more information!
Keep-to-update with WWT Caerlaverock news by visiting: www.wwt.org.uk/wetland-centres/caerlaverock/news/
Wildlife Along The River Nith
Have you had an interesting interaction with some of the wildlife that inhabits the Nith? Hopefully it's not one of those pesky seagulls stealing your lunch! Tell us your stories or send us a picture of the wildlife you have spotted on your strolls by the river.
Here are a few examples of the things you may see:
The Heron (or Huffy The Heron)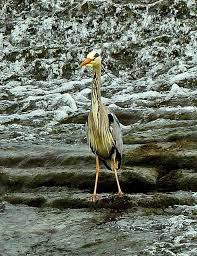 In Dumfries, close to the Devorgilla Bridge at the Caul, you will probably spot a Heron that as far we know has been nicknamed Huffy. I'm sure there are many other names for this Heron as he is a very popular attraction in Dumfries and has entertained many over lockdown on our daily walks. Huffy is certainly not camera shy and has been the muse for many budding photographers.
Heron's are notoriously territorial birds so you are unlikely to see more than one in the same vicinity but as you travel further down the Nith towards the estuary you will notice the banks and shallows will intermittently be dotted with Heron's as they hunt in the sand banks.
Poet Susi Briggs has created a poem called 'Huffy The Heron', visit our Art Gallery page to watch the performance.
Otters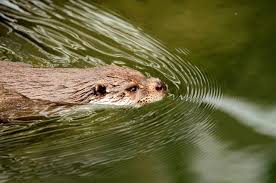 There has been many sightings of a family of otters in the area. What are usually very shy animals, this romp (real name for a group of otter's) have been known to get quite close to people and when the river floods they like to catch the eels that have washed up onto the White sands car park. One year when we were building Nithraid an otter came right up to where we were working snaffling the frogs and other creatures that we had disturbed.
Kingfisher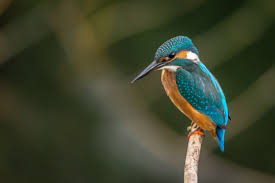 If you are ambling across one of the bridges or walking down by the trees near the Nith you may catch a flash of blue out of the corner of your eye. There's a good chance you have managed to spot a glimpse of a Kingfisher. These small beautiful birds are a protected species and are very shy so we are lucky to have a relatively healthy population along our banks of the Nith.
Cormorant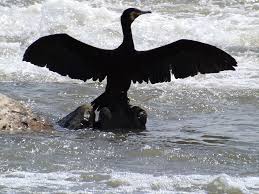 Occasionally in Dumfries the Nith has been home to a large cormorant. He does his best fishing sitting on the rocks at the Caul diving for salmon. Unfortunately, the infamous dumfries seagulls also know this and can't wait to steal his hard earned catch! Cormorants are excellent divers, and under water they propel themselves and some cormorant species have been known to dive as deep as 45 metres.
Salmon and Sea Trout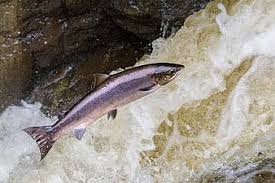 The River Nith is one of Scotland's most productive rivers for Salmon and Trout. One the reasons the river is so populous in these species of fish is due to the Nith District Salmon Fishery Board, who have managed these fish for 150 years to maintain it's healthy population. You will likely see the Salmon leaping up the Caul into calmer waters around October and November.