Imagine a future where fashion, gardens, and stories come to life. Exciting, right?
At Guid Nychburris 2023, The Stove Network and Dumfries Partnership Action Group joined forces with various community projects in launching 'The Market of Possibility'.
Our 'Town of Possibilities' parade entry was made up from volunteers from Stove members and those involved in the various groups taking part in the Market of Possibility in July and August. Thanks to the large number of volunteers who helped, we won first place in the walking category of the parade!
We would like to say a massive thank you to all of those who took part in our parade entry and to those who supported us as we walked round the streets of Dumfries. Another massive thank you to the organisers of Guid Nychburris 2023 for such a fantastic day!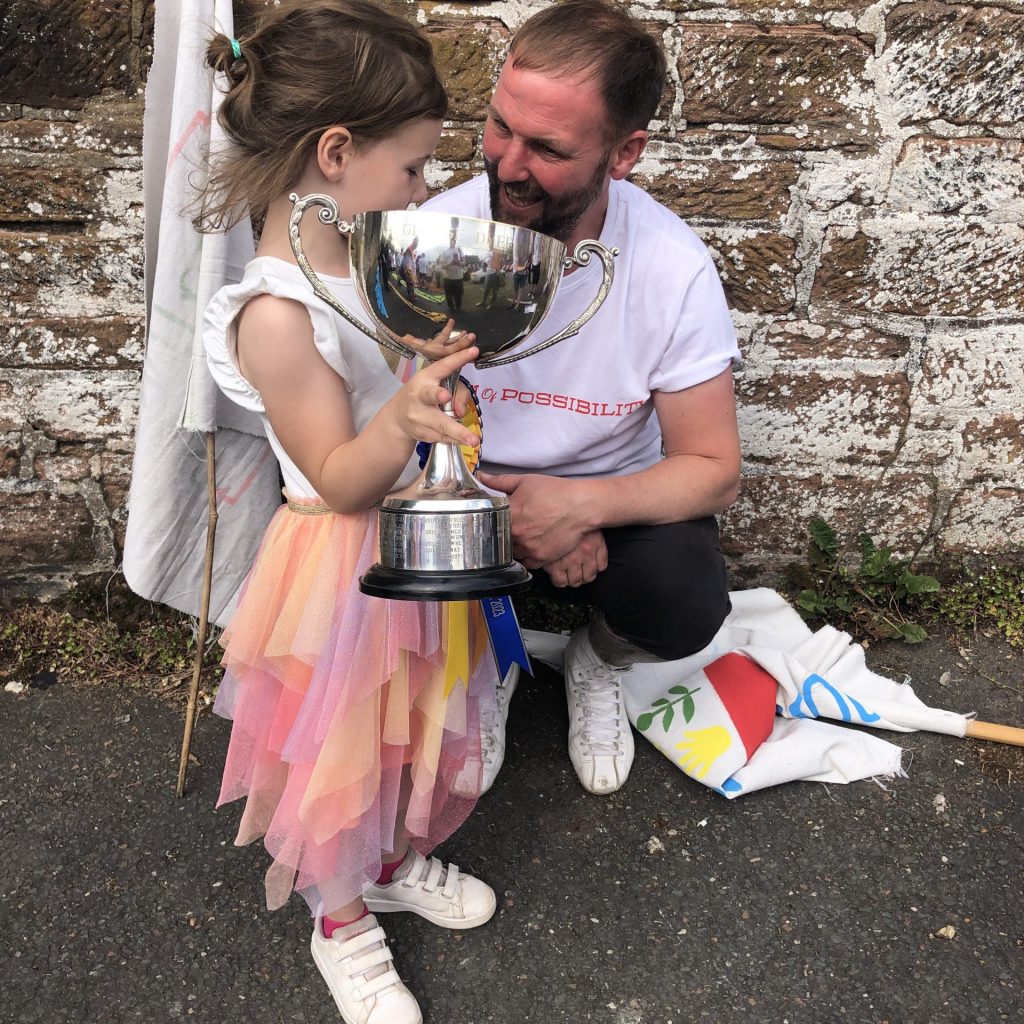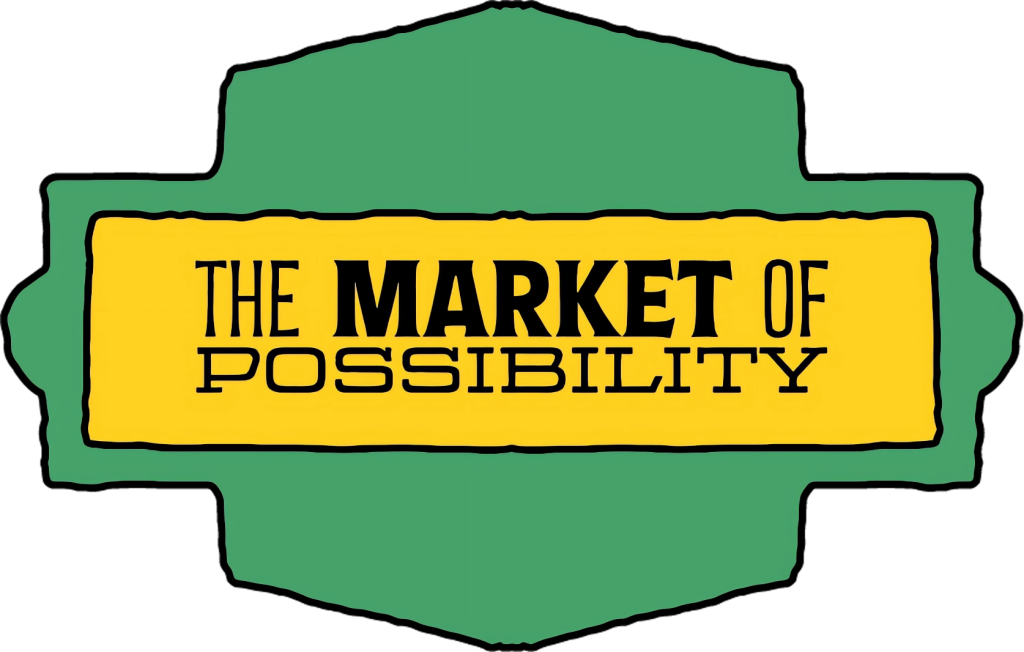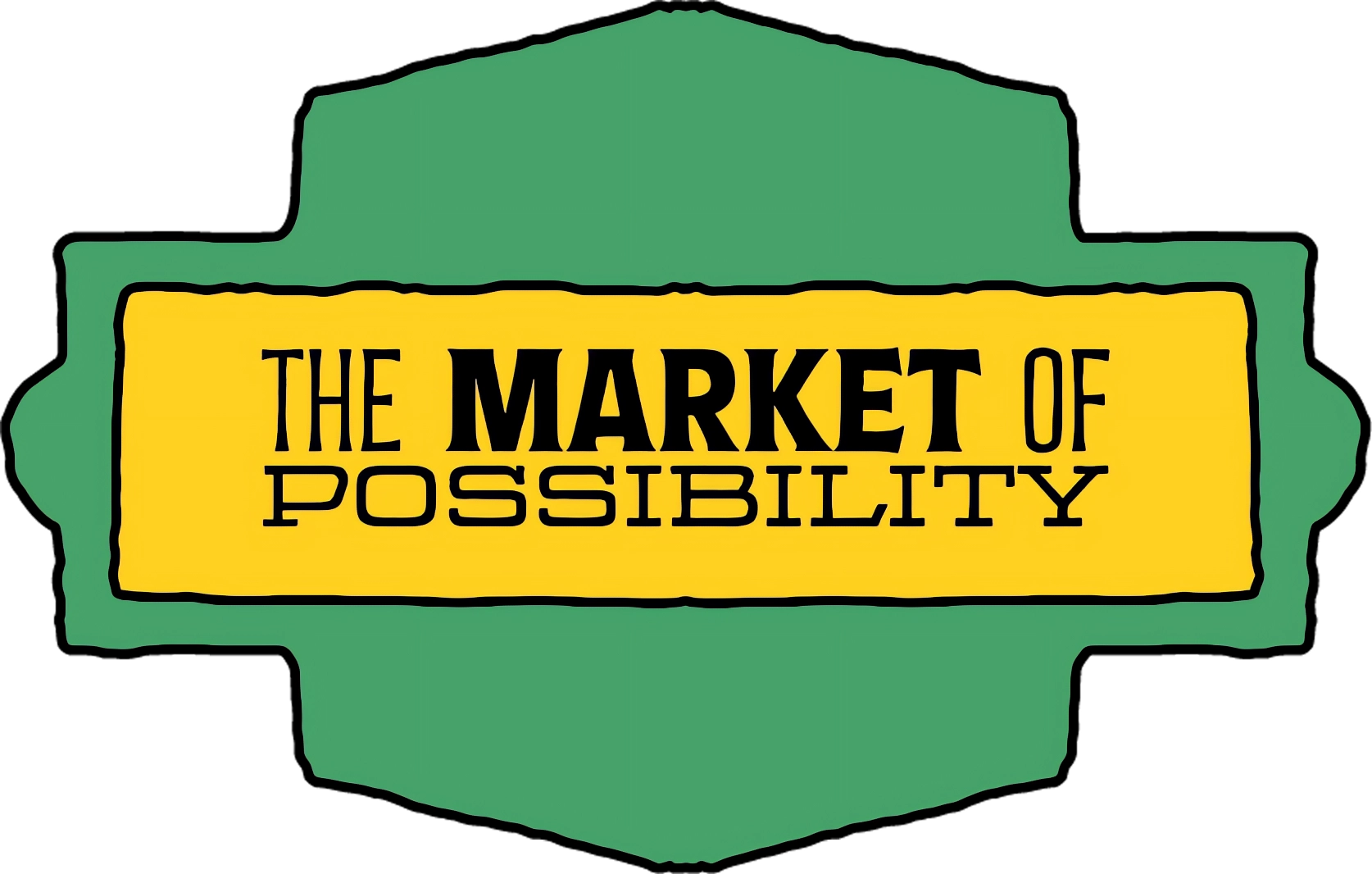 Nestled in the vibrant heart of Dumfries, the Market of Possibility invites you on a journey into a world of grassroots campaigns, electrifying projects, and inspiring initiatives led by local heroes. It's not just a market—it's a captivating blend of studio, playground, and laboratory. Step inside, and you'll find yourself immersed in a thought-provoking space that ignites new ideas and nurtures your ambitions.
From revolutionary green spaces to innovative social bakeries and homegrown fashion, the Market of Possibility, located in the Loreburn Centre throughout July and August, is a grand celebration of local innovation and creativity. But it's not just about admiring these incredible endeavours; it's about actively participating in shaping the future.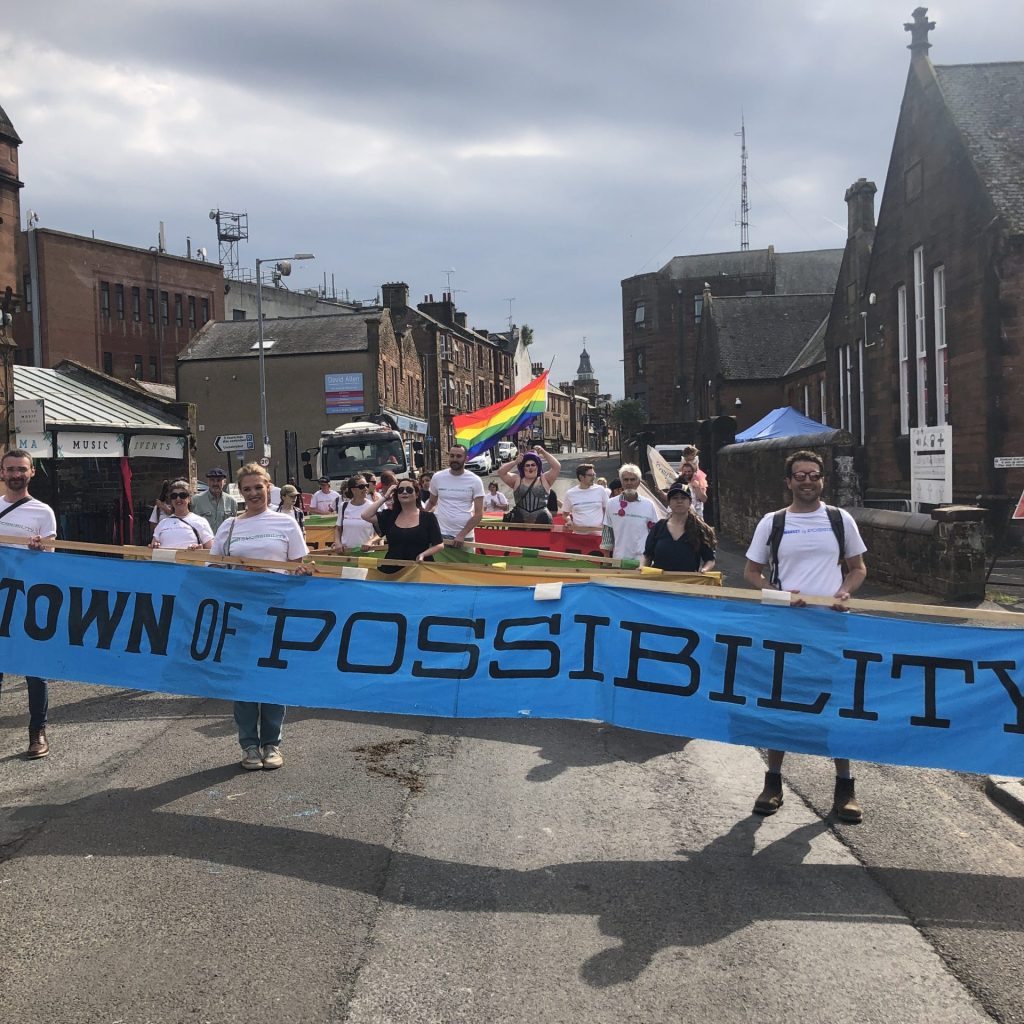 Imagine attending creative workshops, exploring interactive installations, and even building your very own towns of the future. The Market of Possibility is an invitation to play, connect, explore, and create together. Let's embark on a journey where we can build new ambitions, explore fresh ideas, and uncover limitless possibilities for the future of our beloved town.
Prepare to have your imagination sparked as the Market of Possibility showcases a diverse range of local campaigns, enterprises, and grassroots projects. Each project presents an interactive installation that will inspire big ideas, ignite conversations, and welcome new visions for a future town fueled by imagination, connectivity, and equality.
Step into the Green Town, where you'll encounter Deep Green Space, Climate Kitchen, and Nith Life. Dive into the Historic Town, home to Creative Caerlaverock and The Imaginarium. Discover the Creative Town, where Drawing For Enjoyment and Write! flourish. Explore the Making Town, with its Repair Shop, Re:Dress, and The Guild. Immerse yourself in the Music Town, where Paragon Music, Free Improvisation, and Dumfries Music Collective harmonise. And don't miss Queer Town, where Queer Club and Dumfries Pride shine brightly.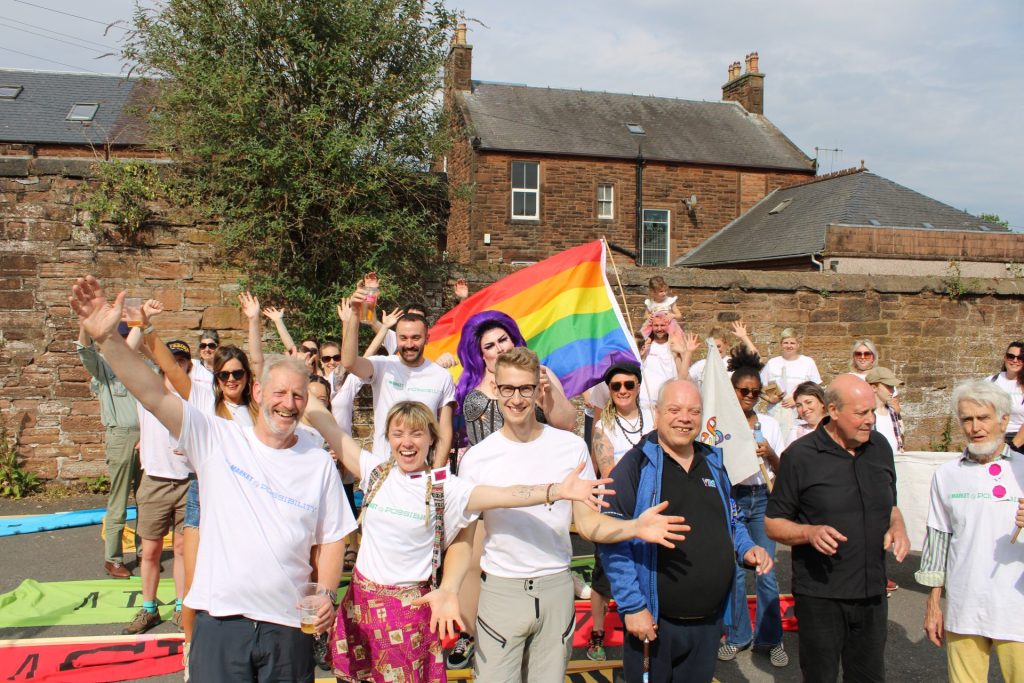 Each project at the Market of Possibility presents an interactive installation that sparks imagination, initiates conversations, and invites fresh ideas. Together, we'll envision a future town grounded in imagination, connectivity, and equality.
The Market of Possibility builds upon the visionary 'Town Centre Vision & Action Plan' developed by Dumfries Partnership Action Group, a comprehensive community-led initiative that outlines the future of Dumfries town centre. This event is an evolution of that plan, and it's designed to bring people together, foster collaboration, encourage experimentation, and, most importantly, have fun!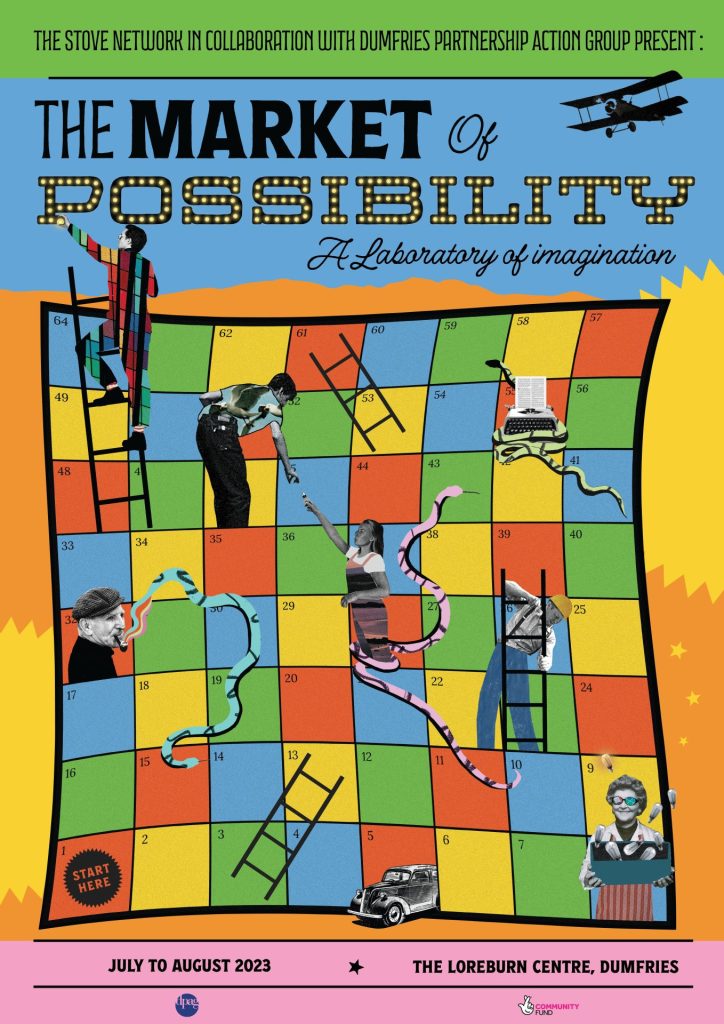 We can't contain our excitement to welcome you to the Market of Possibility. Prepare for a thrilling experience filled with imagination, innovation, and endless possibilities. Join us as we embark on this incredible journey. See you there!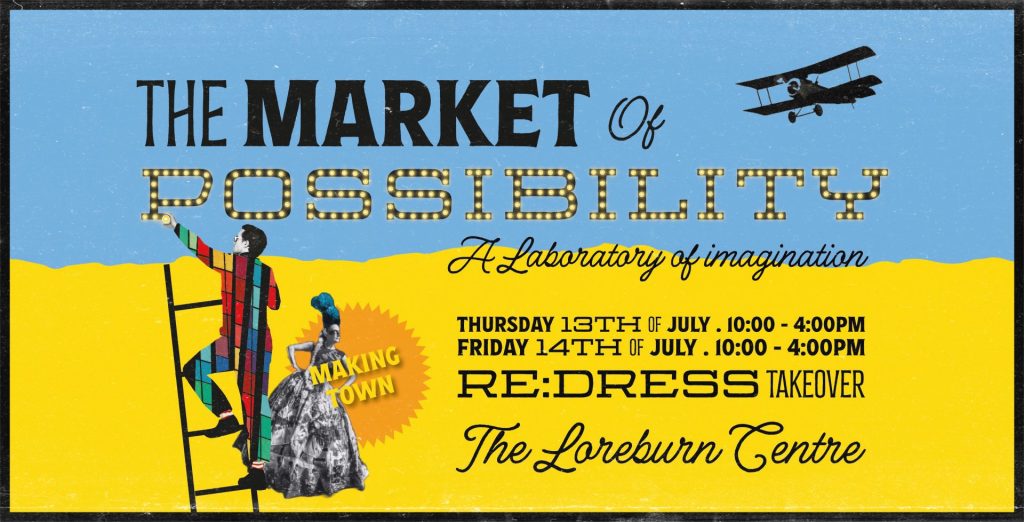 The Market of Possibility is opening it's doors on Thursday the 13th of July with the Re:Dress takeover!