Insight

By Martin O'Neill, Stove Curatorial Team and Head of Programming
What is the responsibility of art in times of crisis?
Things look very different now.
My neighbor has washed the same tea towel, every two days, for the last three weeks. It's Hokusai's wave.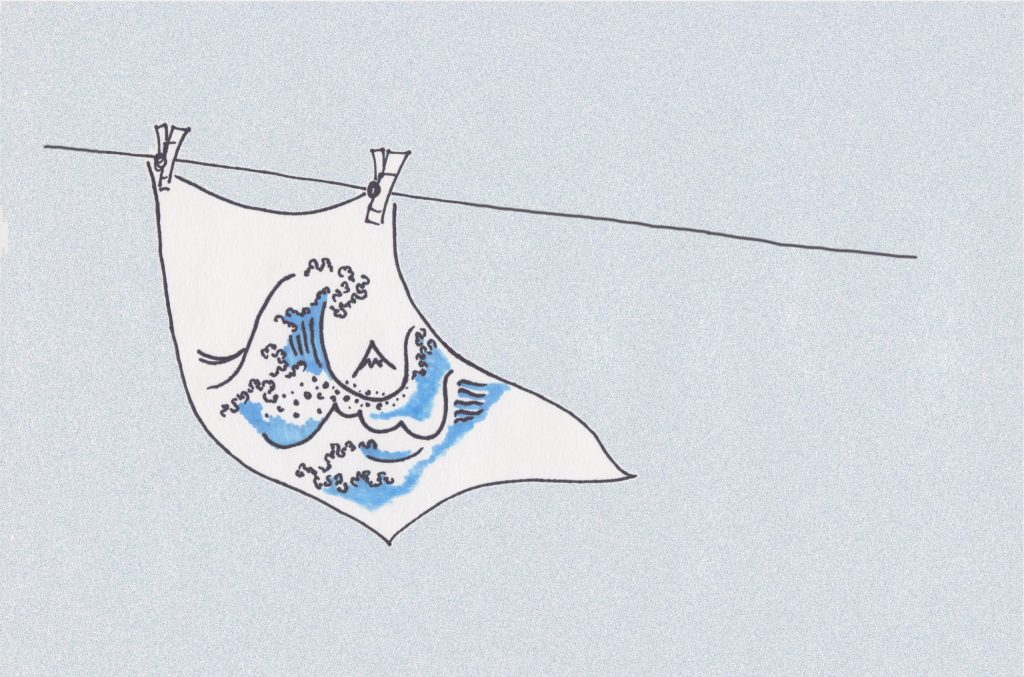 I didn't really want to notice this. I never really thought about my neighbor's washing line, let alone her tea towel. Aside from the fact it seems a little bit much to wash it every two days, it's in my life now and it's past the point of familiarity. Like the traffic lights at the foot of the road I crossed every day, the 'Clearance Sale' vinyl on a shop on the High Street, the two grizzly dogs on the Mill Green; it's ubiquitous. Maybe Irene has been washing her tea towel, hanging it on the washing line every two days for seventeen years. Or maybe it's just her little routine in the lockdown. The tea towel waves heroically in the breeze, and I'll get on with other things, cooking, reading, watching the television. And before the sun dips, it's gone.
Similarly, a friend of mine, on his daily walk observed new paths, termed 'desire lines', a consequence of footsteps eroding the earth, un-foiling a path across parks, fields, forest floors or gardens. These lines leading home have multiplied over these three weeks of lockdown.
These observations of the mundane might represent a reacquainting, or revelation of the environments we thought we knew. Our neighbors, the paths leading home, the way time passes. Crisis, in this case, has given us pause and somehow focused our lives entirely on the in-between. But for all its meditative qualities, it is scored with a sadness as yet not understood.
This reflection comes at the worst possible costs, not only of the very real threat of our health and our lives, but also the alienation of our lives from one another. This new perspective is weighted with an anxiety, needle-pointed in the reality of the weekly shop, or a visit to the chemists. We move in a heightened awareness of one another, yet for many, this is a privilege un-bestowed to key-workers, from the NHS to the supermarket cashier, their roles akin now to soldiers in warfare. Their responsibilities, particularly of those whose work has often been derogatively termed 'un-skilled' by governments, represent the fragility of socio-economic systems as well as the hypocrisy in the demonization of labor in our country.
The role of art, then through this, seems nearly un-definable. More often than not, definitions of its role in this time appear and disappear like mirages in a desert, and mostly its definitions return to the safety of 'entertainment', or the spectacle. The live-streamed play, the virtual tour…
Artists and creative freelancers are hit with a financial insecurity on a scale unseen since the financial crash of 2008, so for the most part, artists are now seeking to consolidate and revise their work so that it might 'prove its worth', an unfortunate consequence of the precariousness of our professions. Others are overwhelmed with a sense of responsibility to focus on new work, finish their novels, work on their next collection, underpinned by capitalistic notions of productivity, that we have somehow been given 'free-time', a sentiment in ignorance of the psychological ramifications of a national health pandemic.
Many may be thinking that art is facing a crisis in meaning. It's understandable, given the anxieties of this time. Yet art, throughout history, has demonstrated its capacity to survive. Whether in its ambiguity as a social movement, its ties to the political landscape, its power in advocacy, its role in activism and its power to reflect our lives and emotions. At the root of this are its defining characteristics, that of survival and its role as a healer.
The Stove's driving force has been, throughout the years, the untapped power of conversation and creativity through the act of gathering, building and celebrating communities within a town ripe for acknowledgement, and change. We now are seeking to find ourselves once again, and perhaps through this, re-define our role as community artists, producers, and community members, as a team. Our power is in being embedded in the life of our town, yet our responsibilities are often taken for granted, both in government, local and national as well as internally, with such focuses on events to bring together the branches of our community, to one space, becoming familiar in the day-to-day motion of the organisation. The challenge now then is, without the physical space, how do we connect?
In Home Grown, these questions are at the forefront of our activity. Beneath it, values of solidarity, open-heartedness, insight and perseverance seek to illustrate the present as well as symbolize our hopes for the future. Similarly, these values represent our work up till this point. For now, they must hold their ground.
Beneath the surface of all this, is a search for belonging. The Stove represents the questions of where art and creativity belong aside from the corridors of mansions, the museum or the free-market. In this search, art is not defined by product or spectacle but in essence its role in the make-up of Who We Are, not only as people, but as a community, threaded together by a common care for one another. This art then seeks to celebrate that which makes us human, in a place, and what that then means, and how it defines us.
Who we will be when we return, and who will be with us, we cannot know yet. Our community and our town must take time to heal, and this art will flow through these times with the community in conversation, in activity and in reflection to weave some new future, knowing its responsibility, to then ask of those in power where their responsibility lies.
For now, we must acknowledge these moments in-between, the desire lines, the tea towel in the breeze, the slow flow of time, for whatever they may not mean to us now, they will be the backbone of some future as yet unwritten.