By Hayley Watson.
Feeling secure in your 20s is tricky at the best of times, and our generation are lucky to have a housing crisis, yet another recession and a global pandemic punctuating our continued 'coming-of-age' panic. Add a desire to pursue a creative career into the mix – if you're reading this I don't need to tell you how unstable this can feel because you likely already know – and you've got a recipe for a real headf…iasco. This interview is part of a series where I ask established creative professionals, people you and I might view as 'real adults', what they were doing at 25. I have my suspicions that they were probably as confused then as we are now and I'm determined to prove it.
To start this series off, I chatted with OG Stovie Matt Baker. Matt is a public artist, one of the Stove's founding members and orchestrator within the Stove's curatorial team. In this interview, he reflects on squatting in 90's London, learning to trapeze, drinking expensive champagne for free alongside feral cats and (most importantly) finding value in your journey just as much as your destination.
Tell us a bit about yourself and where you're at now..
I describe myself first and foremost as an artist – I have been on a long and varied journey in my practice but have made a living from my creativity since the mid 1990's. I started out as a sculptor (having studied Architecture at uni and then getting an apprenticeship with a sculptor) and worked mostly on commissions. Gradually I became more and more interested in the way art projects involve people and how they can be a means for people to become more active and involved in their communities. I became more and more involved in what is often called 'socially-engaged' or 'participatory' art practice and eventually this led to me being one of the founders of The Stove Network in 2011. I am very proud to have been part of the Stove from the beginning and am constantly amazed by the way it continues to develop and support the growth of many creative people and play a part in the wider community of our region.
I live in the centre of Dumfries, by the river, and have a daughter called Marly who is at Duncan of Jordanstone in Dundee studying Fine Art. Talking to her about her artwork and developing practice is one of the greatest joys in my life.
You were 25 in 1990. There's a lot going on in the world in 2020, but what was happening then? What's the biggest news event you can remember from this time?
1990 was a year of great political instability – it felt like everything was falling apart. There were Poll Tax riots, prison riots, environmental protests, pitch battles at giant outdoor raves. Mrs Thatcher finally resigned….it felt like everything had to change. But somehow it didn't and the Tories stayed in power for another 7 years!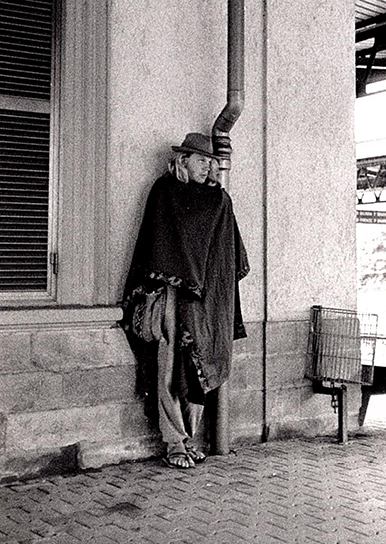 Where were you living? Who with?
I was living in a squat in East London – it was an area of housing that was to be pulled down for a new motorway and full of creative people. It felt a very hopeful place until the police moved in to evict everyone – it was quite a battle. But there was no follow on plan and everyone dispersed 🙁
I was living with my girlfriend and other friends from uni – everyone had tried coming to London to get started in creative careers, but finding enough money to live was hard.
Did you have a job? What was it?
No, not really. I was doing odd jobs like deliveries, removals and short contracts with employment agencies to make a living. What was keeping me going creatively was volunteering as part of the team that was setting up Circus Space near Kings Cross. This was a training centre for aerial circus arts (trapeze etc). We converted an old bus garage into the centre. I learned rigging and trapeze and had a trapeze act with my girlfriend (we weren't very good!).
Is there something you did when you were 25 that no one knows about?
The thing that really springs to mind was spending months with my girlfriend building a platform bed and decorating our room in the squat – we painted the whole floor with a perspective chequerboard pattern of red and green squares, it took forever and the house was demolished straight afterwards! But we kept the wood from the bed and built an outdoor toilet at the next place we lived – but that's another story…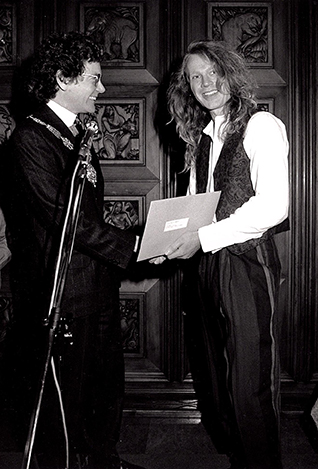 What was your dream job at the time?
What me and my girlfriend dreamed of was finding someone who wanted to buy and renovate a house in Spain. We figured that they could pay us to do the work for them and live in the house while the work was going on and I was going to make sculpture in between working on the house. Still sounds kinda nice!
If you had to choose one memory from your 25th year, what would it be?
We felt like we were a wee gang of eccentrics – an oasis of civilisation and creativity in a cruel and broken world. One of us worked in theatres in the West End and used to get given some of the props from shows – we had a beaded curtain that Vanessa Redgrave used to walk through every night. I had a job doing deliveries for a shop selling Champagne and the guy who ran it gave me bottles from time to time. That is what I remember: eating beans on toast, while drinking insanely expensive champagne, surrounded by theatre props and the feral cats that lived everywhere…whilst putting the world to rights and helping each other build our dreams for the future.
If you could tell your 25-year-old self one thing, what would you say? And what do you think your 25-year-old self would say to you?
I would tell my 25-year-old self to be braver about approaching people to help him realise his dreams – the world felt very scary and grown-up at that time.. what I didn't realise is that 'grown-ups' remember being young and helping others is something that feeds their creativity too.
I suspect my 25-year-old self would have had a lot of questions about what I do now – I suspect I would have been concerned that I was compromising the purity of my art by being involved in so many other parts of the world other than just 'true art'. I guess that is what I have found out is that art is everywhere, it is an attitude and set of values that can be brought to bear anywhere…there is no 'true art', just lots of different kinds of art and each has its value. But every creative person has to find their own journey and there are no right answers (I'd like to have told my 25-year-old self that too!).
Are you where your 25-year-old self thought you'd be now?
Absolutely not – my 25 year old self wanted to carve stone every minute of every day….even if he wasn't actually doing that then!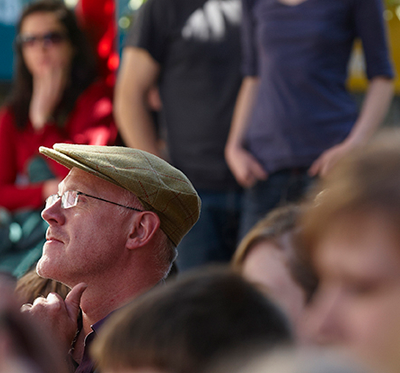 We sometimes focus too much on success and forget how much our failures help us grow. What were your biggest failures from back then?
I utterly failed to move to Spain and build houses. I planned a massive theatre/circus/installation show with whoever would talk to me about it. It never happened. I won an architecture prize and at the presentation ceremony there were lots of famous architects who were looking for people to work with. I was so freaked out by the whole thing that I hid – I have often wondered how life could have been different had been brave enough to talk to some of those folk. But I have no regrets at all – I have been blessed to have a wonderful creative life and have met many amazing people on the way.
Finally, do you have any 'words of wisdom' for the 20-somethings reading this?
I think 'keep going' is the biggest thing. It is a cliché to say that this is a 'marathon, not a sprint'…but it's true. Also, don't be too precious about every opportunity needing be 100% 'right'. It is easy when you have a lot of time to think, to 'overthink' and talk yourself out of things because they might not feel perfect. You need to look at the wider impact of opportunities, not just what you personally will be doing, but who you might meet, the new skills you might learn. Think about yourself on a journey and you are collecting skills, tools and people on the way…then see any opportunity that comes along as part of that journey, rather than a destination. I still have absolutely no idea where I am going – but I've loved the journey so far and am committed to continuing to explore. A creative life is just one big experiment!
You can find out more about Matt's past work on his website, https://mattbaker.org.uk