A Month of Charity Shop Diving & Clothing Regeneration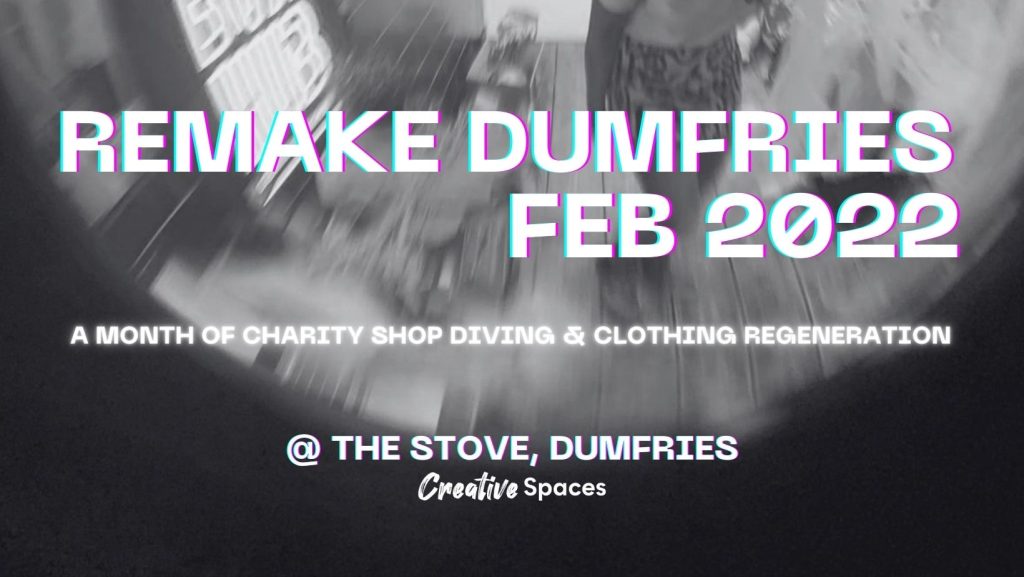 February 14, 2022
@
12:00 pm
–
3:00 pm
If you've been looking for an outlook for your creativity, look no further! We're in need of all the budding fashionistas, under the age of 30, for our own Dumfries & Galloway twist on Project Runway. Come and rummage through the treasures of Dumfries' High St charity shops and then spend the rest of February regenerating and reinventing the pieces into a new, community made, fashion collection. Join a collective of like-minded individuals interested in fashion, textiles and sustainability – no experience required, just a desire to get stuck in and think outside the box!!
This is a 5 session event, participants are advised to attend all sessions in the series. All session dates are listed below:
SESSION 1
Saturday 5th February 12-3pm – CHARITY SHOP DIVE
Get a taste of what's to come and join in with our charity shop rummage. We'll meet at The Stove, discuss our project desires and collective #vision before hitting the shops and collecting the starting goods! What's better than shopping I hear you ask? Shopping with someone else's money! As a group, we'll have a budget to spend on our starting charity shop finds, so no need to bring anything other than yourself and some excitement to get us through!
SESSION 2
Monday 7th February 5-7pm – CREATIVE PLANNING
Here's where the 'real work' starts! We've got four weeks to turn these charity shop garments around and reimagine something new entirely! We'll start off this session by curating our garments and materials, drawing and planning our project outcomes and initiating textiles test ideas of potential processes. Mood boards, concept ideas, visualisations…we'll be doing it all…
SESSION 3
Monday 14th February 5-7pm – CREATIVE MAKING: TESTING & DEVELOPING
This week we'll be in full making mode, developing and producing our community fashion collection through textiles and fashion upcycling processes. Sharing skills, we'll be looking into all the different ways we can manipulate the garments we have to generate our desired outcome. Embroidery, stencil screen printing, patchwork, embellishment and maybe even some knitting (??) the possibilities are endless, and our minds are open!
SESSION 4
Monday 21st February 5-7pm – CREATIVE MAKING: THE MEATY ONE
There's no way round it, there'll be lots to do and much sewing, cutting and sticking(?!) to be done to get everything ready in time. Seeing the creations come to life we'll be making sure everything is looking runway ready in no time. Think 'Great British Sewing Bee' with no tears or stress but lots of laughs and creativity!
SESSION 5
Monday 28th February 5-7pm – CREATIVE MAKING: THE FINISHING TOUCHES
It's all hands-on deck for the final push to get this community fashion collection off the ground! As well as finishing off the collection itself (sewing in all those pesky threads!!), we'll be solidifying the overall project aesthetic and creating visualisations to influence a final photoshoot before all is revealed at the Creative Spaces showcase in March.